| | |
| --- | --- |
| General News | |

... 50 news stories awaiting approval
4th-Gen Core i7 vs. 8th-Gen Core i7

After our recent feature comparing Intel's 8th-gen Core series against AMD's Ryzen processors, many of you have been asking us to get some older chips into the mix, with particular interest in seeing how Haswell-era processors hold up against Intel's latest offerings. We're also curious to see how well the Core i7-4770K has aged -- we first tested this CPU in June 2013.



MSI's Z370 Gaming Pro Carbon AC

MSI's Z370 Gaming Pro Carbon AC offers fresh looks and plenty of RGB LEDs to go with Intel's latest CPUs. We poked and prodded this board under both stock and overclocked testing conditions to see how it handles a piping-hot Core i7-8700K in its socket.


Everything On The Intel CPU With Radeon Graphics

Intel will be introducing the 8th Gen Intel CPU with Radeon graphics! Here is everything on this exciting new development! We just updated the article with a ton of new information on the Chip Design, Power Saving and Performance aspects of the 8th Gen Intel CPU with Radeon graphics!

Leica Camera Marks Canada's 150th Anniversary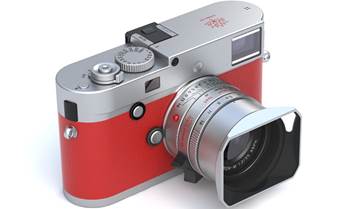 Leica Camera is proud to mark Canada's 150th anniversary with the Leica M-P (Typ 240) "Canada Edition" Set. With only 25 units available, the limited-edition set will include a special red cowhide leather Leica M-P (Typ 240), a Leica Summicron-M 35mm f/2.0 ASPH. lens and a red rope strap. Available exclusively in North America, the set features commemorative design details, including the iconic Canada 150 emblem which consists of 13 diamonds forming an eye-catching maple leaf.
"150 years is an important milestone for the confederation of Canada and we're honored to mark the momentous occasion with a special set perfect for capturing all the stunning landscapes, scenes and residents that this wonderful country is known for," said Jim Wagner, Vice President of the Photographic Division at Leica Camera.
The Leica M-P (Typ 240) "Canada Edition" body features a striking silver chrome finish on the top cover and bottom plate, with a rich red cowhide leather enveloping the middle chassis. The top plate is also engraved with the Canada 150 emblem. The four diamond shapes forming the base of the maple leaf on the emblem represent Canada's four original provinces in 1867 during the Confederation, while the remaining nine diamond formations represent the provinces and territories that have joined since.
The stylish set also includes a Leica Summicron-M 35mm f/2.0 ASPH lens that bears the commemorative Canada 150 emblem as well on the depth of field scale. To tie together the set, the camera and lens are accompanied by a red Leica rope strap.
The technical specifications of the Leica M-P (Typ 240) "Canada Edition" Set are identical to those of the classic Leica M-P (Typ 240) and Leica Summicron-M 35mm f/2.0 ASPH. lens. The Leica M-P (Typ 240) features breath-taking quality, unmatched handling and supreme resolution which, in conjunction with the Leica Maestro processor, enable the camera to produce exceptional imagery. Alongside high speed and impressive image quality, the accompanying Leica Summicron-M 35mm f/2.0 ASPH lens is compact, providing for a remarkable and elegant photographic experience. Perfect for capturing everything from the majestic Canadian Rockies to the bustling streets of Quebec City.
The Leica M-P (Typ 240) "Canada Edition" Set is limited to only 25 sets and will be available at Leica boutiques, stores, and dealers only in North America beginning in late December 2017.


Z370 Motherboard Charts: 2 Models tested - ASUS ROG Maximus X Hero

Meanwhile you can find benchmark values of the first Z370 motherboards in our comparison tables. We do not comment the benchmark values. The idea and also the goal is to present to you an overview which helps you choose the right motherboard simply based on facts in the form of numbers.

ASRock X370 Gaming-ITX/ac AMD AM4 Motherboard Review

Today we are testing the ASRock X370 Gaming-ITX/ac, the first AMD Ryzen motherboard in ITX format on OCinside. The AMD AM4 ITX motherboard has been tested and overclocked with an AMD Ryzen 5 1600 and an AMD Ryzen 7 1800X CPU. The ITX motherboard results and the features almost match the large ATX AM4 motherboards. How high the ASRock X370 Gaming-ITX motherboard could be overclocked and what great features it has to offer on the smallest space we show in the following review.

Sony a7R III Full Frame Mirrorless Camera

The new Sony a7R III combines a high-resolution 42.4 MP Exmor R CMOS sensor with shooting speeds at up to 10 fps with full AF/AE tracking, wide 15-stop dynamic range, high sensitivity with noise reduction of almost a full stop and more!


NVIDIA GeForce GTX 1070 Ti Ethereum Mining Performance

Ethereum's Byzantium Hard Fork is over and now the NVIDIA GeForce GTX 1070 Ti graphics card has been released. The NVIDIA GeForce GTX 1070 Ti is an interesting card for cryptocurrency fans as has 512 more CUDA cores than the GeForce GTX 1070 and still uses GDDR5 memory. When mining Ethereum the speed and latency of the memory subsystem is the most important piece of the silicon. Read on to see how the GeForce GTX 1070 Ti does when we put it to into the mines and make it do manual labor.

Cougar Revenger

The Cougar Revenger is Cougar's upgrade from the Cougar 550m. We take a closer look at the mouse, which promises to deliver top-notch performance at a friendly price. Thanks to the PixArt PMW3360 sensor, tracking is perfect, with sensitivity adjustable from 100 to 12,000 DPI.

Corsair ML120 Pro RGB Review

Not forgetting the main feature of the ML120 Pro RGB fans, the lighting is provided by 4 LEDs located at every quarter-turn around the centre hub of the blades. Those lighting effects are providing by the Lighting Node PRO, a small device included with the ML120 Pro RGB package that connects to the Corsair Link software via a USB header.

Corsair ML140 Pro RGB Fan Kit Review

When I reviewed the Corsair LL RGB series of fans, I came away thoroughly impressed, as they offered great looking RGB effects and moved a good amount of air while remaining very quiet. The Corsair LL RGB series of fans would go on to earn the Legit Reviews Recommended Award, but I did fathom when Corsair would take the next step and bring RGB lighting to their incredible series of ML Pro fans, which feature magnetic levitation bearings and custom designed rotors to allow for low-noise, high airflow operation. Corsair ML (Magnetic Levitation) Pro fans are considered some of the best case fans on the market by enthusiasts, with Corsair touting them as being the fans NASA would develop for PC. While the Corsair ML series of fans have been available with single-color LED options for some time, it was only natural that Corsair would take their best fans and add programmable RGB lighting, allowing them to now fit into the Corsair LINK ecosystem. Now, PC enthusiasts who have been waiting for Corsair to bring RGB lighting to their ML Pro fans can fork over their money for some low-noise, high airflow RGB goodness...