Leaking Motherboard Capacitors
---
Hello,


Leaking brown electrolyte staining the surrounding PCB, a bulged top or even a blown out base are all symptoms of dead or dying capacitors.
I was reading the newspaper a few days ago and came across a very interesting article* about the reportedly widespread problem of leaking or blown motherboard capacitors. Why this problem exists in the first place is complex, and could revolve around a botched electrolyte formula. To shed some light on this issue, we have an exclusive newsletter article for you to read which illustrates some of the tell tale warning signs, and explains one of the possible reasons why some aluminum capacitors may be failing prematurely.
In this weeks PCstats.com Newsletter we have a look at an all-in-one laser/fax/printer/scanner from Samsung which is good for SOHO environments. Taking time off of work to have fun is just as important, and to make sure your videocard is up to snuff you'll want to read our review of the MSI Ti4600 - 8X AGP videocard which comes loaded with twin DVI ports. A good system board is a must, and with the excitement the nForce2 chipset has been creating we couldn't have a newsletter without at least one nForce2 motherboard review to tell you about. The Asus A7N8X has been getting a ton of attention lately, and when you look at the 3Dmark03 benchmarks I'm sure you will understand why. To keep things in perspective, we've also included a review of the Epox 8RDA+ nForce2 motherboard.
Since there is no better combo than an nForce2 mainboard and ATI Radeon 9700 Pro videocard, you'll want to read about the Zalman ZM80A-HP silent heatpipe videocard cooler which is perfectly suited for that card. Rounding out the other items in today's newsletter is a look at transparent processors in TechWatch, and AMD and Intel processor roadmaps in the High Tech Low Down .
Lastly, don't forget to join the PCStats.com Folding @ Home team if you would like to help out with some worthy scientific research. Vote on today's Poll; Have you ever had a computer fail because of leaking or blown capacitors on the motherboard?

Despite all the advancements that email has brought in improving communication between businesses, when timely access to these authorized documents is required it is a hundred year old technology which reigns supreme - the fax machine. Invented by a Scottish mechanic named Alexander Bain in 1843 the fax machine is as ubiquitous as the telephone nowadays. SOHO environments faced with the choice of buying a fax, printer, telephone, and copier generally bulk at the idea and opt for a three in one, or similar device which combines faxing, printing, document coping and phone services into one small unit. Buying each of these machines separately can be expensive, but doing so generally means each device will be a little more specialized then units which combine everything under one hood. Samsung make the SF-531P 6-in-1 Laser MFP which tackles laser printing, document scanning, document copying, fax and phone services. All this comes with a price tag of about $300USD making it a pretty cost-effective solution for moderate document-volume environments. The laser printing is capped at about 600x600 dpi with 8 pages per minute, so if you tend to print significant amounts throughout the day a dedicated printer would be a good investment. Read the Rest...



Today we're going to be looking at MSI's last dance with the extremely successful GeForce4 Ti line of videocards; specifically we'll be checking out the G4Ti4600-VT2D8X. Even though nVIDIA and company have been calling the GeForce Ti4600 GPU with 8x AGP technology a Ti4800 GPU (which can be misleading), MSI are not about to try to fool you with a larger number. MSI call their videocard exactly what it is, a Ti4600 with 8x AGP technology. The MSI G4Ti4600-VT2D8X is probably one of the better looking, and more importantly, better equipped videocards out there. With a bright red PCB and large aluminum & copper fin GPU/memory cooler on the front and another large aluminum heat spreader on the back. There are dual DVI connectors, and the box comes with a DVI to analog converter. The GPU cooler MSI are using with the G4Ti4600-VT2D8X is quite unique; in fact MSI is touting that their "TOP Tech GPU cooler" not only keeps the card cooler then the average GeForce4 Ti4600/4800, but that it also runs quieter. The MSI G4Ti4600-VT2D8X is the quietest GeForce4 Ti we have ever tested.
There are 34 copper folded fins soldered to the aluminum heatspreader plate on the top of the card which also help cool the BGA memory modules. On the back, MSI have used yet another large aluminum heat spreader to cool the BGA memory there, and also draw heat from the PCB directly behind the GPU which is a great idea! Read the Rest...
TechWatch Transparent Microprocessors
By: M. Page

The Japanese are famous for making electronics smaller and more efficient, but what about making microchips transparent? Sharp Inc. recently demonstrated a working prototype of an 8 bit Z80 processor manufactured not on silicon, but common glass. The technology used to create the processor on glass (shown left) is based on traditional LCD fabricating techniques and something new called "Continuous Grain Silicon Technology." Sharp is still in the early stages of its implementation, a fact which is underscored by the circa 1976 Zilog 8 bit ZM80 processor design itself.

The 13mm x 13mm glass ZM80 processor was shown running an old 1970's arcade game, but the real purpose of this technology is to help make LCD displays in notebooks, PDA's and cellphones smaller, less complex and less expensive. By manufacturing the integrated circuits which drive the LCD display in your Palm Pilot, or cellphone on the rear side of the LCD screen glass, mobile devices can shed some of the traditional circuits and PCB typically required.

Prior to the Continuous Grain Silicon breakthrough, sodium which is an elemental component of glass caused significant problems with the circuits engineers tried to make on the glass substrate. Presently, the Z80 CPU consisting of a mere 13000 transistors has been etched at 3 micron process. By the end of 2003 Sharp expect to have the size of transistors scaled down to 1.5 micron, with that number shrinking to 0.8 micron in 2005.
Ask anyone in the computer industry to name who they think is the best manufacturer and Asus will always be one of the first companies to come to mind. Asus have been producing motherboards, videocards, and countless other OEM components since 1989, and today we're going to be examining their extremely popular Asus A7N8X nForce2 SPP motherboard.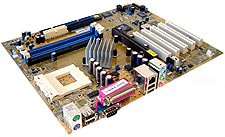 Based on the nVIDIA nForce2 SPP chipset, the A7N8X was one of the first nForce2 motherboards on the market and the board caught on like a wild fire. Being first always has its advantages. Asus offer the A7N8X in two versions; there's the deluxe model which is probably the most well equipped motherboard on the market (with ethernet, firewire, Serial ATA) and the plain "no frills" version which is what we're reviewing today. The Asus A7N8X motherboard has support for any 200/266/333 MHz based Athlon/Duron socket A processor, including the newly released Barton core. The board features three DIMM slots which will accept up to 3 GB of PC1600/2100/2700/3200 DDR memory, though because of the nForce2 chipset you'll probably want to limit memory to two DDR400 compliant modules for dual channel goodness of up to 6.4GB/s data transfer.Read the Rest...

Visit the PCstats.com ShoppingList Page for our February $1800 Mainstream System, $3000 High-End Performance System and Budget $999 System hardware recommendations.
Zalman ZM80A-HP VGA Heatpipe Cooler Review
Epox 8RDA+ nForce2 Motherboard Review

There was a time not too long ago when all graphics cards were cooled by tiny little aluminum heatsinks. Then along came ATI and Nvidia who developed faster and stronger GPU's which needed active cooling, and so fans were added. The fans started off fairly quiet, but as graphic card technology continued to advance, things began to get louder and louder. Now as we sit in the face of nVidia's NV30 which is reported to produce as much as 60 Watts under load, it's comforting to find at least one manufacturer producing an after market VGA cooling solution that can handle the heat. Silently.

At first appearance, the ZM80A-HP seems complex and unwieldy. The large front and rear heatsinks stand out 15mm millimeters from the surface of the card, blocking off one PCI slot, and a special mounting bracket is all that makes direct contact with the GPU core. The gold plated heatpipe which has a diameter of just 5mm seems impossibly small for the task, and with so many joints in the assembly seems unlikely it will ever be able to transfer heat effectively. All those concerns are immediately put to rest of course. Read the Rest...

Today we're going to be checking out Epox's take on the nForce2 SPP; the 8RDA+ motherboard. Based on the same nForce2 SPP (System Platform Processor) you can already guess that that the Epox 8RDA+ is going to be fast, but will it be heads and shoulders above other nForce2 motherboards out there? Read on and we shall see...

For starters, what exactly does the Epox 8RDA+ have to offer? Is it chocked full of USB and firewire ports, or is it just a plain and simple mainboard solution? Well thanks to the nForce2-128 SPP Northbridge chipset, the Epox 8RDA+ supports any 200/266/333 MHz based Athlon processor, even the Barton based Athlon's so upgrade paths are clean and simple. Read the Rest...
Colin's Weekly Tech Tips



By:
Colin Sun
Today: Spring Cleaning

Yes I know today's tip is a bit basic, but it's something that can be easily overlooked. In general Windows and applications are very messy, they never clean up after themselves and often leave useless files in the temporary folders which can clutter up your HDD and slow down its performance. Thankfully there's a simple fix for all this!

Go to Start: Programs: Accessories: System Tools: Disk Cleanup. From there if you have multiple drives, select the drive you want to clean and chose the type of files you wish to remove. When we did this on Max's little Fujitsu P2000 notebook and it freed up over 2GB worth of space; not bad for a few clicks of the mouse! =)

Colin's Tips Archives | PCStats.com Forums
The Last Word:

PCstats.com Folding @ Home - Does your computer sit idle during the day, or overnight? Why not use put those spare CPU cycles to good use and join the PCStats Folding @ Home Team! It's for a good scientific cause and it's also a lot of fun.
Folding @ Home is a Stanford University distributed computing project. The project uses a screen saver that makes use of idle computer time to study protein folding related diseases such as Alzheimer's, Mad Cow (BSE), CJD, ALS, and Parkinson's.
For more information, and to download the necessary files, please visit the Team PCStats Folding@Home forum discussion. You can make a difference, and all you have to do is support this worthwhile cause. Tell your friends to sign up for their own weekly PCstats.com Newsletter here .
*The Toronto Star, Monday February 17, 2003. Title: "A Computer Whodunnit?", Author: Rachel Ross. Full story currently available on Torontostar.com
PCstats Issue
No.76
Circulation: 177,840

The High Tech Low Down
By: Chris Angelini
There is interesting news this week regarding AMD and Intel roadmaps. To begin, Athlon 64 is still planned for a September debut. The processor should launch at AMD's 2GHz target, with 1MB of Level 2 cache and a model rating of 3400+. Speeds up to 3GHz are expected in the 12 months following the processor's introduction. AMD officially expects to be manufacturing 0.09-micron chips in the first half of 2004, but it did run into delays transitioning to 0.13-micron, so it is very possible the "San Diego" core will encounter a similar teething period.
Additionally, Intel's Pentium 4 will get 1MB of L2 cache later this year, along with an 800MHz front side bus. Furthermore, it has been suggested that the revised Pentium 4 will receive Hyper Threading II support and a new set of instructions called PNI. The door is also open for a faster FSB in 2005, operating at 1066MHz. "Tejas" will succeed the "Prescott" core early in 2005, bringing with it another new instruction set and a revised version of Hyper Threading. Much of this information remains unconfirmed, though, and technologies like Hyper Threading are still reliant on software support, so don't be surprised if the processing landscape deviates from these early projections.

PCstats Polls!
Leaking Capacitors Poll:
Have you ever had a computer fail because of leaking or blown capacitors on the motherboard?
Click here to Vote!
---


Submit a product for Review