High Performance nForce2 Motherboards!
---
Hi ,
nForce2 - the mere mention of the word brings serious performance freaks to their knees, and puts a smile on gamers of all types. PCstats reviewed the MSI K7N2 last week, and today we may just have found something even better - the nForce2-based FIC AU11 Chameleon motherboard! What, still not enough performance for you? Okay I think we can do better.... how about putting all of Colin's Weekly Tech Tips together for your reference, and system tweaking enjoyment?
We've done just that, a 2002 Roundup of Colin's Tips.
If serious performance is what really interests you and your web applications; Tyan have a dually Xeon 1U server board which recently made it out of the PCstats labs. The Tyan S2722 is based on the E7500 Intel chipset, and is the first ATX compatible dual socket 603 Xeon server board available anywhere. Since we're on a roll here with performance oriented gear, our review of a 48X CDR / 24X CDRW / 16X DVD optical drive from Samsung for $100US is worth a read, and you might want to check out what C. Angelini has to say about DVD+RW drives in this weeks High Tech Low Down. Lastly, I've included a classic guide to unlocking the AthlonXP 2100 since we're all eagerly awaiting the new "Barton" core from AMD here. Also, our friends at Crucial Memory have let us know that they currently have a nice little deal going on the Crucial Radeon 9700 Pro video card.
You get a $40US discount on the Radeon 9700 Pro when you purchase a 512MB Crucial DDR memory upgrade. Quite a nice little deal, so if you're in the market for ATI's impressive Radeon 9700 Pro this may be just the ticket you've been waiting for. Our review of the Radeon 9700 Pro is right here in case you need a refresher. Until next week!
If you're a PCstats.com newsletter subscriber, you most certainly know what an integral part Colin's Weekly Tech Tips is. I have always prided myself as a "tweak master" and I love helping my readers improve their computing performance and experience. While all the tech tips are stored in an archive in the forums, I often get requests by the readers to put together a comprehensive article with all the tips. I guess this is much easier to read then 20 odd forum threads! =) Without further adieu, here are all the Tech Tips of 2002... Check them out!

Tyan are a server and workstation motherboard company to be sure, and in a meeting with them several years ago in Fremont CA, we were told Tyan-based servers run Google and Yahoo. If that's 100% true or not now I can't say for certain, but that kind of news does raise the bar on expectations significantly. The Tyan Tiger S2722 is based on the Intel server E7500 chipset and supports up to two Socket 603 Xeon processors with 512 KB L2 cache and a 400 MHz system bus to provide up to 3.2 GB/s of available bandwidth. We will be testing with two 2.0GHz Xeon parts, but there is no reason why the board couldn't be outfit with just a single Xeon processor. The E7500 supports NetBurst microarchitecture and HyperThreading which are built into the Xeon processor. On board expansion consists of just two 64-bit 133/100/66MHz PCI-X slots and a regular 5V 32 bit 33MHz PCI slot. Realistically speaking, with the Tyan Tiger S2722 mounted in a 1U rack mount chassis, only one of the three slots would be available via a PCI or PCI-X 90 degree riser card. Memory support consists of four 184-pin DDR DIMM sockets which will hold up to a maximum of 8 GB of Registered ECC PC1600/2100 DDR memory (in pairs).
Optical drives are an old technology, but still constitute one of the pillars of ever computer system. A combo drive as the industry terms them, are a combination of a CD-R/RW burner with a DVD-ROM. The Samsung SM348 is a combo drive which boasts the following read and burn speeds for the four essential optical media platforms.
CD Read Speed: 48X
CD-R Write Speed: 48X
CD-RW Rewrite Speed: 24X
DVD Read Speed: 16X
The 24X CD-RW rewrite speed threw us for a bit of a loop because we were unable to find any CD-RW recordable media rated above the current "high-speed" of 10X to test with in our area. In any event, the remaining aspects of the SM-348 are nice; the drive is quite in operation, the geared tray mechanism is smooth and nearly silent, and any burner with DVD capabilities built right in for a little over $100USD is a winner in my book.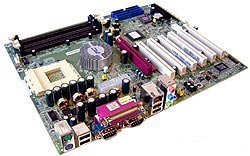 Based on the same nForce2 SPP (System Platform Processor) you can already guess that that the
FIC AU11
is going to be fast, but is it worth extra $20 CDN over that of MSI's K7N2-L solution? For starters, what exactly does the FIC AU11 have to offer? Is it chocked full of USB and firewire ports, or is it just a plain and simple mainboard solution? Well thanks to the nForce2-128 SPP Northbridge chipset, the
AU11 supports any 200/266/333 MHz based Athlon processor,
even the upcoming Barton based Athlon's so upgrade paths are clean and simple. There are three DIMM slots for a maximum of 3 GB of PC1600/2100/2700/3200* (* there is no JEDEC PC3200 standard) memory, but since the NF2 is able to take advantage of dual channel DDR, you'll really just want to populate the first two slots with identical memory types/sizes.
The AXP21K+ Trick - Unlocking the AthlonXP 2100+
MSI K7N2-L nForce2 Motherboard Review




Unlocking AthlonXP processors have always been relatively easy to do - just fill the laser cut valley's with some sort of non conductive filler and short the L1 bridges with a conductive material. That was then, and with the release of the AthlonXP 2100+ things have gotten a lot more difficult. Is this a sign of things to come for future AMD processors like the Thoroughbred?

I've unlocked a few of the brown AthlonXP processors in the past and have never had any problems which weren't resolved by the second or third attempt. With the green AthlonXP 2100+ I tried at least five times with no success. The reason I found it so frustrating trying to unlock the XP 2100+ wasn't because I was not connecting the L1 bridges properly, but because that technique simply wasn't working anymore! So what was going on? After all, the same method worked with the most recent processors AMD released; the AthlonXP 1800+, 1900+ and 2000+. What was so different about the 2100+?

nVIDIA's original nForce chipset had lots of potential and made a lot of promises, but in the end it fizzled out big time. When nForce was announced the AMD chipset performance leader at the time was the SiS 735 chipset. The nForce was faster and more advanced, however after long delay the nForce eventually reached a market where the main competitor had now changed.

Faced against the VIA KT266A chipset, the hype brought on by dual channel DDR was just that, hype. Performance was good, but it just couldn't compete with VIA's chipsets at the time. The question this time around is whether or not nVIDIA have learned from their mistakes. When the nForce2 was originally announced back in July of 2002, nVIDIA was hoping to steal a bit of ATI's thunder for the release of the 9700 Pro videocard which was announced a few days later. Consequently, the nForce chipset was delayed yet again, and eventually reached the markets in October, albeit in limited quantities. Now a days, you can get an nForce2 board from any of the large motherboard manufacturers easily.
Colin's Weekly Tech Tips


By:
C. Sun
DOS Junkies Unite!!

I'm a bit of a DOS junkie myself, I'm more comfortable with it then I am with the pretty Windows GUI. I find I'm using the command prompt quite a bit while within Windows. Because I'm also quite lazy, I find that the auto complete function in the DOS prompt quite invaluable, however it's disabled by default. Luckily enabling it is quite easy, all we have to do is some registry editing.

If you load up Regedit (Start, Run and type Regedit and then press the ok button) follow this path HKEY_LOCAL_MACHINE -> SOFTWARE -> Microsoft -> Command Processor. Rightclock on the CompleteChar DWORD value and change it's value to 9 (does not matter if you use Hexidecimal or Decimal).

Reboot your computer and now when you're mucking around in the DOS prompt after you enter the initial DOS command (like CD, Copy, etc) simply hit the tab button to scroll through the list until hit what you're looking for. This works with Win2k as well as WinXP.

Colin's Tips Archives | The PCStats.com Forums
The Last Word:
We know, we know.... you've been telling you friends and co-workers to sign up for the PCstats.com Newsletter themselves so they'll stop bugging you, but haven't known where to send them... Today we have a solution I think you'll appreciate - send your friends to our brand spanking new PCstats.com Newsletter
Subscription page
where they can get their very own Free subscription. The URL to pass on to a friend is:
http://www.pcstats.com/newsletter.html
PCstats Issue
No.72
Circulation: 189,000
The High Tech Low Down
---
With Chris Angelini
Storage technology may not evolve as rapidly as a processor or video card, but lately, we've seen quite a few changes in that particular market. To begin with, it looks like Serial ATA drives are finally shipping to retail outlets. Seagate is apparently leading the charge with its 80 and 120GB drives. My own tests show that even while increased drive performance may not be immediately perceptible, configuring the interface is simple and tidy – a pleasant departure from the bulky parallel ATA cables.
As Serial ATA takes off, it looks like the progression in CD-RW technology is slowing to a crawl. It was originally thought that 48x would be the fastest speed possible, but several manufacturers have recently released 52x burners. Don't expect to see many Serial ATA burners. In talking with a VP from one of the larger optical drive manufacturers, I've learned that the market for external CD-RW drives is larger now that USB 2.0 and IEEE 1394 have caught on. Of course, Serial ATA is being considered, but nothing has been set in stone quite yet.
The future seems to lie in writeable DVD drives, though. There are several standards, like DVD-R, DVD-RW, DVD+R, and DVD+RW so it is important to choose the burner that suits your needs. DVD-R generally boasts the best compatibility with set-top DVD players, but DVD+R is faster. Then again, you could always pick up a drive that supports all four standards.
PCstats Polls!
Killer Hardware Poll:
What hardware do you want most in 2003?
(Athlon64 in the lead)
---

PCstats News is updated throughout the day
right here
.

Submit a product for Review