Who Won the Fujitsu Lifebook?
---

Hello,

This week we are very happy to officially announce that the two Winners of a brand new Transmeta Crusoe powered Fujitsu Lifebook P2000 Notebook Computer are Mr. Bill Armstrong, and Mr. Bruce Dyer - Congratulations! For those of you who weren't one of our lucky winners, I'd like to thank you for participating, and let you know that we have some cool giveaways planned for 2003, so be sure to read each and every upcoming issue carefully...hint, hint.
Over 47,000 people entered this giveaway, underscoring the point that the Lifebook P2000 is definitely a cool little notebook. "This is a very innovative, small form factor notebook with a built in DVD-RW drive and its exceptional design has generated many worldwide computer industry awards" said Mike DeNeffe, director of marketing, Transmeta Corporation. We'd have to agree.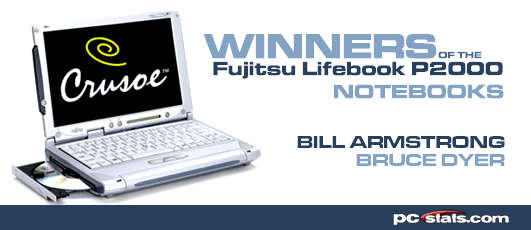 Now, onto this weeks PCstats.com Newsletter - we have a 2.1 Megapixel camera James Bond himself would be caught using, a sleek little aluminum MP3 player that is incredibly tiny, and a look at some gear for those of you with too many case fans. The Nexus NXP201 has four fan-speed controllers back-lit with blue LED's - so you can fine tune your case cooling to right noise levels. Chris Angelini looks at a few videocards that are on his own holiday wish list, and Colin who can be really forgetful, has a tip about not forgetting WinXP passwords.
If you're looking for gifts for that special geek there are two things that caught my eye at our sponsor, ExoticPC.com this week. The first is the low-noise Zalman CNPS6000-Cu AMD heatsink, and the second is the " Copper Silence Combo" which is a low noise power supply / heatsink combo. That heatsink isn't quite as large as the CNPS6000-Cu, but if you have a loud 300W PSU in your AMD system, this is a quick way to cut down on the decibels.
We should have our GeForce Ti42000-8X round-up ready for you soon, and a Granite Bay motherboard review next week, so stay tuned!

Fujifilm must have been looking towards style conscious consumers when they designed the F402 because it is endowed with more sex appeal than a digital camera really ought to have. If this aluminum camera and its' little blue light don't scream "James Bond spy toy" to you I don't know what does. It goes without saying that this is a camera for regular folks - it is fully point and shoot ready, and small enough to fit into any pocket so it can be effortlessly carried around. To turn on the F402, you pull back on the little part of the metal circle shown to the left. The motor-driven lens pops out from behind the protective cover, and then it's simply a matter of framing the shot through the LCD or optical viewfinders, and pressing the shutter release. Easy as pie. On top of the built-in ease of use, the Finepix F402 has a good set of features which include the ability to record short AVI film clips with sound, a built-in red-eye reduction flash, optical & LCD viewfinders and a USB interface for downloading to the computer.
xD-Picture Card: A new flash memory format

There is a new type of flash memory on the market called the xD-Picture Card. The module is about the size of a postage stamp and is road mapped to 256MB in early 2003, and anywhere between 512MB - 8GB thereafter. A joint venture between Fuji Photo Film and Olympus Optical, the "eXtreme Digital " media is manufactured by Toshiba and lists a read speed of 5MB/s. Write speeds sit at up to 3MB/s. xD-Picture Cards run about $40-50USD for 64MB modules so the price is pretty competitive with other flash memory types
| | |
| --- | --- |
| | One of the side effects of reviewing so many consumer products from so many different companies on a regular basis is that you eventually become very sensitized to the little details. Things like packaging and presentation (believe it or not) begin to play a more important role in the overall impressions we reviewers have to construct about the products we test for you. In this case, the Samsung Yepp YP-30S showcased not only the expected MP3 storage technology, but packaging, design and accessory details on the level of what you would expect from Sony. The player and all of its accessories are packaged in a thick-walled transparent plastic cylinder with translucent removable caps at each end. Inside is a heavy weight white plastic cone that delicately holds the player like a museum piece behind armored glass. |
Vantec Nexus NXP201 Fan-Controller Review
FujiFilm FinePix 2800Z 2.0MegaPixel Digital Camera

I can remember when the first home-brew fan speed 'rheobus' was introduced on an enthusiasts website a few years back. Since then, a lot has changed in the computer world, and more than a few manufacturers have started producing their own variation of fan speed controller. A fan speed rheostat (as they were originally called) is meant to bring

RPM control to your finger tips.

With the case fans connected to such a device you can decrease the speed of each fan independently for

optimal airflow vs. noise.

Vantec have recently released their own take on the fan speed controller, called the Nexus NXP201, and they've managed to pull it off rather well!

Gradually after about two weeks of constant use we came to appreciate the fact that the 2800 is a pretty capable digital camera for the average user. Now I know that more technical photographers will probably prefer a camera which gives them more control over the lens, but the average user should be satisfied here. Retailing for around $790CDN the 2800 is a mid-level 2 Megapixel camera useful for images up to 1600x1200 pixels in resolution. The camera can also take small movies (90sec with 16MB card) with sound and be used for video conferencing.
Colin's Weekly Tech Tips


By:
Colin Sun
Forgotten Passwords: Save Them

I'm don't know about you, but I'm very forgetful. I always lose my keys, my wallet and I always forget my passwords! Thankfully, WindowsXP has a little built in feature that can help you if you forget your password, or more accurately, want to make sure you don't forget it!

You can make a password reset diskette by going into your "Control Panel" and opening up "User Accounts". Inside there find "Prevent a forgotten password" and once you found it, follow the instructions. Make sure you have a floppy in the drive and put it in a safe place - hopefully one you won't forget!

Now when you enter your password incorrectly Windows will prompt you for a the disk. This only works for computers which are not part of a domain, so it's best for your home PC where the IT department are never to be found.

Colin's Tips Archives | The PCStats.com Forums
PCstats Issue
No.68
Circulation 173,000
The High Tech Low Down
---
With Chris Angelini
It's nearly Christmas time, meaning I'm almost done with finals and your significant other is probably worrying about what to get you. If you've been good, it maybe something along the lines of a new All in Wonder RADEON 9700 Pro or an APR ECU upgrade for your Audi S4. If not, you might end up with someone's leftover PC133 memory. Pay attention though – during the next couple weeks, I'll let you know what to ask for, based on what I know is coming in 2003.
This week, let's start with video cards, since gaming is one of our ingrained pastimes. NVIDIA seems to be showing a lot of GeForce FX demos lately, but rest assured that we won't see hardware for at least another two or three months. If you are ready to go high-end, your best bet is to ask for an ATI RADEON 9700 Pro. The 9500 Pro also debuted recently, bringing with it DX9 support and performance nearly on par with NVIDIA's current flagship, the Ti 4600. If you've got around $200, that'd be my choice. Budget conscious buyers will want to gravitate around the GeForce4 Ti 4200, even in light of the recent SiS Xabre 600 and ATI RADEON 9500 releases.
PCstats Polls!
This Weeks Poll:
What do you want most on your motherboard?


---

PCstats News is updated throughout the day
right here
by Colin himself.

Have a product you think PCStats.com should Review?