Athlon64 Motherboards and Computex 2003
Hello,
PCstats is live on location in sunny Taipei, Taiwan for Computex 2003. Over 63,000 people attended this massive technology showcase which was spread out over three buildings, and featured thousands of high tech exhibitors hawking the latest computer goodies. Alongside the launch of AMD's Athlon64 processor, and Athlon64 motherboards, was some of the coolest technology yet to hit the stores. Nvidia's FX5700 NV36 videocard was one item, and we have an exclusive look at this to-be-announced videocard just for you. Asus saw fit to demo a concept board of Intel's upcoming Socket 775 Tejas processor; the replacement for the Intel Pentium4. Other than the completely new CPU formfactor (the chips' pins have been replaced with tiny solder balls), PCI slots are going to be replaced by PCI-express x1, and the successor to AGP, PCI express x16. ATI's PCI express x16 videocard was also exhibited - though not in a functional computer.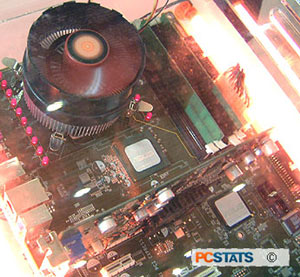 On the small form factor front, more than a few dozen new models were on display, each with their own variation on the tiny little hometheatre PC theme. That means we can expect prices to fall and the variety of features to skyrocket. SFF PCs now include MP3 players, dial-in overclocking, DVD, and audio playback all independent of the OS. Gigabyte even has a CDROM with a fancy car-stereo like interface up front!
There is much more to tell you about, so grab a coffee, sit back and see PCstats' latest articles from Computex 2003.
If the 64-bit Athlon64 3200+ is news to you, and you'd like to see how this brand new generation of AMD processors stacks up against the Intel 3.2GHz Pentium4, then be sure to read our review of the Athlon64 3200+ CPU here. If that wets your whistle, you can see the results for one of the few socket 754 Athlon64 motherboards available; the MSI K8T Neo. I got up close and personal with 44 of the latest Athlon64 and Athlon64 FX motherboards on the showroom floor, and of course we can't forget the unreleased nVidia NV36 graphics processor that will soon be called the FX5700.

With the K8, AMD has even more ambitious goals than in the past; they're simply trying to revolutionize the computer industry. The K8 is the first 64-bit desktop processor which is fully compatible with 32-bit and 64-bit software! With 64 bit software obviously the way of the future, the Athlon64 processor allows users to migrate their software over to 64-bit when they're ready. This contrasts pure 64-bit processors which translate into expensive purchases of new hardware and new software. With the Athlon64 processor capable of running 32-bit software now, you can even still use your favorite 32-bit applications under a 64-bit OS later. Continue -- Click Here>>



Taipei, Taiwan in september is a warm and perpetually busy place. Postponed from its original time slot in June, Computex 2003 had easily put SARS behind it and the focus was now turned to providing results. The last year has not been an easy one for the computer industry, and ensuring that 2004 is, belies the point that real jobs are on the line in the computer manufacturers. As the press milled about with their translators waiting for the AMD Athlon64 launch to begin, two AMD models gracefully showed off the tiny processors that have come to represent salvation for a chip manufacturer that posted nearly $900Million in losses in the earlier part of 2003. Also on display where a plethora of motherboards and a few small form factor Athlon64 computers from Fujitsu, and other OEM manufacturers. Already the lifespan of the newborn socket 940 Athlon64 FX51 is in question, as there have been announcements of a socket 949 Athlon64 FX chip in the very near future; perhaps ready in time for the onslaught of DDR2-667 or DDR2-800 for the Intel Pentium 4 in Q1 2004 and Q3 2004 respectively. It would seem to be the case, especially if we consider that SIS have road mapped the SIS756 chipset for the socket 949 Athlon64 FX for March 2004. The SIS 756 will support PCI Express x16, and a 1GHz FSB (2000MT/s). Continue -- Click Here>>


Walking by the seven story high poster of "Dawn," the 'sexed-up' spokes-pixie for nVidia every day at the arrival to Computex 2003 sets the tone for what has undoubtedly continued to be an unabrashed battle against between nVidia and arch rival ATI. As it stands, ATI has the better mainstream graphics card solution, and there are rumors floating around that it may even be working on new GPUs to compete in the high-end workstation segment. Nvidia on the other hand, has a larger profile to support its products, and perhaps more resolve to snatch the 'best graphics card' title away from ATI.
On a side note, I'd be curious to know what the Taipei NewYork NewYork is going to do with the 3/4-naked nVidia mascot once Computex 2003 has finished. How much do you think that piece of memorabilia would go for on Ebay to some nVidia fan? ;) Before we get too off topic, let's return to the whole point of this report from Taipei, Taiwan; a little model number called "NV36." Continue -- Click Here>>





Which should come first, the Athlon64 motherboard or the Athlon64 processor? The answer depends on who you ask; ask AMD and they'll say the chip, ask motherboard manufacturers and they'll say the chip.... wait, did I get that right? In spite of all the glory AMD are now reveling in having produced the world's first desktop 64-bit processor, until January 2004 arrives, it is going to be darn difficult for consumers to actually purchase an Athlon 64 processor by the sound of it. When asked how the AhtlonXP figures into the equation now, Jacky Huang, General Manager of DFI estimated that there was still roughly 6-12 months left in the lifespan of the K7 AthlonXP processor. Given the excitement which has maintained itself surrounding the Athlon64 launch, PCstats has compiled a comprehensive assortment of the many Athlon64 motherboards from over a dozen different manufacturers; and here they are... 44 Athlon 64 motherboards! Continue -- Click Here>>
| | | |
| --- | --- | --- |
| | | Auto Complete Can Auto-stop |


If you've got an old Win98SE machine at home, why not make it into a firewall/router? I know several of my friends who have done this. To get a bit more from their broadband connection through the old PC, they've applied a very interesting tweak. Apparently once you've set that up (complicated, don't ask :) you can out-right delete a registry value to give you a noticeable performance boost from Internet Connection Sharing in Windows 98SE.

First let's load up regedit (Start, Run, regedit then press ok) and follow this path. HKEY_LOCAL_MACHINE -> System -> CurrentControlSet -> Services -> ICSharing -> Settings -> General. There find the InternetMTU value and delete it, after that's done save and reboot. Please note that this only works with Internet Connection Sharing and PCs connected to broadband connections, do not apply this tweak if you're using dialup.

I tried this one at home and it did seem to improve the internet connection speed when using Windows 98 but of course your mileage will vary. Questions?



Now that the Athlon64 era is upon us you will soon be bombarded with all types of Athlon64 based peripherals. From motherboards to CPU coolers, a whole new market has just opened and there's a void of goodies at the moment.

When it comes to motherboards, most manufacturers were ready to go public last year with their Athlon64 products, but due to AMD having manufacturing delays, no one could release their goods. After all how successful are you going to be at selling a motherboard when the processor's are not even available? The MSI K8T Neo-FIS2R is one of the first socket 754 Athlon64 motherboards on the market, and believe me, it's one heck of a package! Continue -- Click Here>>





Fresh from penning our Firewall and Virus Alert article, PCStats would like to present the second part of our beginners guide to the less savoury aspects of the internet experience; dealing with the subject of "Spyware." If you've installed a peer-to-peer sharing program such as 'Kazaa Media Desktop' or 'Morpheus', or accidentally said yes to a 'Gator' pop-up, or gone on an excursion to some of the darker corners of the Internet, chances are your PC has developed an internet life of its own through one or more spyware applications. Once installed, spyware software can easily send any required information out to the Internet using the system's current connection. Such transactions occur in the background and are difficult to notice or trace, since most firewall hardware and software, including Windows XP's built in firewall, does not interfere with information going out of the protected computer or network. Continue -- Click Here>>

PCstats Issue
No.105
Circulation: 269,340



The High Tech
Low Down
Having just returned from Taipei, Taiwan, host of Computex 2003, I can confidently claim that motherboard manufacturers are worried about AMD's ability to satisfy demand for its high-end Athlon 64 FX-51 processor. Granted, the chip's $700+ price tag will deter all but the most passionate enthusiasts. But board makers don't like to hear that their Socket 940 motherboards may sit on store shelves indefinitely. Especially since the 939-pin revision, which doesn't require registered DDR memory, is set to appear in the middle of next year.
Of the many manufacturers I met with at the show, only a handful was willing to announce Socket 940 boards. The rest openly admitted that they were waiting for the Socket 939 refresh. Others were still up in the air, speculating that Athlon XP would inevitably move to the new Socket 754 interface for the duration of its life. If that occurs, most manufacturers indicate they will gravitate towards Socket 754 platforms that might support Athlon 64 and Athlon XP processors.
"What was the most bizarre rumor of Computex," you ask? Well, one manufacturer suggested that if Athlon 64 doesn't go well for AMD, we might see NVIDIA purchase the firm. All's fair in love and war, I guess.

Written By
Editor-in-Chief
. M. Page
Weekly Tips
. C. Sun
HTLD Columnist
. C. Angelini