Albatron's FX5950 Ultra Videocard

Hello,
It's the start of a new year, and already things are very busy; today was the launch of AMD's Athlon64 3400+ processor (no surprises here, it's faster) , and later this week I'll be jetting off to take part in CES 2004. Chaintech make their debut in PCstats Newsletter with a very well equipped Zenith ZNF3-150 Athlon64 motherboard that I'm sure you'll want to read about. The bundled-in goodies are too numerous to mention here, but the heatpipe cooling system is worth pointing out. ABit have something similar on one of their boards, but Chaintech's solution defiantly grabs your attention.

Since this is 2004, I'm going to start things off with a bang, and a little powerhouse called the Albatron FX5950 Ultra Videocard. Albatron are a little over a year old now, but this company quickly earned its reputation right out of the starting gates. PCstats Industry Insights has a few crucial words to say about AMD's latest processor, and in the Weekly Tech Tips section, you'll find more helpful ideas. In this weeks Beginners Guide, Mike walks you through the steps of creating your own MP3 files, and a little further down, you'll find a review of AOpen's latest aluminum tower case. The Aopen A600 case is a breeze to install gear into, and features an nifty back lit power button. Lastly, as if a K8 motherboard, FX5950 ultra video card, and all that wasn't enough, we look back at the AthlonXP 2500+ processor. It's not top of the line, but is one of the best values out there considering price vs. performance.

Thanks to everyone who filled out our Quiz last week, and entered themselves into the PCstats Newsletter contest for some great MSI Computer 802.11g Wireless Networking products. I'd also like to thank MSI for ponying up such great prizes! We'll be having the draw a little later in the week for the 10 prize packs, so keep your eye's peeled for a special email from me if you've won! By the way, 83% of you picked the happy face :)




The Albatron GeForceFX 5950 UV videocard packs a full 256MB of Hynix BGA DRAM, and is fully VIVO compatible. The card comes with an S-Video to S-Video cable, Composite-Composite cable and a VIVO break out box. In terms of software; Albatron have added in PowerDVD, PowerCreator, Duke Nukem: Manhattan Project and a five game demo CD. Albatron equip the FX5950UV with the "Wise Fan HSF" which we saw on their FX 5900 PV a while back. Two of the three 40mm fans spin by default, however if one fan should fail, or the temperature rises above 56 degrees Celsius, the third backup fan will kick in automatically. To test out the redundancy we stoppd one fan with our finger and as expected the third fan spun to life almost immediately. For those of you who are allergic to noise, you'll be happy to know that the fans are very quiet and are impossible to hear inside an enclosed case. Oh, the center of the heatsink lights up with a blue LED when the fan has power, it looks pretty cool. Continue Here>>



From a chipset standpoint there really are only two good Athlon64 chipsets to choose from at the moment; VIA's K8T800 and nVidia's nForce 3 150. Nvidia have a second revision of the nForce3 chipset set to be released this quarter, called the NF3 250, but we'll have to wait for that to cross PCstats' test bench first. Yet despite this impending trifecta, there is scarcely much of what we would call the 'intense competition' we saw in the heyday of the K7 chipsets. This is mainly due to the K8's integrated memory controller because it levels the playing field, and consequently makes the differences between each manufacturer's Athlon64 chipset less obvious. To remain competitive, chipset manufacturers are focusing on other aspects of their core logic, like unique architectures, or pricing that translates into more affordable motherboards. As we examine the Athlon64 Chaintech Zenith ZNF3-150 motherboard in the preceding pages try to keep all that in mind. Built with a nice black-coloured PCB under the top of the line 'Zenith' brand, the Chaintech ZNF3-150 is a force to be reckoned with when it comes to bundled goodies. Continue Here>>


Quick and simple instructions on how to make MP3s out of your CDs, and make MP3s into audio CDs back again.

Everyone has heard of MP3. For the last 5 or 6 years, it has been the most publicized topic concerning the computer world. From MP3 sharing vs. theft and RIAA lawsuits to the ease and convenience of carrying your entire musical library with you wherever you go, MP3 has got people's attention. Like many popular computer subjects however, it is not necessarily widely understood once you get past the sound bites and buzzwords. Ask anyone off the street about MP3s in the news, and you will no doubt get a knowledgeable nod and an opinion, but ask them what MP3 files really are and how they are made, and you would be more likely to get a shrug than facts. There is a lack of easily accessible, non-technical information about what MP3 files are, how they can be made and used, and the legal issues surrounding them. In this guide, PCstats aim to clear up those questions, starting with an easy definition; what is an MP3 file? An MP3 file is a compressed version of a digital audio recording, such as a track from a CD. The original song data is 'encoded' using a variety of techniques that reduce the size of the resulting file while preserving much of the (perceptible) sound quality of the original. Continue Here>>
| | | |
| --- | --- | --- |
| | | PreFetch Services |

One thing I find with Windows is that if one part of the system, like the task bar, has crashed, in order to fix it you have to reset all your 'explorer' functions. Perhaps I'm just being stubborn, but I like the order of the icons in my taskbar...
Of course you can change this in the registry. First load up regedit (Start -> Run -> Regedit then press ok) and follow this path HKEY_CURRENT_USER -> Software -> Microsoft -> Windows -> CurrentVersion -> Explorer.
From there create the DesktopProcess DWORD and give it the value 1 which makes explorer split into many individual services.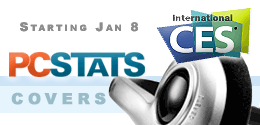 If this causes your system problems, simply change the value to 0 to disable.

From now on if you overclock too high, or a piece of software causes your system to become unstable, you no longer have to mess up your icons or reset explorer. Just reset the application which has actually locked up. =)



AOpen has been building computer cases for as long as I can remember, in fact when I think of my very first non-generic case, the AOpen HQ08, I still get a warm feeling inside. AOpen puts as much time and effort into designing their cases as they do everything else in their diverse product line, so we've always had pretty positive experiences looking back. The new all-aluminum AOpen A600 case is a prime example of AOpen engineering; an elegant design combined with a quality build. What more could you really want? The Aopen A600 also includes a single 120mm to keep case temperatures under control. If that is too loud for your taste, there's a fan controller on the back that can slow down the fan even more. The case mounted fan speed selector allows the user to fine tune the speed of up to two different case fans with one of three settings (hi-med-low). The 120mm fan also has three LED's (Red, Green Blue) which certainly makes the case look a lot prettier. Continue Here>>


The AMD AthlonXP processor has long represented an equal balance of pure economical value and performance. These traits have been enticing consumers towards AMD since the introduction of DDR memory, and that has given the company a strong foothold in the consumer PC markets. While it used to be said Intel was a force to be reckoned with, it now seems as though AMD has become just that, leaving Intel more on the defensive than ever before. While the price of an AMD processor is not as inexpensive as it once was ($200 CDN for a flagship processor anyone?), it still packs in one heck of a punch! The AMD AthlonXP 2500+ is easily the gem in the AthlonXP lineup, as it has arguably the most ideal price/performance ratio of any processor on the market right now. For enthusiasts, the AthlonXP 2500+ holds significance not simply because it is the lowest priced processor based on the Barton core, but also because it holds the promise of significant performance boosts when run at over stock speeds. Continue Here>>

PCstats Issue
No.116
Circulation: 246,977



Industry Insights
The new year looks to be a pivotal one for AMD, a company expecting great things from its fledgling AMD64 initiative. Though the Athlon 64 FX made an impressive first showing back in September, its price (and extremely limited availability) remains prohibitive to widespread adoption. AMD's mainstream Athlon 64, on the other hand, has a lot more potential. At the bottom end, the Athlon 64 3000+ is faster than the Athlon XP 3200+, and can be found just above $200. Then there's the Athlon 64 3200+, more than a match for Intel's 3.2GHz Pentium 4 and slightly more expensive.

Finally, there's the Athlon 64 3400+, already being offered by a number of online retailers. Running at 2.2GHz, it's very similar to the high-end Athlon 64 FX, only it employs a Socket 754 interface, houses a single channel memory controller, and costs $300 less than the flagship FX chip.

Conversely, Intel's Prescott plans have yet to fully materialize (though I've read speculation about an early-February launch). Based on public information about the new core, though, I wouldn't expect it to outgun the current Northwood implementation. While it remains to be seen how Intel will compete against fast, affordable processors like the Athlon 64 3400+, there's no denying AMD's momentum moving into 2004.

Written By
Editor-in-Chief
. M. Page
Weekly Tips
. C. Sun
I.I. Columnist
. C. Angelini