Asus A8V and PCI-Express ATI X600 XT
Hello,
The Asus A8V is an Athlon64 motherboard for the socket 939 processor, and it's a fast one at that! Based on the VIA K8T800 Pro chipset, the A8V earned high marks from us, so be sure to read the full review for the low down. Next up, we test out a PCI Express x16 videocard from Gigabyte. The Radeon X600 XT based Gigabyte RX60X128V is a mainstream videocard that easily outperforms the nearest PCI-E equivalent from nVidia. See the review for full details, and a taste of what PCI Express has to offer i915p/i925x motherboard owners.
nVidia's nForce3-250GB chipset powers the Gigabyte K8NSNXP into the Athlon64 socket 754 world, while a little further down in today's newsletter we look at a 52x CD-R/RW drive from AOpen. PCstats Guides you though the process of networking a home printer, while our Industry Insights column focuses on the new AMD Semperon CPU. Check out the Weekly Tech Tips, our Readers Q & A section, and of course don't forget to stop by the PCstats Forums and tell us what you think!
The Gigabyte GV-RX60X128V is equipped with 128MB of Hynix 2.5ns DDR DRAM, a nice little heatsink, and Video in / Video out. Gigabyte has bundled in a few extra's, such as a DVI-to-analog converter (for dual monitors), a full version of PowerDVD 5 and Rainbow Six 3: Raven Shield. The VIVO cable is about 120cm in length, so its easy to hook up the PC to a TV. It's a much better option than having those small VIVO boxes that stick out only a few cm from the computer. Now, time for a little overclocking!Continue Here>>



VIA's K8T800 Pro follows in the footsteps of the K8T800 chipset, while increasing its repertoire by supporting socket 939 AMD Athlon64 and AthlonFX processors, as well as up to 4GB of regular unbuffered DDR PC3200 memory. When paired with the Asus A8V motherboard, standard onboard goodies consist of 7.1 channel audio, IEEE 1394, Gigabit LAN, Serial ATA RAID, not to mention a PCI/AGP lock and HyperTransport links at 1000MHz. Round back at the I/O port we find an optical and Coaxial S/PDIF connection for home theatre systems, and a set of 6 universal audio jacks. Speaking of which, let's look a little closer at the Asus A8V motherboard. Continue Here>>
For any consumer interested in a fast motherboard that is fully featured, pay close attention to the Gigabyte GA-K8NSNXP PCstats is testing today. Based on the nForce3-250Gb chipset, this Socket 754 Athlon64 motherboard is literally filled to the gills with virtually every option under the sun. It has on board native Serial ATA RAID care of the NF3-250Gb chipset, and if that doesn't satisfy your storage needs, an additionally Silicon Image SiI3512CT128 Serial ATA RAID controller, for a total of four SATA headers!Continue Here>>

A Reader Asks...


Q: I've been experiencing some problems with Windows XP. I have tried to format my hard drive, but XP doesn't let me do it from my own PC. So the next thing I tried was formatting my hard drive (NTFS format) from another machine, but this other machine does not recognize my drive, so I cannot format it. This other machines uses Windows 98 SE Operating System. What can I do to format my hard drive?

A: If you want to erase the drive and start again, the easiest thing to do would be to use the Windows XP CD to erase the partition(s) on the disk and start again.

To do this: Boot your PC from the Windows XP CD. When prompted, press ENTER to install Windows XP again. Pass through the licensing agreement, then press ESC to begin a fresh install of the operating system. This will bring you to the disk-partitioning screen. From here you can highlight any existing partitions and delete them with the D key. Once you have erased all the partitions, your disk is effectively blank. If you have multiple hard drives in your PC, be careful that you do not accidentally erase partitions that have data you wish to keep. Pay attention to the disk information shown before the list of partitions on each drive.

Now you can create one or more new partitions and continue with the Windows XP install, or exit out if you wish to use a different operating system. Next week, saving your PC from the Blue Screen Of Death.

-Join us - Beginners Q and A in the PCstats Forums


A quick and easy guide to networking your printer at home without buying any extra hardware.


In this short but sweet guide, PCstats will look at how to make a printer available over your home network using Windows XP's built-in sharing abilities. Since most of us use USB or parallel connected printers, we are going to assume that this is the same for you. This article assumes that you have a printer correctly installed on a Windows XP computer and a working network connection to at least one other computer. If you need help in setting up your home network, be sure to read PCstats in depth guide to Home Networking and Wireless Networking before getting started here.Continue Here>>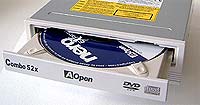 The AOpen COM5252 is capable of burning CD-R media at 52x speeds and CD-RW media at 32x. Reading CD-ROM material hums along at 52x, and the drive can also read DVD's at 16x. Combo drives are generally great for those who need the storage capacity of a CD burner and the ability to read DVD's at the same time. As a bonus, the AOpen com5232 also comes with removeable face plates so you can mix with your case. The AOpen 5232 combo drive is rather plain looking, but I like it because it's not gimmicky (no flashing lights!). For those of you with a nice old beige or black case, AOpen include three face plates with combo drive. The first is shown above, snow white in colour, the next is beige, which great for old PC's and there is also one that is jet black. Continue Here>>
| | | |
| --- | --- | --- |
| | PCstats Weekly Tech Tips | Protecting ZIP Files |

Today we're going to talk about password protecting ZIP files created via Windows. This is a basic tip, but I've had a few people e-mailing me asking how to do this so here we go...

First create your zip file by using the "Send to" feature. Once that's done open up the zip file and click on the File Menu and select "Add a Password...", that will pop open a new window. Now simply enter the password you'd like, confirm it and you're set. When someone opens up that zip file to recover data they'll now have to enter a password first before they can copy anything over.

Make sure you're folding for team PCStats with your spare CPU cycles.



PCstats Issue
No.144
Circulation: 261,197



Industry Insights
The upcoming AMD Semperon processor should be here in a couple of weeks, intended to combat the value appeal of Intel's Celeron lineup, which was recently bolstered by a move to 90nm manufacturing, a 16KB L1 cache (compared to last generation's 8KB), a 256KB L2 cache (compared to 128KB), support for the SSE3 instruction set, a 533MHz front side bus, and clock frequencies up to 3.2GHz.

Expect the Semperon family to ship in a couple of configurations: one for the established Socket A infrastructure and another for the Socket 754 interface later this year. Perhaps you noticed that AMD's former value champ, Duron, no longer exists. Semperon is to be its successor, based largely on the existing Athlon XP 'Thoroughbred' core, including a 333MHz front-side bus, and 256KB of L2 cache.

There's also a new model number scheme based on office productivity benchmarks. AMD anticipates that most Semperon processors will find their way into general-use systems. Consequently, a Semperon rated at 2400+ might only compare to an Athlon XP at 2000+, despite similar clock frequencies. Eventually, Semperon will transition onto the Socket 754 interface, where it will also include 256KB of cache, yet lack 64-bit support.

Written By
Editor-in-Chief
. M. Page
A Reader Asks...
. M. Dowler
Weekly Tips
. C. Sun
I.I. Columnist
. C. Angelini