Radeon X700 Pro
Albatron PX915P-AGPe
Soltek K8TPro-939
ASRock 775V88
Gigabyte 8TRX330-L
Corsair PC3200XL
Asus EAX600XT
Dual Layer DVD-R
Asus Hotel Wifi
PCstats Weekly Tips
Cool and Affordable Hardware Issue
Hello,

As I was creating this Newsletter Issue for you, it struck me that PCstats has been testing a lot of mainstream gear lately. While the economy is racing ahead like a thoroughbred, most of us find it difficult to really justify the expense of high-end hardware, even though it's fun to daydream. For when a videocard costs as much as a whole computer, its time to think again...
The Gigabyte Radeon X700 Pro videocard at the top of this issue is of special note because it's entirely silent, cooled with a heatpipe and heatsink instead of a fan. Next up is Albatron's Mars PX915P-AGPe motherboard, a socket 775 motherboard that has both PCI Express and AGP slots, so upgrading is a little easier for those wanting a new Prescott P4. On the other hand, if an Athlon 64 is in your sights, be sure to read PCstats review of the Soltek K8TPro-939. It's an affordable board, and performance figures are quite good. Built especially for mainstream users on a budget, the ASRock 775V88 is another good motherboard that doesn't cost a fortune. For an alternative Intel chipset, ATI and Gigabyte have produced the RX330 based GA-8TRX330-L motherboard. Currently, Gigabyte is the only company working with this ATI motherboard chipset, and again the board is suitable for mainstream applications.
Nothing says a fast PC like low latency DDR, and our review of Corsair's PC3200XL DDR is a must read! There are a couple other good reviews waiting for you to read over, including a really cool little wireless device for making hotel room internet connections into wireless. After a long day at a tech show like CES, the Asus WL-330 really comes in handy for exactly that reason. Colin has put together a cool Tech Tip this week, so check it out!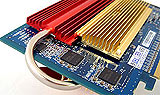 The PCI Express Gigabyte GV-RX70P256V's X700 PRO GPU is clocked at 420MHz, and its 256MB of RAM runs at 864MHz stock. Those of you who strive to maintain a quiet PC will like the Gigabyte GV-RX70P256V videocard since it uses entirely passive cooling, it is completely silent. Sporting the ATi Radeon X700 PRO GPU, it might well endear ATi to gamers who value a quiet PC system.
Although the Gigabyte GV-RX70P256V has moderately large heatsinks, it does not take up that much space and will not eat up the expansion slot below your PCI Express x16 port. Gigabyte ship the GV-RX70P256V with a pretty decent software bundle, and component/TV/VIVO break out box.
Albatron has made incredible progress since the company was founded by former Gigabyte CEO, Jack Ko, a few years ago. With 2004 a transition year for Intel, it has been a very expensive proposition for users to fully modernize their machines, but this is where the Albatron Mars PX915P-AGPe motherboard comes into play. It fills in the gap set forth by the socket 775 Intel Pentium 4 and Intel 915 chipset which require users to adopt PCI Express graphics solutions. Or course, this board will support a PCI Express x16 videocard (4GB/s bandwidth), but it also has a AGPe slot that is compatible with 8X AGP videocards. Furthermore, since the PX915P-AGPe is built around the Intel 915P core logic and ICH6 southbridge, it makes use of standard dual channel DDR memory. Continue Here>>

'Tis the season to be jolly, and if you're an enthusiast things couldn't be sweeter! With that in mind, it's good new that PCStats is reviewing an affordably priced AGP8X based motherboard called the Soltek SL-K8TPro-939. Like most Athlon64 motherboards these days, the SL-K8TPro-939 is very nicely equipped with IEEE 1394, 7.1-channel audio, Gigabit Ethernet, a Promise PDC20579 SATA/IDE RAID controller and the always useful Port 80 diagnostics card. Continue Here>>



There's little doubt that Asus is one of the technological leaders in the motherboard industry. ASRock's boards are based on the same Asus know-how, but are built with less frills, and less expensive components. For the budget conscience user, they're exactly what the doctor ordered.

PCStats will be looking at the VIA PT880-based ASRock 775V88 motherboard today. When PCstats first looked at the VIA PT880 reference board in January, we noted that performance of the chipset was quite good, definitely comparable to Intel's i865PE. Built for Intel's new Socket 775 Pentium 4 'Prescott' processor (533/800MHz FSB), the ASRock 775V88 is a no frills motherboard performs very nicely.

Continue Here>>

The first ATI chipset, the Radeon IGP 300 was actually a pretty good "first try." The IGP300 was slower than comparative chipsets, had some memory compatibility deficiencies, but with a low price point offered users an interesting alternative for budget systems. The new ATI RX330 chipset looks to be full of potential, its memory compatibility is even being validated by ATI. Currently Gigabyte has exclusive manufacturing rights to this chipset, so if you want an ATi Radeon RX330 based motherboard, the only vendor that can currently supply it is Gigabyte...Continue Here>>
Enthusiasts want fast memory with aggressive timings. Luckily for you and I, Corsair have just released some new PC3200 DDR memory which is rated to run at 200 MHz, with a CAS latency of 2-2-2-5! Of course, we couldn't wait to get our hands on some of this memory for testing!
Over the next few pages PCstats will be testing out a set of Corsair TwinX 1024-3200XL DDR 512MB memory modules. Sweet memory, indeed.Continue Here>>
Asus eXtreme EAX600XT Videocard Review

Overclocking is nice, but with a videocard forming the basis of a home theatre system, overclocking isn't a very important consideration. With that in mind, PCstats will be putting the Asus eXtreme EAX600XT videocard through its paces today. The card is based on the ATI Radeon X600XT graphics processor, which allows it to bridge the gap between PC and home entertainment with a little thing we like to call HDTV. Of course, there's more to this PCI Express videocard than an HDTV cables; the Asus eXtreme EAX600XT can also handle full VIVO. Continue Here>>

The ASUS WL-330 is a Pocket Wireless Access point. This nifty little gadget's main purpose is as a massively portable 802.11b wireless access point; hook it into any wired Internet source and you have an instant hotspot. This diminutive device also doubles as a USB-powered 802.11b wireless adaptor.
The Asus WL-330 is a tiny wireless access point so nondescript as to be practically invisible; it's also about the size of a deck of cards. The unit supports 11Mbps 802.11b wireless, and is designed to act as a wireless access point, or wireless adaptor in a pinch. The unit is a true travelers friend, great for use turning hotel internet jacks into wireless connections. Continue Here>>

PCstats Weekly Tech Tips: Secure that USB Drive

USB drives are extremely handy tools, but in some instances it might not be a good idea to allow users to write onto these devices from their PCs. This is especially true when working with highly confidential data or intellectual property at work; what if the information gets into the wrong hands because of a disgruntled employee?

Microsoft has acknowledged this potential security threat and users of Windows XP with service pack 2 installed can disable writing to USB devices. To do that we need to load up regedit (Start -> Run then type regedit and press the Ok button) and follow this path HKEY_LOCAL_MACHINE -> System -> CurrentControlSet -> Control. From there right click and create a new key and name it StorageDevicePolicies. In the window on the right then create a new DWORD value and label it WriteProtect, give it a value of 1 and users can no longer write to USB drives. To re-enable this option change the value to 0 and users are again allowed to write.

This is a useful tip for those who need to protect the data on their PC's!

Be sure to stop by PCStats Forums and post your questions, or join a team! If you're planning to upgrade your PC or need recommendation, this is the right place to do it.

Join the PCstats Forums Today @ Forum.PCstats.com!


PCstats Issue
No.161
Circulation: 221,886


This Issue By
Editor-in-Chief
. M. Page
Weekly Tips
. C. Sun