Cool Technology For A HoT Summer

Hello,

The summer is more than half over, and you know what that means? Invasion of the body snatchers... nope. Fredie vs. Jason... nope. Back to School! Yes, for those of you heading back to university, college, or even public school, now is the time when retailers will be vying to get you to buy this or that little electronic necessity. And as much as a good knapsack or some pens are necessary to get you through school with straight A's, computers now play a very central role.
Relax though, I'm not about to force a "PCstats Guide to Back-to-School Computers" article on you, or anything even remotely along those lines. Heck, September is still three weeks away! There are some new technologies coming to market in September, but we're not going to tell you about those just yet either...
This week, we have another fabulous guide from Mike that deals with remotely accessing your computer from anywhere the internet reaches. Ever wanted to check your home computer from the other side of the globe, or from the office? Mike tells you how to go about doing just that. Interesting and useful info to be sure.
On the review front we have a look at a set of 512GB XMS4000 DDR from Corsair, and a 128MB GeForceFX 5600 from MSI. In this weeks Tip, Colin takes on a reader request for a little help backing up email. The High Tech Low Down has some interesting things to say about AMD's upcoming 64-bit technology, so be sure to read it over.

Learn to control you PC from a 1000 miles away - Version 1.0.0
Have you ever arrived at school or the copiers with your floppy or CD and discovered that your latest paper did not exactly make a successful transition from the hard drive? Ever been away from home and wished you could get at your computer for just a second to get some contact info? There are any number of reasons why setting up your computer for remote access is a good idea, and PCstats is going to show you how to do it. The ability to access files and information on your computer over the Internet is useful for work and play, as well as being just plain impressive in a geeky kind of way. Several technologies are available to enable this kind of access. They range from from the shared file system built into most versions of Windows up to the proprietary systems developed for such software packages as PCanywhere by Symantec. File access is (quite obviously) intended to allow you to access your files from a remote location using the Internet, while remote control of the desktop brings the entire desktop of your home computer over to the computer you are currently using, allowing you to use your home computer as if you were currently sitting in front of it. At least, that's the idea anyway.Continue -- Click Here>>




Most of us cannot afford to spend $500 every six months in order to keep up with the latest high end videocard technology. Since we can't always get what we want, the real trick becomes finding the next best videocard at an affordable price.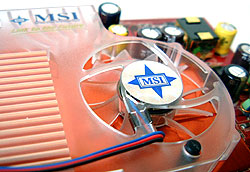 MSI offer up one solution to this search for performance at an affordable price in the form of the new FX5600-VTDR128 GeForceFX 5600 based videocard. With a retail price of $235 CDN ($167 US) the card comes with a whole slew of features, games, and is most importantly a decent performer.

That's all well and good, but what separates the MSI FX5600-VTDR128 from the rest of the GeForceFX 5600 competition? Unlike many products out there, MSI actually include a good software bundle with their videocards for starters. For example the FX5600-VTDR128 card comes with Morrowind, Ghost Recon, Duke Nukem: MP and a seven game demo/lite game CD. If the consumer complains loud enough the manufacturers eventually listen, and so that's why we now find virtually all videocards equipped with custom built coolers which are quiet-running. MSI's "T.O.P. Tech cooling" runs with less noise that their previous cooling solutions. While I cannot confirm if the videocard is running cooler, I did notice that the card does run much quieter (MSI claims it only generates 28db of noise) then most other videocards. Continue -- Click Here>>


When Intel released the popular i865PE/i875P chipsets along side the 800 MHz FSB Pentium4 processor, the game changed forever. Before this precipitous event, enthusiasts could never have thought about about sacrificing a memory module's latency for more bandwidth, but these days P4 "C" users running 300+ MHz FSB, bandwidth is king. These twin DDR modules are rated to run at an amazing 250 MHz FSB, however that is with latency set at the rather lax JEDEC PC3200 standard timings of 3-4-4-8. To achieve this speed the voltage supplied to the memory must also be increased to 2.75V. When we removed the black aluminum heat spreader on one of the 512MB TwinX-4000 DIMMs we were greeted with 16x 256Mb Hynix DRAM, specifically HY5DU56822BT-D43. According to Hynix, thses DRAMs are officially rated to run at 200 MHz with timings of 3-3-3-8 and a default voltage of 2.5V.Continue -- Click Here>>
| | | |
| --- | --- | --- |
| | | Allocating Resources is a quick fix! |

E-Mail is one of the most important pieces of data for most people. I know I'd be in trouble if I lost all my e-mail and contacts should a virus hit me or I accidentally format my HDD. Luckily it's easy to back up both. As Outlook Express and it's built-in address book are most often used, I will focus on that e-mail client only for this weeks tip.
Let's learn how to backup and retrieve e-mail first. I know that OE6.0 has an e-mail exporting feature however I find that it doesn't work very well. At least for me anyway. I find it's easier just to manually save all the e-mail files then place them in the right spot after at catastrophe. To find your e-mail follow this path, C: -> Documents and Settings -> Your User Name!->Local Settings -> Application Data -> Identities -> a folder with many different characters -> Microsoft -> Outlook Express. Inside the Outlook Express folder are all of the e-mail files. Save that data to another folder, or CD-RW for added benefit. After the data has been saved, all you need to do is place those files back into the same directory on your fresh install/new computer and you're set.
Backing up and restoring your address book is much easier. First open up your address book independent of OE (Start -> Program Files -> Accessories -> Address Book). From there click file then Export and Choose Address Book. Name the backup whatever you like then save it somewhere safe. On the fresh install, open up address book (again independent of OE) and load up file, then Import and choose address book. Now point the program where you stored it and you're set.


PCstats Issue
No.98
Circulation: 279,150



The High Tech
Low Down
AMD already has its 64-bit Opteron available to server and workstation customers. Soon, its Athlon 64 desktop chip will debut, bringing with it enhanced performance and support for 64-bit software, just like Opteron. A couple of months later, Intel plans to unveil its new "Prescott" core with improved Hyper-Threading, new instructions, larger caches, and faster operating frequencies. But it will lack 64-bit extensions, potentially giving AMD a leg up should the capability become popular.
But word on the street has it that Intel isn't totally unprepared for AMD's 64-bit onslaught. According to industry pundits, processors manufactured on Intel's upcoming 90nm process will support the 64-bit x86 extensions. Whether or not they are enabled is another issue entirely. The current theory is that Prescott (single processor) and Nocona (dual-processor) are slated for 32-bit only. Meanwhile, Potomac (multi-processor) will expose the 64-bit compliance, presumably in the second half of 2004. Potomac will also boast a larger L1 data cache - 32KB, compared to Prescott's 16. But that processor is aimed at four-way servers. What about power users and gaming enthusiasts? There may be a 64-bit desktop version emerging in 2005, though I can only surmise the success of AMD's Athlon 64 will determine if Intel moves forward with its top-secret plans.

Written By
Editor-in-Chief
. M. Page
Weekly Tips
. C. Sun
HTLD Columnist
. C. Angelini