Motherboard Issue; Gigabyte, AOpen, Albatron!
---
Hello,
Wondering what's up with the PCstats.com Newsletter of late? Well, in addition to a few late nights getting our coverage of the Intel Sprindale i865 chipset ready for release, I've just returned from an event hosted by Chaintech Computer in the beautiful city of New Orleans. We will have a full write up on that little adventure shortly, but for this edition 'Springdale' is king. To celebrate the launch of Intel's newest chipset, we have i865PE motherboard reviews from both AOpen and Albatron for you check out right now. More i865 reviews will be coming out shortly, so keep your bookmarks pointed to www.pcstats.com and check back often!
This weeks review of the Gigabyte P4 Titan 8PE800 Ultra (an i845PE based board) is a good read since older Pentium 4 and socket 478 Celeron processors are apparently not supported by Springale. The bright blue Gigabyte board is remarkably feature packed with Serial ATA, IDE RAID, LAN, and numerous other goodies built right in. The 8PE800 Ultra should make a good platform for mainstream users.
With three motherboards under the belt you'll probably want to read our review of Crucial's PC3200 ES DDR memory, or perhaps pull out the digital camera and drop the memory card in to a reader like Belkin's 8-in-1. Belkin are by far one the best known peripheral manufacturers out there, and the 8-in-1 reader handles just about every type of digital camera flash memory you can throw at it.
If wireless is your game, scroll on down to the Actiontec 55Mbps 802.11a WAP review, it's located just below another of Colin's Weekly Tech Tips. This week, the Tech Tips tackle extremely annoying Windows Messenger Service pop-ups - so now you can stop them dead in their tracks. Now, that's useful isn't it?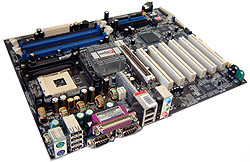 With the release of the i865 Springdale and i875 Canterwood chipsets from Intel, the final stake has been driven into Rambus' coffin. It seems that even the almighty Intel can buckle under pressure from consumers eventually! While the E7205 was officially a workstation chipset, Intel had finally offered up a dual channel DDR based chipset that could provide the Pentium 4 with sufficient bandwidth! The seeds were sown, and it was only a matter of time before Intel would bring dual channel DDR to the masses. In April of this year Intel released the i875P 'Canterwood' chipset which officially replaced the i850E as the top of the line desktop northbridge. Chipzilla said "bu-by" to RDRAM in the high-end Pentium 4 desktop world, but interestingly enough released nothing new for mainstream desktop computers to work with. The i845PE would have to last out a little while longer until i865 Springdale was ready. The release of the Intel i865 'Springdale' chipset comes today, and Intel has released no fewer than three flavours (i865P/G/PE) to choose from. Read the Rest...

The Gigabyte P4 Titan GA-8PE800 Ultra, with a retail price of just $145 CDN ($90 US), may be one of the best "bang for the buck" i845PE/Pentium 4 motherboards on the market at the moment! With 5.1 audio, Intel Gigabit LAN, three IEEE 1394 Firewire ports, Ultra ATA133/100 IDE RAID, six USB2.0 ports, Serial ATA/Serial ATA RAID, the ability to read smart cards (reader not incl.) and dual BIOS's what else more could a person want? If you need to expand on top of what Gigabyte include on board, there are still five 32 bit PCI slots on the motherboard to choose from. The software that accompanies the P4 Titan GA-8PE800 Ultra is quite impressive as well, and includes a complete Norton Internet Security 2002 bundle which consists of Norton's anti-virus, Personal Firewall, Privacy Control, Parental Control and Ad Blocking. Even though the i845PE does not officially support 200 MHz FSB, Gigabyte (and others like Abit, Albatron, etc) have released i845PE motherboards that can run 200 MHz FSB. The board can even be paired up with Intel's newest HyperThreading Pentium 4 C (the C beside a P4 denotes a 200 MHz FSB part) processors!

With the release of mainstream i865 chipsets today there will be soon an influx of new Pentium 4 motherboards on the market from which to choose. Albatron have never been one to sit ideally by and pass on a technology advancement; so grab a coffee and get ready to follow long as we test drive the all new Albatron PX865PE Pro II motherboard. The PX865PE Pro II is of course based on Intel's freshly launched i865PE Springdale chipset, which coincidentally enough, actually launched in spring. Boasting support for 400MHz, 533MHz and 800MHz FSB based Pentium 4's (Northwood or Prescott core) processors, the Springdale chipset forms the basis of Intel's 'mainstream' dual channel DDR chipset strategy. The only downside to Springdale is that the i865 no longer carries on support for older 'Williamette' based Pentium 4 processors, or even socket 478 Celeron CPUs for that matter. After testing the AOpen i865 AX4SPE MAX motherboard we were generally impressed with what it brought to the table. Stock performance was good, and the board was loaded to the gills with features. We expect the Albatron PX865PE Pro II will have a lot of "goodies" as well, and hopefully offer a little more in terms of overclocking.
Crucial PC3200 DDR400 256MB Memory Review
Belkin 8-in-1 USB Media Reader Review

A division of Micron, Crucial.com have been selling JEDEC-spec memory directly to the public since 1996. Since then they have built up an extremely good reputation for themselves, just check out their Reseller's Rating! It's not that they just sell quality memory, Crucial also offers first class service to its customers. Heck, most of the memory in the PCstats.com servers is Crucial memory. In any case, on with today's look at some special engineering sample Crucial PC3200 DDR. After JEDEC approved the PC3200 standard in Dec. 2002, manufacturers began the rush to not only get their DDR400 memory compliant, but also to encourage support within mainstream computer manufacturers like Intel.

Media readers are solid state devices which enable you to read or write data to and from flash storage media. In this case, the flash media can include Sony Memory sticks, Compact Flash, SmartMedia, MultiMediaCard and SD Flash. These four types of flash storage media form the basis for countless Digital cameras, PDA's, MP3 players and other devices. If you have a digital camera, you know that it can sometimes be a bit unproductive to go searching for the USB cable and hook up the camera to a notebook, or desktop each time you want to download some pictures. The same goes for really any device which comes with removable flash memory, and this is where the Belkin 8-in-1 USB Media reader comes in really handy. Plug it in once, no drivers necessary, and all your flash memory needs are solved an one location. Read the Rest...
Colin's Weekly Tech Tips



By:
Colin Sun
Today: Killing Pop-up Windows Messages

Quite a few people have e-mailed me asking how to get rid of those pesky SPAM-type messages that pop-up through the Windows Messenger Service. These messages appear for those of you who use Win98/NT/2k/XP operating systems. Please keep in mind though, Windows Messenger Service is not the same as MSN Messenger, or Internet Explorer for that matter. Windows Messenger Service is built into the operating system and it was intended to allow network admin's talk to the other users on the network.

To actually send a 'Windows Messenger Service' message users need to open up DOS and type "net send", the IP address where the message should be sent to, and the message itself. For example; typing "net send 192.168.1.6 My Computer is the fastest!" would send the message "My computer is the fastest!" to the computer on IP address 192.168.1.6

Anyway, getting back to those spam messages; luckily this is one of the easier things to disable. First make sure the account you're logged in with has Administrative access. Then go to Control Panel > Administrative Tools > Services. From there scroll down to the 'Messenger Service' and disable by changing 'Startup Type' to 'Disabled,' then exit. After that's done you'll no longer get those pesky Windows Messenger pop ups!

Colin's Tips Archives | PCStats.com Forums
The Actiontec PCMCIA cards which house the 802.11a components are compatible with 32-bit Type II PC Cardbus slots and will fit in just about any notebook on the market today. Below the black plastic part which pops up to a little over twice the height of the rest of the card sits an Atheros AR5000 WLAN chipset which operates at between 5.15 and 5.35GHz. That signal range puts the 802.11a way out of the range of interference created by microwaves, cellular & cordless phones, Bluetooth and even good old 802.11b. The FCC licences 5.25 - 5.35 / 5.65-5.85GHz to high power radar systems which is about the only thing left to possibly cause interference from what we can tell. With 802.11a operating under Wi-Fi5 5GHz OFDM (Orthogonal Frequency Division Multplexing) we as users are free to keep on trucking with our existing 802.11b equipment. As each of the two wireless systems operate on distant frequencies, the equipment is completely uninterruptable. The 802.11g standard was only recently ratified by IEEE and what it brings to the tables is backwards compatibility with the existing 802.11b standard while maintaining the speed of 802.11a. The only loop hole is that 802.11g does not bring compatibility (one system operates at 5GHz and the other at 2.4GHz so they are technically isolated).
PCstats Issue
No.88
Circulation: 245,552

The High Tech Low Down
By: Chris Angelini

After slipping up with the GeForce FX 5800 Ultra, NVIDIA looks to be making a strong comeback with its NV35 GPU, which will reportedly become available sometime in June. At the same time, ATI has debuted a 256MB version of its RADEON 9800 Pro with DDRII memory, though that card isn't much faster than the 128MB card before it. For the time being, it appears that NVIDIA is the dominant player in the enthusiast market. That is, providing NVIDIA lives up to its shipping date.
But all of this is today's news. Tomorrow is what matters. The cards announced today aren't even available yet, and rumors of next-generation graphics cards are already disseminating. Of course, NVIDIA is working on its NV40 and ATI is plugging away at R400 (though I have heard rumors the R400 team was pulled to focus on R500). But before we see R400, ATI may surprise us with what is being called R390, code named 'Loci.' From what we've heard thus far, the re-spun R350-successor is slated to be significantly faster than the RADEON 9800 Pro and even NVIDIA's freshly unveiled NV35. It won't be etched on a .13-micron process and it will almost certainly sport a very similar feature-set as the R350. When can we expect to hear more? Some time in the summer, apparently.

PCstats Polls!
PCstats News Poll:
What do you look for in a PC?
Visit the
PCstats.com ShoppingList
Page for the May 2003 Budget $599, Mainstream $1500, and
Performance $2500 System
hardware recommendations!

Submit a product for Review