High Tech Gear for Spring
---
Hello,
Spring is near, and as the weather gets warmer it will be time to bring out those PDA's, MP3 players and laptops and hit the patio for some serious recreational fun. Armed with the Crusoe-powered Fujistu P2000 I use for work, traveling, and play (nothing better than a DVD player on a long flight) and a hefty Wi-Fi connection I can tell you I'm pretty much ready and waiting to go find a good patio and knock back a dozen coffee's one sunny Sunday afternoon. In any case, spring is also a good time of the year to clean out the computer and back up all your files once and for all. This week we've been RMA'ing hard drives left and right in the PCstats.com labs which I guess just goes to show you that hard drive failure is a universal truth.
This weeks PCstats.com newsletter starts off with a look at a widescreen 17" LCD display from Samsung; perfect for watching DVD's, this monitor could be just what every DivX movie buff needs. Colin takes a look at the ABit IT7-Max2 V2 and proclaims to the wired world that the "IT7 MAX2 Rev2 is one of the best overclocking boards on the market." Moving on to a board which is actually brand new, Albatron celebrate their first year anniversary with the release of an autographed commemorative version motherboard based on the i845PE chipset. The board is even supposed to be set up to run 800MHz Pentium 4 processors if you happen to have one on hand. There is tones more in this weeks edition, but you'll have to read on to find out! Remember, after you read the Abit IT7-Max2 review, send in your comments - we'd like some feedback about how we can improve the quality of PCstats.com reviews. Your opinions are important. If you have any comments or suggestions about how we can improve PCstats.com in general, feel free to let me know too.

Retailing for a little over $600USD, the Samsung Syncmaster 172W is a pretty slim 17" widescreen LCD that packs in a pair of integrated speakers and even headphone jack. The screen conforms to a 16:9 aspect ratio making it ideally suited for watching DVD's full screen, although there is no way of inputting a signal directly from a DVD player. To improve visual display quality, a special feature called "Magic Bright" lets you increase the brightness of the screen all the way up to 400 nits - substantial considering most LCD monitors are capped off at 280 nit brightness ratings. Small stereo speakers are included the in stand, and if you don't want to listen to internet streamed radio over them, a headphone jack and volume wheel will let you use a set of headphones for music. Read the Rest...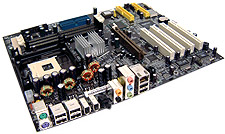 Abit stunned the world in March of 2002 when it announced the "To the MAX" line of motherboards. Manufacturers have been talking about getting rid of the legacy ports on motherboards for a long time but it was Abit which took the initiative and actually did, well just that. Their original AT7 MAX (KT333) and IT7 MAX (i845E) were quite revolutionary boards. Gone were the Serial, Parallel and PS/2 ports, instead replaced by small army of high speed USB 2.0 and IEEE 1394 jacks. It seems that Abit may have been moving a bit too fast for most consumers though as many in the hardware community complained about the removal of the legacy PS/2 ports. Abit has always been a company to listen to the end user and they did indeed rehash the MAX-series to create the AT7 MAX2 (KT400) and IT7 MAX2 (i845E) with PS/2 ports (but still without serial and parallel). I'm going to be a spoiler here, the IT7 MAX2 Rev2 is easily the best i845 based motherboard I have used! =)

Albatron recently celebrated their very first anniversary, and looking back it has been quite a year for this upstart motherboard and videocard maker. Since January 2002 this Taiwanese company have really taken the hardware community by storm. If someone asks about a high quality, good overclocking motherboard or videocard, Albatron's name invariably pops up. For a new company in a highly competitive market such as mainboards this says a lot. With the guidance of Jack Ko, Albatron's CEO (and former head of Gigabyte) the company has achieved quick rapport with major players like Intel, nVidia and AMD. To commemorate this anniversary, Albatron have created the "Anniversary Special Edition" PX845PEV-800 i845PE Motherboard. This is more than just another i845PE based motherboard though; Albatron have made the bold claim that this model will run at up to 200 MHz FSB and support PC3200 DDR memory! Read the Rest...

Visit the PCstats.com ShoppingList Page for the March 2003 Budget $599 System, $1500 Mainstream System and $2500 High-End Performance System hardware recommendations. Coming next week - the April 2003 Edition.
Asus A7N8X nForce2-SPP Motherboard Review
AMDs Move To a 400MHz Bus Speed
Ask anyone in the computer industry to name who they think is the best manufacturer and Asus will always be one of the first companies to come to mind. Asus have been producing motherboards, videocards, and countless other OEM components since 1989, and today we're going to be examining their extremely popular Asus A7N8X nForce2 SPP motherboard. Based on the nVIDIA nForce2 SPP chipset, the A7N8X was one of the first nForce2 motherboards on the market and the board caught on like a wild fire. Being first always has its advantages. Asus offer the A7N8X in two versions; there's the deluxe model which is probably the most well equipped motherboard on the market (with Ethernet, firewire, Serial ATA) and the plain "no frills" version which is what we're reviewing today. The Asus A7N8X motherboard has support for any 200/266/333 MHz based Athlon/Duron socket A processor, including the newly released Barton core. Read the Rest...

While AMD just recently increased the AthlonXP bus speed from 266MHz to 333MHz in October 2002, there has been a lot of talk lately about the AthlonXP moving to a 400MHz bus speed as early as the third quarter of 2003. As most overclockers already know, FSB (Front Side Bus) speed is very important to overall system performance. As we have seen in the past with the Intel Celeron line of processors, a low FSB can severely limit the overall system performance of a processor regardless of what the CPU clock speed actually is. With this upcoming FSB change on the horizon for AMD, many consumers will soon confront the eternal "should I buy now or wait" question. To illuminate some of the potential differences, we're going to take a look forward and compare an AthlonXP 3000+ running at 333MHz bus speed to the same chip running at a 400MHz bus speed (while keeping CPU clock speed approximately the same).
Colin's Weekly Tech Tips



By:
Colin Sun
Today: Nix the Auto-resizing in IE6

Automatic resizing of large images is a feature Microsoft built into IE6 to make things easier for the end user. In my opinion, when large images are scaled to fit the screen it can make them a little to distorted. Most of the time I find I end up just clicking the little box in the lower right hand corner to display the image as it was meant to be seen. Luckily this is one feature which is easy to turn off in Internet Explorer 6.

To do this you need to open up Internet Explorer and go to Tools menu, from there select Internet Options. Click on the Advanced tab and you should see a window with a lot of radio and check boxes. Scroll down to the Multimedia Section and from there uncheck the Enable Automatic Image Resizing box. Click the Ok button and now you're set. Images will no longer resize to fit in the IE 6 window.

Colin's Tips Archives | PCStats.com Forums
The Last Word: Tell your friends to sign up for their own weekly PCstats.com Newsletter here! It's Free, it's informative, and it arrives in your mailbox weekly.
PCstats Issue
No.81
Circulation: 192,153

The High Tech Low Down
By: Chris Angelini
A small form-factor revolution is sweeping the industry. It seems that the compact, highly integrated boxes are designed to prove that in some instances, less is more. But is a minimalist approach necessarily the best?
I recently had the chance to review a pre-built small form-factor system based on the nForce2 platform. A marvelous machine by all accounts, the primary weakness I found was its 200-watt power supply. Along the same lines, FIC recently released its Ice-Cube system with a 150-watt unit. And MSI has a Slim PC with 180-watts backing it. Admittedly, I didn't encounter any problems with the Athlon XP 3000+ and RADEON 9700 Pro combination, but I can only wonder how long a configuration like that will operate reliably. I'm not saying that the latest hardware isn't going to work in one of these small form-factor systems, but there has to be a reason ATI recommends a 300-watt power supply in its retail packaging. I'm not trying to warn you away from a SFF chassis, either. They make great platforms for convergence devices and even LAN gaming systems. However, if you do decide to build a cutting edge system using a small form-factor box, be cognizant of thermal issues, as cooling is one of the most important points to take into consideration.

PCstats Polls!
PCstats News Poll:
How often do you read PCstats News?
Click here to Vote!
---


Submit a product for Review