Granite Bay, Springdale, Canterwood; Intel's New Chipsets
---
Hello,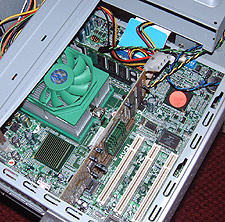 The 1.4GHz AMD Athlon 64 (K8 ClawHammer) SFF PC from FIC. Based on the FIC HV31 motherboard and VIA K8T400M chipset.
Comdex was a lot smaller this year by everyone's account. The cabs, which have always been an excellent benchmark of attendance, were lined up waiting for fares, and the volume of exhibitors reportedly hovered around the thousand mark.
Truth be told, most of the mainboard manufacturers PCstats met with had suites at the Venetian hotel for their exhibits, so we spent less time at the LVCC than in years past.
While the technology announcements following Nvidia's GeForceFX were light, there were some interesting things to see if you knew where to look.
There were numerous AMD K8 Hammer motherboards on display which were based on the VIA K8T400, AMD 8111, ALI and SIS 755 chipsets. FIC exhibited a fully working 1.4GHz Athlon 64 (ClawHammer) Small Form Factor system, but were not allowed to show it in operation by AMD's request.
In addition to the four K8 motherboards FIC has ready, they also showed off a Springdale-based Pentium 4 motherboard which was supposed to bring 667/533/400MHz FSB support to the table. With news of the "Canterwood" chipset on November 15th, 667MHz FSB speeds have been scraped in favour of a jump to 800MHz FSB and the as of yet unreleased JEDEC DDR400 standard.
For fans of RDRAM, the i850E will be the last chipset from Intel to support Rambus memory as DDR as fully arrived on scene.
| Chipset: | Canterwood | Springdale-G | Springdale-PE | Springdale-P |
| --- | --- | --- | --- | --- |
| FSB Support: | 800/533MHz | 800/533/400MHz | 800/533/400MHz | 533/400MHz |
| System Bus: | 6.4GB/SEC | 6.4GB/SEC | 6.4GB/SEC | 4.2GB/sec |
| Memory: | DDR400/333 | DDR400/333/266 | DDR400/333/266 | DDR333/266 |
| Memory Channel: | Dual | Dual | Dual | Dual |
| AGP Type: | 8x | 8x | 8x | 8x |
| Available: | Q2 2003 | Q2 2003 | Q2 2003 | Q2 2003 |
| Southbridge: | ICH5 | ICH5 | ICH5 | ICH5 |
| Serial ATA: | Serial ATA 150 | Serial ATA 150 | Serial ATA 150 | Serial ATA 150 |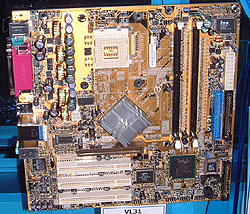 The 1.4GHz AMD Athlon64 (K8 ClawHammer) SFF PC from FIC. Based on the FIC HV31 motherboard and VIA K8T400M chipset.
Moving back to the "K8" Athlon 64, we have heard that the AMD 8111 chipset remains "buggy", and that this may have added to the delay in the processors release. Many mainboard manufacturers expected AMD to announce the release of the 64-bit processor at Comdex last week, but that was not to be the case.
Motherboards and and cooling solutions are ready for the Athlon 64, but the processor will not enter retail channels until March or April 2003.
Processors are the force which drive our computers, but it is the Videocard which drives our games. PCstats attended the official release of the new Nvidia GeForceFX (NV30) core at the Bellagio Hotel in Las Vegas last week and it was quite an event to behold!
With the GeForceFX, Nvidia are focusing on what they call "Cinematic Computing," and to achieve this goal the GeForceFX will be clocked at 500MHz core, and 1GHz (DDR-II) memory.
With 125 million transistors, the 0.13micron copper process GPU will be coupled with 2.2ns DDRII memory, and present one very formidable opponent to ATI's R300. Memory timings look like they will eventually scale to 1.8ns memory, and a core speed of around 1.2GHz (estimated). The GeForce FX was shown with its copper "FXFlow" active heatsink (a modified version of Abit's OTES cooling system) and from what we heard, the core may output anywhere between 60-80 Watts of heat.

Intel made a strong showing with E7205 Granite Bay chipset based motherboards, which bring dual channel DDR266 memory support to the table. The E7205 chipset effectively increases the performance of a 533MHz FSB-based system to that of PC800 RDRAM - or even to that of PC1066 RDRAM as claimed by Gigabyte who have also thrown in a six-phase redundant power supply on the 8INXP mainboard. With the life expectancy of this workstation level platform at just over three months, more than a few manufacturers are scrambling to decide what to do after Intel's abrupt announcement of the 800MHz FSB "Canterwood" chipset.
SiS already have their SIS755 chipset out for the AMD Athlon 64 processor, and while that is impressive in its own right, the new release for Comdex was the Xabre600 videocard which is reportedly faster than an ATI Radeon 9000. The card is intended for the mainstream markets where price and performance are equally important. The new SiS Xabre 600 features a 300MHz core and 300MHz memory clock speed and is fully AGP8X complaint. According to SiS, the Xabre 600 has been used as an AGP8X reference platform by both AMD and Intel. PCstats will have a full in-depth review on the Xabre 600 for you to read this week so stay tuned!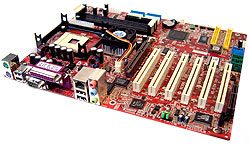 One of the biggest problems with the i845E/G chipset is that the Pentium 4 FSB increased from 400 MHz to 533 MHz, the available memory bandwidth to the processor didn't. Consumers with 533 MHz based P4's were still paring them up with PC2100 memory and performance suffered consequently. To get around this problem, Intel has just released the i845PE/GE which officially brings the Pentium 4 processor and PC2700 DDR memory support together.
As usual, MSI is one of the first manufacturers to have adopted the new i845PE chipset, and with it they produced the MSI 845PE Max2-FIR motherboard. Throw in one of those optional MSI Bluetooth kits and you have one mean little red motherboard! The only missing component is Serial ATA, but since those SATA hard drives still haven't popped up in stores, this is something we can live with quite easily for the moment.
Colin's Weekly Tech Tips
Written By: Colin "Mr." Sun





Colin's World of Secrets..


While I love how pretty the WindowsXP log in screen is, it's not very secure. It gives a list of user accounts and even password hints to possible intruders! Personally I prefer the WinNT/2k way of logging in. NT is much more secure (for people paranoid like me) and luckily it's an easy thing to change on your computer. Go into your "Control Panel" and double click on "User Accounts". Once you're there go to "Change the way users log on and off" and uncheck the "Use the Welcome screen". Please keep in mind when you do this, you'll be disabling "Fast User Switching" as well. There you go, now when a stranger uses your computer they'll have a harder time logging in and won't have access to all your user accounts!

Colin's Tips Archives | The PCStats.com Forums
PCstats Issue No.65
Circulation 165,000
The High Tech Low Down
---
With Chris Angelini
Comdex 2002, which felt significantly smaller than any year prior, has ended. Three days of attending meetings and walking around on the show floor has shed some light on some interesting news. First, an unnamed motherboard manufacturer demonstrated an engineering sample Athlon 64 running at 1.4GHz. "Benchmarks of the processor," the representative told me, "are showing about a 30% improvement [compared to the 1.4GHz Athlon]." AMD's launch goal still seems to be 2GHz. In addition, it seems as though the Athlon XP 2800+ may be the last Thoroughbred processor; Barton may be the next big thing from AMD, though I couldn't get a representative to say for sure. Of course, it is no secret that NVIDIA unveiled its GeForce FX this past week. I was shocked at first glance, as the FX Flow cooling mechanism bore an uncanny resemblance to ABIT's OTES technology that debuted on its Ti 4200 card a couple of months back (with the addition of an intake pipe). Sure enough, it turns out that NVIDIA "borrowed" ABIT's design for the GeForce FX, incorporating technologies ABIT planned to use in a second generation of OTES. So while the show was small, plenty of information was to be had. Until next week…
Motherboards, Xabre 600, and Plasma TV's - fun, fun, fun!
---


Got a product you think PCStats.com should Review?