Hammer Chipsets on the Horizon
---
Hello,

With the 3GHz barrier about to be broken, it seems rather remarkable how far processors have come since the days of the first 386 CPU running at 25MHz, or so. November 7th also marked the release of the Tablet PC. Spurred on by Microsoft; Acer, Fujitsu, Compaq, Motion Computing, Toshiba, and FIC released devices which break, and blur the lines between slate and notebook computing. The 'convertibles', like the 1GHz Crusoe powered Compaq Evo are the most interesting because they still encompass a keyboard. Only time will tell if consumers embrace or reject the new technology, but I for one can't wait to test them out at Comdex in a few days time.
This weeks newsletter covers a wide spectrum of gear, starting off with a nice metallic grey case from Antec, and some Kingmax PC2700 DDR BGA memory. In the how-to arena we have an article by guest writer Keith McClellan on tweaks to make a BIOS faster during boot up, and a guide to cutting your own CAT5 Ethernet cables. With practically every computer networked these days, knowing how to crimp your own CAT5 cable can save a lot of money in the long run. As if that weren't enough already I dug up an article which explains some of the benefits and down sides to different types of cooling fans. Okay, that might be a little too techie for everyone, so we've also included our review of a 47" rear projection HDTV - because big TV's are fun!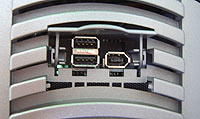 Computer cases used to be the last thing on everyone's shopping list, and then something changed - case modding brought about a resurgence in design and case style. Now it's possible to buy pre-modded cases and even all aluminum cases filled with blinking lights. In this situation, the case is designed to look professional, and be exceptionally functional. The Antec 1080AMG is an updated model of an old standby - the SX1030B and the face lift is well worth it.

The new Antec Plus 1080AMG as it is formally called, comes with a coat of metallic grey paint, and features a hexagonal side blowhole and USB/Firewire ports up front. Add to that a few other minor refinements and you'll be left wondering why you ever decided to go for a bland "white box." Adjacent to the USB ports is a single IEEE1394 jack which is great for devices like digital video cameras, or even external hard drives.

You can make some simple changes to your BIOS (the initialization program of your computer that runs every time you start up) that will drastically increase the speed of your system. To enter your BIOS, press the designated key during the power-on self-test. If your computer doesn't appear to have a power-on self-test, and instead you have a splash screen with the name of the system builder, check the computer's manual for information on how to enter the BIOS (or, worst case, you could always call the manufacturer). Once you are in the BIOS, several very simple modifications can be performed to optimize your BIOS. The first thing to do is to use the Auto-Detect IDE drives utility. Once you have used the utility to detect all of your IDE hard drives, enter the standard BIOS setup menu and disable all of the other IDE channels. Don't worry if you have a CD-ROM or other device attached to those channels - the computer has another way of detecting those pieces of hardware separate from these settings. After you've performed that simple tweak, enter the advanced BIOS setup menu and modify the following entries:

Pipe in component output from a trusty Progressive Scan DVD player to this bad boy and movie nights will have a whole new meaning. Or if you're like us and X-Box does it for you, try playing a few rounds of multi player Halo on this $2,150 USD 47" wide screen HDTV. With a 16.9 aspect ratio, letter box films fill the screen in full glory, and two player split screen games like the oh-so-addictive Halo are really in their element. Samsung make the HCL473W for the home theatre crowd and there are more than a few touches which make it very easy to live with.
PCstats Issue No.63
Circulation 165,000
The High Tech Low Down
---
With Chris Angelini
As the world waits for AMD's Athlon XP 2800+ to hit retail shelves, which I've been told will happen early next year, I can't help but wonder when we'll see the eighth generation Hammer family. Originally slated for release late in 2002, processors built on the K8 architecture will feature an integrated memory controller, making the job of chipset manufacturers a little easier.
Several manufacturers have already vocalized plans to support the Hammer. VIA's upcoming K8HTA (K8T400), for instance, will support AGP 8x, Serial ATA, and integrated Ethernet. SiS will take that one step further with its 755 chipset, possibly sporting integrated graphics and IEEE 1394, in addition to AGP 8x and Serial ATA. Acer Labs supposedly has a chipset in the works, though it doesn't appear to be nearly as feature-complete as VIA or SiS' products. Of course, AMD will have its own 8000 series chipset ready at launch time, just as it did with the 750 and 760 chipsets. AMD's solution adds PCI-X support, though it neglects Serial ATA and FireWire. Finally, NVIDIA will offer its own nForce-derived Hammer chipset, which I'd expect to perform well considering NVIDIA's experience with Hyper Transport.
845PE motherboards and neat little computing accessories we can't live without...
---


Media and Advertising Enquiries.