Intel Saying Good-bye To RDRAM?
---
Hello,

With COMDEX Fall just around the corner, mid-terms in full swing, and anticipation of new and exciting technology releases in November this is a really exciting time! I'm personally looking forward to Microsoft's Tablet PC on Nov. 7th; and we're already sussing out a few devices to review. To get the dirt on the new Tablet PC as it unfolds I recommend you check this.
For companies like Transmeta, the Tablet PC should really emphasize the Crusoe's long battery times - but we shall see.
C. Angelini speaks about Intel & RDRAM this week along with some words on dual channel DDR, so make sure you read The High Tech Low Down. Last time we promised you Radeon 9700 reviews, and in today's PCstats.com Newsletter we have a Radeon 9700 Pro from Crucial on the block. Actually, it seems we've gone a little bit heavy on videocards this week, for we've also tested the MSI GF4MX440-8X and Prolink GF4 MX440-8X cards. I think a good tech diet should consist of videocards and memory; and with DDR firmly entrenched I've included an excellent review we first posted about a year ago. The review covers PC2100 DDR and also contains a good synopsis of the changeover, and explanation of what DDR really means. Definitely worth the read!
Jumping back to the present, Corsair have just released some very tasty XMS3500 DDR. We have the review right here, along side a look at a new technology Kingston memory is calling EPOC. Be sure to check out Colin's Weekly Tech Tips if you game on Windows XP. Until next week, keep those email's coming and we'll do our best to answer your questions. If you haven't yet tried out Intel's Tech Wire you might want to now.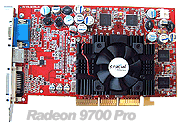 Unlike the Radeon 8500LE which was a good choice for value oriented users, Crucial is targeting high-end gamers with their Radeon 9700 Pro, which retails for about $369USD. To top things off, anyone who has bought memory from Crucial knows they have an excellent level of service and support!The Crucial Radeon 9700 Pro has all the goodies that come with the standard Radeon 9700 Pro. It uses the same ATI R300 core which has 107 million transistors built on the 0.15 micron manufacturing process. The card is fully DirectX 9.0 compatible , as well as being an 8X AGP part. The 128MB of memory on board uses a 256-bit memory interface which gives an amazing peak bandwidth of over 20GB/s!
Like every new technology standard to arrive, "8X AGP" has eagerly been picked up by videocard manufacturers; if your videocard or motherboard isn't 8X AGP compatible you're using old tech - and who really wants to have old technology? Today we're going to check out MSI's newest addition to their family of video cards, the GeForce4 MX440-8X based videocard. Will 8X AGP breath new life into the old DirectX 7 based GPU? I think so.
Dealtime: - 8X AGP cards can be found online by clicking on the Videocard Links on the left.
Shop for Video Cards
ATI, Asus, PNY, MSI, Albatron, etc.
Motherboards
Abit, ASUS, iWill, Shuttle, Soyo, and More...
Processors
AMD / Intel
Memory
RDRAM, DDRAM, SDRAM

AGP 8X is certainly the new catch phrase when it comes to motherboards and videocards these days. Since SiS and ATI both enjoy the 8X AGP spotlight it would be a little naive to expect Nvidia to sit back and stay out of the party. Today we will be reviewing the Prolink PixelView GeForce4 MX440-8X; the videocard uses the new tweaked NV18 (MX440, 8X AGP compatible) GPU, and is backed up by 128MB of TSOP-II 3.6ns Samsung DRAM. Prolink is targeting the gamer on a budget with the PixelView GeForce4 MX440-8X because the card is probably one of the fastest GeForce4 MX's out there. Prolink clocks the core of their card at a full 300 MHz up from the 270 MHz most other MX440/MX440-8X's are clocked at. The memory is clocked at an amazing 550 MHz, again up from the usual 400 MHz of most other MX440/MX440-8X's!
[This review, originally posted June 2001 has a very good synopsis of DDR, and how the switch from SDRAM came about. We've been getting a few questions on the matter lately so I'm recommending it today. -Editor]
In the last few months, the PC industry has been witness to some very exciting developments. Processors that were once considered fast (550-900MHz), have been supplanted by small squares of silicon which can easily run well over the 'magical' threshold of 2.0GHz. Still newer processors are on the drawing boards of chip designers which by the end of this year are expected to break the 3.0GHz+ barrier!
DDRAM MEMORY

DDR RAM timing for CAS2 DDRAM. Note the vertical dashed lines which indicate an access of the memory. There are two per clock cycle (T0-T1), whereas SDRAM has only one.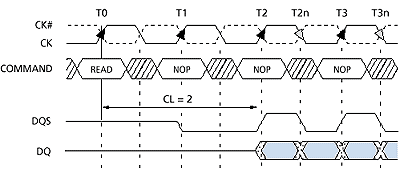 SDRAM MEMORY

CAS Latency (CL) is the delay between the registration of a read command and the availability of the first piece of output data. CAS latency is measured in clock cycles. This particular timing diagram represents SDRAM with a CAS latency of 2. In this example a read command which is registered at T0 (Time=0) and will not be valid until T2 (Time=2). Essentially, the lower the CAS latency the better - this holds true for both DDR and SDRAM.
DDRAM (Double Data Ram) evolved from the need to search out an alternative to SDRAM to free up this pressing bandwidth limitation.
EPOC Technology for Memory Modules

EPOC was developed with server memory in mind. Servers are very crowded devices and there isn't much room in a 1U, 2U or even 3U rack mount system for many DIMM slots. DIMM slots are where the DRAM gets clicked into place, and typically there are four on a motherboard. Typically memory modules max out at 1GB - and since it is very, very expensive to achieve this level of memory density using 16 individual TSOP-II chips (Thin-Small Outline Package), manufacturers use a few tricks.

Corsair

is well known for producing some of the highest quality DDR memory there is, and unlike some other manufacturers which share the same distinction, Corsair's memory is readily available and easy to get a hold of. Now, we recently looked at

Corsair's 256MB XMS3200 CAS2 DDR

memory module and were quite impressed with what we saw. The question on the table today is whether the just announced Corsair XMS3500 DDR memory would

fill the shoes

, and offer even more.
Colin's Weekly Tech Tips
Written By: Colin "Fastest Webmaster" Sun





Faster FPS Gaming with Windows XP!
WindowsXP is a great OS, but one problem I find that bugs the hell out of me is Mouse Acceleration. It's especially irritating when I play FPS games. Luckily there's a simple fix for this. Click the Start Button, go to Run and type Regedit .

From there go to HKEY_CURRENT_USER -> Control Panel -> Mouse folder. Find the SmoothMouseXCurve: and SmoothMouseYCurve: binary value's. Here under the binary SmoothMouseXCurve you'll want to change your value's to look like this...

00 00 00 00 00 00 00 00
00 a0 00 00 00 00 00 00
00 40 01 00 00 00 00 00
00 80 02 00 00 00 00 00
00 00 05 00 00 00 00 00

And change the "SmoothMouseYCurve" values to this...
00 00 00 00 00 00 00 00
66 a6 02 00 00 00 00 00
cd 4c 05 00 00 00 00 00
a0 99 0a 00 00 00 00 00
38 33 15 00 00 00 00 00

After making those changes, reboot your computer. Now load up your favorite FPS game and you should notice you can 'frag' a lot easier!

Colin's Tips Archives | The PCStats.com Forums

Hey did you see that thread in the PCStats Forums today? Sign up, join in, and get the discussions going!
PCstats Issue No.60
Circulation 165,000
The High Tech Low Down
---
With Chris Angelini

Months after the introduction of VIA's KT333 chipset (supporting DDR333), Intel has decided to officially validate the memory technology for its own i845 family. With the release of the i845PE and i845GE chipsets, Intel also comes close to eliminating any reason to pick up an i850E board with RDRAM memory. Yes, SiS' R658 may breathe some life back into Rambus' brainchild, but it would seem that RDRAM may very well be on the way out.
Having axed RDRAM from its roadmaps, Intel is focused on moving from a single channel to dual-channel DDR memory configurations. Beginning next year, Intel will offer the "Granite Bay" chipset with said dual-channel support, aimed at the workstation market.
Although DDR400 is available from many manufactures, DDR333 remains the favorite. NVIDIA claims that the nForce2 chipset performs best running synchronous front side and memory busses (in other words, 333/333MHz). Similarly, I've seen very little improvement moving from VIA's KT333 to the newer KT400 chipset. In order to achieve stability with DDR400 memory, many motherboard manufacturers are having to soften memory timing, resulting in reduced performance. Perhaps we'll have to wait for a JEDEC memory standard before DDR400 becomes a more viable option. Until next week…
---
Meet the Radeon 9700, motherboards galore, and.... oh we can't tell you yet ;-)
---


Media and Advertising Enquiries.