The State of Graphics GPU's


Hello,
I'm just going to jump right in this week and let you know about our review of a GF4 Ti4200P-Turbo video card which is built on a Ti4600 PCB with 3.3ns BGA DRAM. If that Albatron GeForce Ti4200 isn't enough to spark your interest, then perhaps I can tempt you with a VIA KT400 based motherboard sporting Serial ATA and 10/1000 LAN! What, still not enough?
Okay - Corsair have recently gained a lot of attention with their PC3200 DDR400 memory, and Colin's review breaks out the real deal.
Now if fast memory, fast video cards and fast motherboards aren't your thing, then maybe you'll be interested in our review of a 19" LCD from Hitachi. This sleek black display impressed us , so it might just impress you to.
With the number of aluminum cases on the market it was only a matter of time before an all-black, all-aluminum power supply showed up. The VA-470W from Vantec certainly caught our attention, but if you want something which is really silent then you'll have to look at this 300W quiet power supply from Zalman. Colin even gets into some foam for "case quieting reasons' this week so be sure to check out Colin's Weekly Tech Tips! Until next week...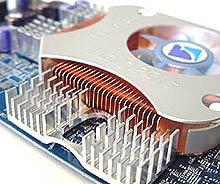 With so much competition, manufacturers are finding it increasingly difficult to differentiate themselves from their rivals. Albatron is trying to lure customers by running a GeForce4 Ti4200 faster than their competition and this increase can potentially place the Ti4200P-Turbo at Ti4600 levels. So what's so unique about the Albatron GeForce4 Ti4200P Turbo itself?

To start things off, the Albatron GF4 Ti4200P Turbo uses the same 8-layer PCB design as GeForce4 Ti4400/Ti4600 videocards. It has a very impressive and well designed GPU heatsink (which we'll get into later), some flashy memory sinks, TV-Output (using the Phillips 7104E) and finally a DVI output. The Albatron GeForce4 Ti4200P-Turbo uses an 8-layer PCB which is more expensive to produce and it also uses higher quality 3.3ns BGA DDR RAM of which there is 128MB in this version.

Article Link: Click here to read
Price Comparisons: Looking for an 8X AGP Video card? Check out the links to the left.
Shop for Video Cards
ATI, Asus, PNY, MSI, Albatron, etc.
Motherboards
Abit, ASUS, iWill, Shuttle, Soyo, and More...
Processors
AMD / Intel
Memory
RDRAM, DDRAM, SDRAM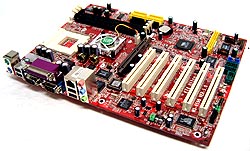 It's nice to see that MSI continually upgrade their boards to the latest technological goodness. This time however, it is the two little black sockets on the MSI KT4 Ultra-FISR which are revolutionary, and actually really exciting... for a techie anyway :)

Before we get into that, you should know that the KT4 Ultra-FISR is based on the brand new the VIA KT400 chipset. The KT400 chipset supports AthlonXP processors at FSB's of 100MHz, 133MHz, and the tantalizing 166MHz. Now even with on board IEEE1394 and bluetooth support, it is really those two small Serial ATA 150 connectors which manage to draw our undivided attention. Serial ATA is the new spec for connecting devices like hard drives, and as you will see, Serial ATA cables are really tiny and operate on a point-to-point topology. Looking around the cramped PCB on the MSI KT4 Ultra-FISR, we can say it's easily the most equipped motherboard we've ever tested!

Article Link: Click here to read

When one wants premium quality memory, there are only a few names that come to mind first; Mushkin, Crucial and Corsair. Today we're going to be reviewing a 256MB stick of Corsair XMS3200 CAS2 DDR400 to see if it is as good as everyone says it is. So why do overclockers & enthusiasts hold Corsair in such high regard? Well, Corsair has been around since 1994 and they've been producing and delivering some of the best overclocking memory from our experience. They released their XMS2400 right after JEDEC approved the PC2100 standard! Each new Corsair memory design (say PC2700, or PC3200 in this case) is thermally shock tested with loving care and then assembled with in house tools and QA controls to be a faster, stronger, hopefully better stick of overclocking memory.

Article Link: Click here to read

I'm always a little undecided when it comes to choosing between a 19" TFT display and an 18.1" one. The reason is that both displays, while they do differ in screen size by about an inch, have the same fundamental native resolutions. The 19" display's we've tested have all had resolutions of 1280x1024 as do the the 18.1" TFT displays. The true difference lies in price and pixel pitch. A 19" display will cost a little more and the pixel pitch is going to be on the order of 0.294mm. Conversely, an 18.1" display will have a slightly tighter pixel pitch of 0.280mm or 0.281mm depending on how exact the manufacturer is in their measurements, and cost a little less for something quite comparable.
Article Link: Click here to read
Vantec 470W Stealth Powersupply Review

It's pretty rare these days to look at a powersupply and be impressed with its appearance. Now granted, what's on the inside of a powersupply is ten times as important has how the equipment looks, but with case modding and highly detailed systems out there it seems like a shame to install just another well made,grey , powersupply. As consumers, we should have the option of going for something with the power, and class, to make a full aluminum case - all aluminum! The PFC VAN-470 comes with a 24-pin to 20-pin ATX power adaptor so the powersupply easily plugs into standard desktop boards. In addition to the standard computer power plug we find a standard switched AC power socket.

Article Link:Click here to read

When was the last time you gave more than a passing thought to your power supply? If it works, good. If it can supply 300 Watts, super. If it makes noise.... you live with it right? The answer to that last question doesn't always have to be no, and in the case of the Zalman ZM300A-APF the answer most certainly is "quiet." So as we opened up the box for the ZM300A-APF a low noise power supply greeted us. Zalman's power supply comes with one internal exhaust fan, (7) molex connectors, (2) FDD connectors, a 24-pin ATX connector, and a 6-pin & 4-pin Pentium 4 auxiliary power connector.

Article Link: Click here to read
Colin's Weekly Tech Tips
---
By: Colin "let's try Liquid Nitrogen" Sun

Beginners Soundproofing for Computers
With computers producing more heat then ever before people are equipping their computers with bigger heatsinks, and more powerful fans. The big negative effect is the increase in noise that comes with this extra cooling. I've made a decision to change my ways, and so gone are the days of using a 7000RPM Delta fan which screams like a vacuum. I just can't stand the noise anymore. When I recently moved my system from AMD to P4, I was amazed at how quiet my computer had become but I was still not satisfied. I was determined to quiet it down even more!

There are plenty of sound absorbing products on the market like this and this, but what I wanted to try a trick and keep things cheap. What I did to try and "quiet" down my computer was tape some antistatic Polyester foam to the inside panels of my case. Polyester (this black foam comes in most retail motherboard packages for cushioning). While Polyester foam isn't the most technically engineered sound absorbing material, it's readily available at your local computer retailer and will most likely be free!

After doing this quick little trick I found that my computer was a few decibels quieter and some occasional rattling from the side panels (I have an 3 year old Lian Li PC-70 Aluminum case) had stopped! My computer is a little bit quieter, and I think we can all agree that is a good thing. If you think your computer noise is unbearable this little mod might be worth a try.

Colin's Tech Tips have been archived for your reading enjoyment!

Hey did you see that thread in the PCStats Forums today? Sign up, join in, and get the discussions going!
PCstats Issue No.58
Circulation 149,000
The High Tech Low Down
---
With Chris Angelini

Last week, I had the opportunity to sit down with one of the larger graphics manufacturers and talk about upcoming products. This particular manufacturer is readying a follow-up to an already-successful 3D processor - don't worry, I'll have more information on the product itself next week. For now, I'd like to focus on graphics technology itself.
ATI's R300, with its eight pixel pipelines, sports more than 107 million transistors. The upcoming NV30 is rumored to be comprised of over 120 million. Note that both processors feature roughly twice the transistor count of Intel's Pentium 4. Naysayers (who were later proved incorrect) taunted ATI, claiming it couldn't hit 320MHz using a .15-micron process to manufacture the R300. Keeping in mind that NVIDIA will use a smaller, .13-micron process, I'd expect at least similar clock frequencies from NV30.
Now, we've established that the hardware necessary to play next-generation games is quickly falling into place. What we need now are DirectX 9 games to unleash the power of these programmable processors. Don't hold your breath though - it takes a few years to write a top-notch game. At least we can look forward to decent DirectX 8 games by Christmas, right?
---
More tips, and tweaks from the Colin, and lots more hardware!!
---


Media and Advertising Enquiries.