32-bit RDRAM and Intel

Hello,
A couple of interesting things happened today, the first being an IBM Deskstar HDD dieing. IBM drives used to be pretty reliable, but now it seems like they are dieing one by one around here... I suppose all things have to break at some point, and one step to solving those nasty problems is to understand what the computer beep codes mean. Knowing this can be a quick way to solve simple problems when the computer just won't boot up.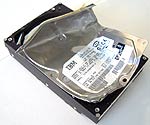 On the performance side of things we are pleased to let you know our review of the AMD AthlonXP 2400+ is up, and for you wireless folk, a look at some new 802.11a 54Mbps networking gear. AMD processors and overclocking have always done well with good DDR memory, so to help you find the right kind we've taken some PC3200 DDR from Twinmos down the test road to see how it performs. For budget minded users (who wouldn't like to save a few $$$) the Celeron 1.8GHz processor can be a good option. Know what you're getting yourself into, and read our review first though.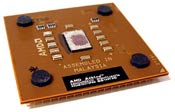 The Athlon has always been a very capable processor, often able to rival Intel's flagship processors for the performance crown while maintaining an excellent level of value. Going down to a 0.13 micron manufacturing process is quite difficult and more than a few other FAB's, like TSMC for example are having difficulty with the process. With the first revision Thoroughbred hitting a top speed of around 1.9-2 GHz things didn't weren't looking to good for AMD in the battle against Intel. So what exactly did AMD do to turn things around? AMD has reorganized the Athlon XP Thoroughbred core and more importantly, they've added a 9th metal layer. The reason behind this was to give transistors more room to operate, and allow for cleaner signals between them. With this 9th metal layer, the overall transistor count has gone up from 37.2 million in the original Thoroughbred (T-Bred A), to 37.6 million in the new Thoroughbred (T-Bred B).
Price Comparisons: Looking for a little Bluetooth or Serial ATA on your next motherboard?
Shop for Video Cards
ATI, Asus, PNY, Others...
Motherboards
Abit, ASUS, iWill, Shuttle, Soyo, and More...
Processors
AMD / Intel
Memory
RDRAM, DDRAM, SDRAM

The Actiontec PCMCIA cards which house the 802.11a components are compatible with 32-bit Type II PC Cardbus slots and will fit in just about any notebook on the market today. Below the black plastic part which pops up to a little over twice the height of the rest of the card sits an Atheros AR5000 WLAN chipset which operates at between 5.15 and 5.35GHz.
That signal range puts the 802.11a way out of the range of interference created by microwaves, cellular & cordless phones, Bluetooth and even good old 802.11b. The FCC licences 5.25 - 5.35 / 5.65-5.85GHz to high power radar systems which is about the only thing left to possibly cause interference from what we can tell. With 802.11a operating under Wi-Fi5 5GHz OFDM (Orthogonal Frequency Division Multplexing) we as users are free to keep on trucking with our existing 802.11b equipment. As each of the two wireless systems operate on distant frequencies, the equipment is completely uninterruptable.
Am I suffering from deja vu or didn't I just write an article about this memory? Hehe, no - TwinMOS was also kind enough to send a stick of 512MB PC3200 DDR400 memory for review as well. After playing with the TwinMOS's 256MB PC2700 module, we had some very high hopes for the 512MB module. After all, it's supposed to be PC3200 compatible right from the start. T he TwinMOS 512MB PC3200 memory uses Winbond DRAM which has a "5"ns speed rating. As you probably read in our TwinMOS PC2700 DDR RAM review Winbond is making some awesome memory. Specifically, overclockers have been having a lot of success overclocking the Winbond "BH-6" DRAM modules. Well the 512MB PC3200 memory was using "BH-5" DRAM so I was getting pretty excited in terms of overclockability.
| | | |
| --- | --- | --- |
| Intel Celeron 1.8GHz Processor Review | | Beginners Guides: Computer Error Beep Codes |
| When Intel moved their flagship processor from the Pentium 3 to the Pentium 4 it was only a matter of time before the Celeron foll owed suite. After all, why would Intel have two different manufacturing processes for their processors; one for the Celeron on socket 370 and one for the Pentium 4 on socket m478? The 1.8 GHz Celeron still has all the other goodies that the Pentium 4 comes with, Netburst architecture, SSE2 and Advanced Transfer Cache. | | Since I start fixing a computer, 99% of the problems I see are software related. Most of the time it is you, the user that wrecks, breaks, crashes, or kills your computer. Sorry, I have to be blunt about it, but it's true. New processors, hard drives, video cards, memory and motherboards are just inanimate objects we can lay blame to. Every now and then though, I do see a hardware problem and the first thing I do when I turn the computer on is listen to how it beeps. |
Colin's Weekly Tech Tips
---
By: Colin "Resident Evil the Game" Sun

Windows Improvements
I know that there are a lot of Win9x users till out there and you can optimize your system memory usage a bit more. Click the "Start" button then go to "Run". There type "Sysedit" and press the "Ok" button. Once in there, go to the "System.ini" window and scroll down to "[386enh]". Under that header, modify or add these few lines.

MinTimeSlice=40 (This allows for Windows Virtual Machine to run a bit longer)
PageBuffers=32 (This changes the default buffer size from 4k to 32k and should boost your HDD Thoroughput.)
DMABufferSize=64 (This basically gives more buffer room to DMA devices to operate.)
MaxBPs=65530


These few tweaks are more for fine tuning and even if you don't notice it, your computer will thank you by running better! Colin's Tech Tips have been archived for your reading enjoyment!

Hey did you see that thread in the PCStats Forums today? Sign up, join in, and get the discussions going!
PCstats Issue No.57
Circulation 133,000
The High Tech Low Down
---
With Chris Angelini

New memory technologies don't surface with nearly the same frequency as processors or chipsets. So, when new developments emerge, I take notice. Rambus recently debuted 32-bit RDRAM modules, but industry acceptance has been painfully slow thus far. Perhaps Intel's gradual transition to DDR memory is playing a part or maybe Rambus' controversial business practices are turning potential customers away. Either way, it seems that Rambus isn't going to succumb without a fight.
SiS is the first chipset manufacturer other than Intel to utilize RDRAM. Not only does SiS' R658 chipset support standard PC800 memory, but it has also been validated to operate at PC1066 speeds. Now it seems that even Intel is not ready to forsake the technology. Intel roadmaps indicate that RDRAM will continue offering the highest performance for the Pentium 4, though it remains to be seen if the i850E chipset will see a successor. However, with or without Intel, Rambus reportedly has plans to release PC1200, PC1333 and up to PC1600 right up to 2005. Now that RDRAM is available in 16 and 32-bit configurations, we can also look forward to 64-bit, which will increase overall system bandwidth. DDR-II is just around the corner, so it will be interesting to see which technology prevails.
---
More tips, and tweaks from the Colin, and lots more... once I get a coffee. :)
---


Media and Advertising Enquiries.