Meet AMD's 2.13GHz AthlonXP 2600+


Hi,
Grab a morning cup of coffee and celebrate the 3rd anniversary of the "Athlon" processor knowing that today the 2.13GHz AthlonXP 2600+ and 2.0GHz AthlonXP 2400+processors have been announced!

It's not very often that a CPU manufacturer adds another notch on the Gigahertz belt, so we've added a little info in today's newsletter on the matter. Also in this weeks edition we have the Ramcheck Professional memory tester, Innovative's cool black LCD radial arm support (for zero footprint display mounting) and Cornea System's affordable MP704 17"LCD monitor.

AMD's New 2.13GHz AthlonXP 2600+ Arrives
---

First there was 2600 baud, then there was the 2600 'Club', and now there is the brand-spanking new AMD AthlonXP 2600+ processor running at 2.133GHz! The release of the AthlonXP 2600+ marks two eventful moments for AMD - this is the first Athlon processor they have released which to operates over the 2.0GHz mark, and this on the three year anniversary of the Athlon processor.
Alongside the Thoroughbred-based AthlonXP 2600+ is the AthlonXP 2400+ which runs at exactly 2.0GHz. In OEM quantities the 2600+ is priced at just $297USD, and the 2400+ at just under $200USD. Mainstream retailers are expected to begin offering the new 2GHz plus AMD chips in systems by September, just in time for the back to school buying season.

Both processors operate on the 266 Front Side Bus (FSB) so our hopes of a 333MHz FSB AthlonXP are not going to be realized just quite yet.
The AthlonXP 2600+ is manufactured at AMD's Dresden Germany FAB 30 (which has not been affected by the sever flooding in that area thanks to a lofty placement in the local landscape) on the 0.13micron process and features 128KB of L1, and 256KB of L2 cache. The continued use of the Thoroughbred core means that the new 2.133GHz parts will have die sizes of 84mm squared, a transistor count of 37.6million and an average power output of 62Watts. The stepping of choice at the moment is "AXDA."
The transistor count has increased slightly from the previous AthlonXP 2200 stepping of 37.2 million to 37.6million. The core surface area has also grown to 84mm squared from just 80mm squared before.
According to AMD some changes to the Thoroughbred core were implemented to "add an additional layer of metal of reduce resistance and capacitance." Additionally, decoupling capacitors have been added to reduce electromagnetic interference (EMI). The AthlonXP core is essentially unchanged from an architecture standpoint, and will remain so until the release of Barton which is road mapped for release in this half of 2002.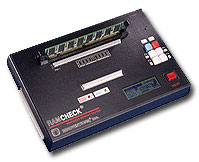 At a cost of just under $2,000 USD for the standard unit, the Ramcheck memory tester comes in fairly inexpensive in a market populated by large desktop testers that can range in price from as much as $8,000-$26,000USD. Depending upon individual requirements, expansion adaptors can be used to widen the capabilities of the Ramcheck from standard 168-pin SDRAM through to DDRAM, SODIMM, SIMM, and even individual TSOP memory modules. The versatility of the unit is quite unique, though at first glace it presents a more humble impression. The Ramcheck owes much of its boxy look to the previous memory tester Innoventions offered, the Simcheck II. By maintaining a cohesive layout, the company assured that users of its's earlier generation memory tester could easily upgrade their unit to the more current Ramcheck simply by switching out a component PCB board.

It's official, the desktop has been liberated! No longer is your poor desk a captive of 50 pound blocks of beige and glass! The standard TFT LCD display was the first step in this liberation; with less bulk than a CRT it freed up a good foot or two of desk space. By adding a desk or wall mounting adjustable armature next, an LCD display can effortlessly float above the entire desktop, yielding the much coveted "Zero Footprint" many have been looking for. Of course if you are going to suspend a $700 or $1400USD LCD display above a desk, or from a wall you had better be sure whatever is holding it up is strong, and well built.
| | | |
| --- | --- | --- |
| | | Cornea Systems MP704 17inch TFT LCD Display |
| I find it very amusing when I get an email calling me an AMD zealot or saying that I am bias towards AMD. I have never considered myself "loyal" to either AMD or Intel, I simply go with whomever is faster. Since I upgrade my motherboard and/or CPU pretty much every six months I have an interesting dilemma ... Should I stick with an AMD setup and get a Thoroughbred processor or should I perhaps do something more radical and go with a Pentium 4? | | Objects which were once considered the playthings of people with too much money to spend have dropped down to more reasonable pricing, and users have embraced them fully. Consumers are looking through the mass of LCD's which have been introduced in the last two years, searching out for the best deals, and the best features, and while larger companies like Viewsonic, Samsung, NEC, Hitachi and LG may control the marketplace there are a good many smaller manufacturers also worth consideration. |
Colin's Weekly Tech Tips
---
By: Colin "3DMark" Sun

Drivers Can Help Fix It
I hear from a lot of people who are frustrated with compatibility problems, or performance problems that could be solved with a simple driver update.

Most of the time you won't notice any performance increases with driver updates, but they can work out compatibility problems that make things run smoother. There was the infamous SB Live! and VIA 686B chispet problems, then the issues with some nVidia videocards that BSOD while in WindowsXP; yet both these minor issues were fixed with subsequent driver updates. When nVidia released the DetonatorXP's, GeForce3 owners even noticed up to a 25% boost in performance!

When was the last time you remembered to update your computers drivers? You might not get a performance increase, but a few key (motherboard chipset, videocard, and OS) driver updates will probably keep your system running smoothly and free of compatibility problems much longer!

Colin's Tech Tips have been archived for your reading enjoyment!

Have you stopped by the PCStats Forums yet? It's one of the fastest growing hardware communities and it needs your brilliant computer knowhow to become even better!
PCstats Issue No.52
Circulation 135,460
The High Tech Low Down
---
With C. Angelini

Like last week, the rumor mill is running at flank speed. AMD and Intel are at the top of the list as both manufacturers are readying to compete with processor launches, purportedly separated by a few days. AMD just today announced a colossal jump to 2.133GHz (or Athlon XP 2600+ if PR ratings whet your whistle) while Intel takes the evasive maneuvers necessary to maintain a performance advantage. The latest Athlon XP processors don't support the mythical 333MHz bus though. A host at Quakecon 2002 alluded that the first 333MHz processor will be AMD's Athlon XP 2800+ chip.
However, NVIDIA's CEO has confirmed that the upcoming NFORCE2 will support the new front side bus speed. What hasn't been confirmed, though, is the chipset's memory support. Validating DDR400 memory has apparently become a bit of a chore, so it may be a while before NFORCE2 is able to utilize the faster memory technology.
VIA is apparently experiencing similar teething problems. The KT400 chipset was unveiled this past week, and despite the seemingly obvious naming scheme, DDR400 memory is not officially supported. Go figure. Maybe memory manufacturers are dedicating more time to DDR-II (which NVIDIA will be using for the next powerful graphics card)?
---
Contest Corner
What you can WIN as a PCstats newsletter subscriber.
---
· There are two small silver prizes coming up... but you'll have to wait till September 1st to find out what they are!





Media and Advertising Enquiries.