Crucial Videocards, DDR433, and Prizes Galore
Hi there,
After ignoring the signs that I really needed to upgrade the 'ol notebook, fate stepped in and made the screen fall off last week....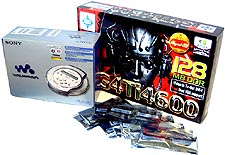 PCstats.com just keeps on giving! Lastest prizes include an MSI GeForc4 Ti4600, Sony DCJ01 and nine 256MB sticks of Crucial DDR333/PC133 memory from the Forum Contest.

a fairly unglamorous way to decide the matter, but effective ;) So in place of my poor old 7lb Acer came a new 3lb magnesium-alloy Fujitsu P2000. It is so good to type again!

But enough about that, and on with this weeks newsletter! Hint, it's prize time again.

Upgrading a PC can be really fun, and we've done our share this week to help out quite a few of you! Yes, today was newsletter prize mailing day at PCstats HQ, and at last count, we sent out over two grand worth of prizes! There is still more to come in the way of MSI Bluetooth Motherboard Prize Packs, so you still have a chance to win something cool from PCstats!

Memory is always a grand item and earlier in the week the folks at Ramstore.ca dropped off some Geil PC3500 DDR - this is really extreme memory - that helped Colin break 14,000 3DMarks on his heavily tuned system (he literally tweaks 24/7). But even if you don't have a PC that can absorb the shock of DDR433, there are alternatives. Crucial surprised a lot of people by introducing their own line of videocards this week and we have our world exclusive review right here.

Don't forget to read Colin's Tips for this week and remember there are still a few more MSI Bluetooth Motherboard Prize Packs to be given away.

We like it when a manufacturer goes out of their way to "wow" the customer with packaging. Like Mushkin's neat air packaging, the GEIL memory came incased in a very cool looking neon green plexyglass case! Looking at GEIL's website we see that the PC3500 DDR is actually specially handpicked 6 ns modules that require anywhere from 2.7V-3.0V to run at rated speeds with timings of CAS 2.5, 6-3-3-2.

Crucial is not a name you would normally associate with videocards, but they are trying their hand in the market and if all goes well we could be seeing some very cool stuff from them... after all, they control what kind of micron memory goes on the cards! Crucial have teamed up with ATI and Sapphire Tech to produce the Crucial Radeon 8500LE 128MB. The Crucial Radeon 8500LE 128MB has one analog video port, a DVI port for LCD displays and a TV-Out jack. The card follows the ATI Radeon 8500 reference design almost to a "T" but instead of using BGA memory, the Crucial Radeon 8500LE uses 6ns Micron DRAM based on the TSOP-II form factor.
Hitachi are firmly entrenched with the corporate markets who need cost effective displays with the best amount of features to keep the workers happy. At just over $900USD, for a 18.1" TFT LCD the CML181SXW has to be one of the most aggressive priced LCD's on the market today. Add to that support for both DVI and analog video signals, integrated small form factor speakers, and what is probably the most attractive feature for the board office worker - a headphone jack and volume wheel - and you have a large LCD display which should generate a good amount of interest.
| | | |
| --- | --- | --- |
| | | KingMAX PC2700 DDR333 Memory Review |
| With the growing acceptance, and more importantly , lower prices of CD-R/RW drives, the speed race is on yet again in the world of optical drives. Samsung's latest CD burner in the SW series is capable of writing CD-R media at 32X, rewriting CD-RW media at 10X, and reading standard CD-ROM's at 40X. The aptly named SW-232 retails for about $75USD which is pretty good considering it has an 8MB buffer, comes bundled with Roxio's Easy CD Creator 5 and supports PureBurn / Justlink buffer underrun protection. | | Just by looking at the DIMM, you know the 256MB KingMAX DDR333 is something special. KingMAX is the only memory manufacturer that equips their DIMM's with BGA DRAM modules and It's not just for looks either. Our 256MB KingMAX DDR333 test sample was equipped with 5ns DRAM and has a CAS Latency of 2.5 which isn't surprising since 99% of PC2700 memory is CL 2.5 by SPD. |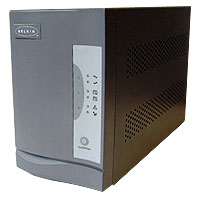 Insurance is mandatory when you go car shopping - after all protecting such a valuable part of our daily lives is a given. When it comes to computers, most people don't even consider the perils that can befall a computer simply plugged into the wall outlet. Universal Power Supplies seem pretty trivial next to flashy video cards or LCD displays, but when it comes to protecting you from lightning strikes or other power problems they are one of the most important pieces of equipment, and insurance.

If you live in rural areas you are more accustomed to power outages and no doubt understand the usefulness of a UPS which will give you a few minutes to finish up your work, save it and properly close down the computer.




Colin's Weekly Tech Tips
---
By: Colin "TipMaster" Sun

Speed up those Boot Times
For users of Win9x/ME you can decrease the boot time of your system a bit with a few simple tweaks to the MSDOS.SYS file in the root directory of your hard drive. The first thing you want to do is remove the write protection on the file.

Load up your Windows Explorer and go to the "Tools" menu. Inside select "Folder Options...", a window should pop up. Click the "View" tab and in the lower 2/3rd of the pop up menu you should see "Advanced settings:". From there scroll down and find the radio button "Show hidden files and folders". Make sure it's selected then press the "OK" button. Now all the hidden files and folders on your hard drive will be shown. Now use Notepad to open up your MSDOS.SYS file and add/edit the lines to look like this.

Logo=0
Bootdelay=0
Doublebuffer=1
Dblspace=0
Drvspace=0

After you've made the changes save and exit. From now on when you boot your Win9x/ME system you should notice it boots just a tad faster now! For more insight into the dark world of computer tweaks, all of Colin's Tech Tips have been archived or your reading enjoyment!

Your Comments: "I would like to thank Colin for his tip about memory usage. I have a computer with 768 MB of memory and I have often wondered if the computer used all the memory. I changed the system.ini file like he said and my computer now has great performance!" D. Schick
A little extra memory can go a long way, and a little price comparing can save you from paying too much!
Shop for Video Cards
ATI, Visiontek, PNY, Others...
Motherboards
Abit, ASUS, iWill, Shuttle, Soyo, and More...
Processors
AMD / Intel
Memory
RDRAM , DDRAM

Have you stopped by the PCStats Forums yet? It's one of the fastest growing hardware communities and it needs your brilliant computer knowhow to become even better!
PCstats Issue No.50
Circulation 135,600
The High Tech Low Down
---
With C. Angelini
Early in May, Intel cultivated a hearty performance lead with the Pentium 4 running at 2.53GHz. Here we are, more than three months later, and the processor market has seen virtually no action from Intel or AMD.
Could it be the calm before a storm? Intel has forecasted speeds in excess of 3GHz before the year's end, so there will undoubtedly be intermediate releases leading up to the third gigahertz landmark. In fact, we'd expect to hear from Intel in the very near future.
What about AMD, though? Besides making a much-needed transition to .13-micron manufacturing, little has been heard regarding the current Athlon XP or the upcoming Hammer architecture. An AMD representative has already prophesied that before Hammer sees the light of day, a beefed up Athlon will make an appearance with 512KB of level two cache. It is currently speculated that the upcoming "Barton" core will include some of the optimizations that give Hammer a performance kick.
AMD is of course unwilling to comment on what this could include, but it wouldn't be unreasonable to guess that a larger level one cache or, more realistically, SSE2 support may be in line. Only time will tell what AMD is conjuring. In the mean time, expect Intel to pull further into the performance lead.
---
Contest Corner
What you can WIN as a PCstats newsletter subscriber.
---
· We're giving away 8 Bluetooth Motherboard Prize Packs!






Media and Advertising Enquiries email here.