Hi there,


This has been a busy week for us at PCStats - PCexpo/TechXNY in New York had a ton of cool technology to showcase, and more on that will be coming shortly. We've also just made two drawings, one for the Sony DCJ01 MP3/CD player, and the other for the first of eight MSI 845G Max-L Bluetooth Prize Packs! Check your email carefully, YOU could be the one of the lucky two winners!

I also have to really apologize for last weeks newsletter - we accidentally sent off the wrong copy! Doh! To make up for that big SNAFU I've packed this weeks newsletter with some really cool reviews for your reading enjoyment. :)

First up to bat is one very special 24" LCD monitor. This is the largest sized flatscreen monitor I've ever seen, and one that comes with an equally hefty price tag of just over four grand US. It is pretty amazing to use a flatscreen this wide, and there were some seriously sad faces when it had to go back to Samsung. ;) On a more affordable plane is the Porsche Designed 171P, also from Samsung. You don't need an executive's salary to own this one, and it is as nice as the cars which share the same name. Now if LCD's aren't your thing, then have a look at our review of some Kingston DDR333, or the AMD Duron 1GHz - both offer really good bang for the buck from what we saw.

Lastly, we have a round up of sub-$100 video cards on the chopping block... none of them are spectacular from a gammers perspective, but if you are building a system on a budget there is some good info in there. Watch out for next weeks newsletter where we'll have highlights from PCExpo!

There have always been those who appreciate technology and strive to have the best, the biggest, and the most impressive. It must be nice to have such luxuries, and when speaking of LCD display's you will be hard pressed to find anything bigger, or more impressive then this 24" LCD TFT monitor from Samsung.
The $4600USD Syncmaster 240T is one of the largest desktop LCD displays available, supporting native resolution of 1920x1200 pixels... that is big, very big.

The 13.8Kg display has enough screen real estate to display no less than four web browsers, and with room still remaining for WinAmp on the side. Of course, you will have to have a video card capable of outputting an Analog WUXGA signal of 1920x1200. The 240T also features twin 17" tall speakers which clip onto either side of the display for a sound system. The 240T is pretty jaw dropping by itself...

Article Link: http://www.pcstats.com/articleview.cfm?articleID=1141




Kingston Technologies is a seasoned veteran when it comes to computer peripherals. If it has the Kingston logo on it you're basically assured of a quality product. Looking at the DIMM we can see it is single sided, quite a rarity for 256MB DIMMs. The 256MB PC2700 ValueRAM ($76USD from Directron) uses 6ns Winbond DRAM and has a CAS Latency of 2.5 at 166 MHz operations. Since the DRAM is based on the TSOP-II form factor we would have liked to see some RAMsinks on the DRAM because it can reach elevated temperatures at high speeds.

Article Link: http://www.pcstats.com/articleview.cfm?articleID=1140

Samsung F.A. Porsche Design 171P LCD Display Review
---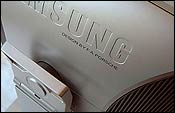 It is not everyday that we get to review a product which has come from a highly respected industrial designer. The 171P Syncmaster display from Samsung is a 17" LCD monitor designed by brilliant minds at F.A. Porsche. This is the same "Porsche" which is responsible for the 911 and other iconic cars.Ferdinand Alexander Porsche founded Porsche Design in 1972, and from a small studio near an Alpine lake in the Austrian mountains he has applied detail and precision to a broad range of electronic and consumer products.

Samsung haven't skimped on the technical specs either - heck we'd roast them if they put a cheap LCD screen in this baby! With mouth watering specs like a 500:1 contrast ratio, 170 / 170 degree viewing angles, a dot pitch of 0.264mm and luminosity of 250 nits there isn't much room here to criticize anything. To be blunt, this LCD monitor looks simply stunning.

Article Link: http://www.pcstats.com/articleview.cfm?articleID=1046
| | | |
| --- | --- | --- |
| Sub $100 Budget Videocard Roundup | | AMD Duron 1 GHz Processor Review |
| Let's face it, most of us really don't need the latest and greatest videocard on the block, heck if 75Hz refresh rates don't give you a headache you can get by on some of the cheapest videocards around without a problem. | | We've been focusing our attention on the AthlonXP lately but we often forget that most people want something a little less costly for their home computer; most applications don't even tax a 1 GHz CPU let alone one that runs at 1.5 GHz. One solution to this vexing problem is AMD's budget chip, the Duron 1 GHz. |
Colin's Weekly Tech Tips
---
By: Colin Sun

For those of you who use the NTFS file system you can significantly boost your disk access speed in Windows Explorer with a simple registry tweak.

Go to Start -> Run and type REGEDIT. When you're there scroll to HKEY_LOCAL_MACHINE -> System-> CurrentControlSet-> Control-> fileSystem. Once you're inside that folder create a new DWORD Value NtfsDisableLastAccessUpdate and modify the value to 1.

What this does is tell Windows not to update the Time Stamp on the folders of your HDD. That should boost your overall file speed.

For more insight into the world of tweaks, track down Colin in the PCstats forums for some Q & A
Have you stopped by the PCStats Forums yet? It's one of the best hardware communities and you can ask questions about anything from computer hardware to how to get the fastest framerates! Join right here.