Hello,
After a weeks vacation working the phenomenal NXNE Music Festival it's great to start off today's newsletter with a few exciting announcements. First off, I'd like to welcome C. Angelini, the man behind the new High Tech Low Down column just over there to the right. Chris has been in the business for a number of years, and is probably best known to most of you from his days on SharkyExtreme. Colin's Weekly Tech Tips have been getting such great feed-back that we have moved down a bit so there is more space for all that wonderful computer tweaking wisdom!
This week we have a review on an MX440 videocard by newcomers Albatron (their CEO used to run Gigabyte) who are sure to make a name for themselves quickly. Also on the chopping block is a pretty purple PCB Soltek SL-75DRV5 based on the KT333CE chipset, and packing a big DDR333 punch. Last, but certainly not least is William's review of the Compaq Ipaq 3650 handheld. If Palm and Handspring don't do it for you, this shiny metal wonder certainly might! Remember to stop by the forums and enter the Tips Tricks and Techniques contest - we've already given away a handful of Crucial PC2700 DDR, but it won't last much longer!

Albatron... who? You're forgiven for not knowing who Albatron is even though they're not exactly a new company. Like most other manufacturers, have already adopted nVidia based videocards. The Albatron GeForce4 MX440 videocard is a no frills videocard targeted towards the budget conscious gamer.
Based on the reference nVidia GeForce4 MX440, the Albatron MX440 doesn't have many features. The Albatron MX440 has one 15 pin analog output as well as a S-Video out. The card uses Samsung DRAM with a 5 ns rating and the GPU with a core clock of 270 MHz is cooled by a rather neat looking heatsink fan combo. Upon removing the heatsink off the GPU we were very pleased to see that Albatron took the extra step and added some thermal paste.
Article Link: http://www.pcstats.com/articleview.cfm?articleID=1118



Soltek SL-75DRV5 KT333CE Motherboard Review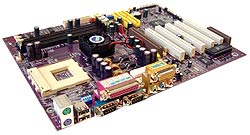 With the era of the KT333 chipset and consequently DDR333 upon us in full swing it leaves one wondering what to really make of it all. The numbers 333 are being uttered with almost as much fervor as XP is. Has "333" just become another meaningless marketing adjective, or is it really a sign of wondrous things to come?
Unlike previous chipset advances, the first experience we have had with the KT333 chipset on MSI's KT3 Ultra-ARU (chocked full of many features in its own right) is less than that of expectation. The Soltek SL-75DRV5 has the rather pretty purple PCB which contrasts the slew of black and red which seem to predominate the industry. With a retail price hovering around $150 CDN, this is easily one of the least expensive-KT333 based motherboards available to consumers.
Article Link: http://www.pcstats.com/articleview.cfm?articleID=1036
Compaq iPAQ 3650 Pocket PC Review
---

Microsoft's answer to Palm Inc.'s "Palm" based PDA's, their "Pocket PC" brand is steadily gaining popularity, easing Palm's stranglehold on the hand held market and cutting into their market share. Originally geared towards execs on the go, the Compaq iPAQ 3650 Pocket PC works just as well in the hands of the business user who really only needs an up to date electronic address book.The iPaq 3650 sports a 206 MHz Intel StrongARM Processor, 32 MB of RAM, 16 MB of ROM, and a 12-bit (4096 colour) Thin-Film Transistor (TFT) Display. The iPAQ's hardware enables speedy access to all your appointments, contact info and notes; not to mention more advanced multimedia capabilities in the form of MP3/WMA playback, voice recording and offline web browsing/email.
Article Link: http://www.pcstats.com/articleview.cfm?articleID=1088
Colin's Weekly Tech Tips
---
By: Colin Sun

For more advanced users of Win2k/XP, you can dictate to the OS what you exactly you want your OS to run. First you must enabled Administrative Tools. To do that, right click on the status bar and select properties. For Win2k, click on the Advanced Tab and under StartMenu Settings you should see a bunch of check boxes and there check Display Administrative Tools.

For WinXP click the Start Menu tab. If the radio button is next to "Start Menu" click it's Customize button. Once you're inside go to the Advanced tab and under Start menu items, scroll down to the bottom till you reach System Administrative Tools and select Display on the All Program Menu. If the radio button is next to the "Classic Start menu", follow the directions for the Win2k settings. After go into the Administrative Tools folder and select Services. Here you can disable whatever services you don't use.

Be warned though, if you disable the wrong services you can kill your OS! Only disable services you don't use! eg. IMAPI CD-Burning COM Service for WinXP if you don't have a CD-RW or don't use XP's burning software. Reboot once you're done and you should notice quite a big speed boost from your computer, services that you don't use are no longer being loaded so you have more resources for everything. If your OS will not boot, restart and go into safe mode. Then go back to the services program, enable everything and you'll be back to square one.

For more insight into the world of tweaks, track down Colin in the PCstats forums for some Q & A
Visit the PCStats Forums today, it's one of the best hardware communities there is around and you can speak your mind about anything from computer hardware to music or even talk about how your team is fairing in the World Cup! Join right here.
PCstats Issue No.43
The High Tech Low Down
---
With C. Angelini
Greeting's folks, my name is C. Angelini and I'd like to welcome you to the first installment of the High Tech Low Down .
The purpose of my column is to explore upcoming technologies, dissect current goings on and even make the occasional educated guess about what will be happening in the computer industry. I tend to be opinionated and often open my mouth before my brain engages (especially after a rum and coke, or two), but you can certainly count on me to call an ace…well, what it is.
Despite Intel's newfound support of DDR memory, Rambus is still alive and kicking. Their latest evolutionary release, PC4200 RDRAM, has arrived without fanfare and without an Intel stamp of approval. ASUS is currently the only motherboard manufacturer with a product supporting the 32-bit, 4.2GB per second modules (which are keyed differently than PC800). The technology is a definite step-up from PC800, but the lack of backing is a bit worrisome.
It's no secret that the new, 533MHz Pentium 4 performs best mated to PC1066 RDRAM, but it would seem that Intel is trying to kill off their once-flagship chipset. Did anyone else notice the shiny new ICH4 that debuted alongside the i845G/E (and not the i850E)? Why won't Intel validate the i850E for proper PC1066 memory support? I was told that limited PC1066 availability influenced the decision, but that sounds like an excuse and a sorry one at that.
Will i850E ever receive PC1066 support? How will the Matrox Parhelia fare in the dog-eat-dog graphics market dominated by NVIDIA and ATI ? Until next week, take care!
---
Contest Corner
What you can WIN as a PCstats newsletter subscriber.
---
·Sony DCJ01 MP3/CD Player
·Coming Soon... Bluetooth Motherboards