Hi,
Today we have a job for you, it's easy and you could walk away with some free memory :) We are building a big book of tips and tricks which you can be a part of and contribute to. The entry forum is right here, and we encourage everyone to submit your hard-earned knowledge! After all, each and everyone one of you a computer genius in your own right, so share the knowledge!
There is so much to mention that its hard to know where to begin, so lets start with today's review of the ATI All-in-Wonder Radeon 8500DV 128MB Edition. Colin took this puppie for a spin and the results were unanimous - he simply loves it. Of course not everyone is going to want to spend $500 on a videocard which brings cable TV to the desktop, but I'm sure there will be more than a few takers. Looking down the road a bit Mike takes us through the ins and outs of the recently announced Matrox Parhelia. While only a few demos have surfaced at E3, the initial impressions are jaw dropping to say the least.
With Taiwan's Computex just around the corner (starts June 3) we can expect Abit to announce many more cool things, but if you aren't ready to hop on the legacy free bandwagon just yet the KR7A-133RAID is a nice board to consider. Based on the VIA KT266A chipset it sidesteps some of the 3D performance problems we have been seeing with the KT333CE in overclocked environments.

ATi has carved out quite a niche market with their All in Wonder videocard; they offer great flexibility that often rivals mid-level professional video editing systems, but with ease and use any consumer can appreciate. ATi's All in Wonder (AIW for short) Radeon 8500DV is clocked slower (240 MHz core/340 MHz memory) then the standard Retail ATi Radeon 8500 (275 MHz core/550 MHz memory) videocard however ATi knows that most consumers looking at the AIW Radeon 8500DV aren't too concerned about 3D performance.
With the All in Wonder Radeon 8500 128MB model ATi has gone back to its All in Wonder roots. The AIW 8500 128MB no longer has IEEE 1394 "FireWire" built directly into the card, and ATi has gone back to a Phillips TV tuner rather then stick with the one that is used on the 8500DV. The All in Wonder Radeon 8500 128MB retails for $525 CDN ($300 US) making it one of the most expensive videocards out there, however it comes with many features that regular video cards, even GeForce 4's just don't have.
Article Link: http://www.pcstats.com/articleview.cfm?articleID=1111
---
In recent times, Matrox and video games technology have not exactly gone hand in hand so it was with a lot of anticipation that the information about the Parhelia was analysed. Given that the Millennium G400 came out in May of 1999, Matrox have been essentially upgrading the same basic GPU all the way up to the G550. After seeing the advanced features they touted for their G400 card, (hardware bump mapping, etc.) made quickly obsolete by a flood of products from Nvidia and ATI offering similar features and significantly faster 3D performance, Matrox apparently gave up on the gamers market.
With the launch of the G550 chip, Matrox barely mentioned 3D performance in any of the hype for the new product, which may not have been a bad thing considering its performance remained strictly 'adequate.' Other features, such as excellent 2D image quality and the much discussed, apparently little used 'Headcast' feature got the press. On the other hand, Matrox does have an excellent reputation in the industry for two things in particular, exceptional 2D and 3D image quality, and most importantly, innovation.
Article Link: http://www.pcstats.com/articleview.cfm?articleID=1109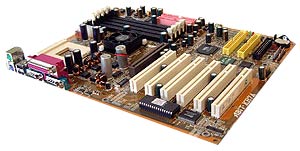 Abit has always had a warm spot in the hearts of overclockers because they openly embrace the enthusiast market, which can sometimes be a dangerous path to walk. While Abit has never openly endorsed overclocking, they have made attempts to please the performance user in this regard. The first such example is of course the ability to change FSB in 1 MHz increments.In typical Abit fashion, the KR7A-133RAID is a little bit more expensive then the curve. Weighing in at $250 CDN it's probably one of the most expensive VIA KT266A boards around. Knowing that the KR7A-133R has a KT266A chipset just about guarantees it will be a good performer, but how does Abit separate itself from the rest?
Article Link: http://www.pcstats.com/articleview.cfm?articleID=1028
VIA's KT333CE Chipset 3D Performance Stumbles at 166MHz FSB

Since the introduction of the KT333CE chipset there have been some strange benchmarking results cropping up which are hard to explain. In a broad number of 3D oriented benchmarks, at higher bus speeds, VIA's KT333CE chipset seems to be performing consistently slower than the older VIA KT266A chipset. After a few late nights discussing this with VIA directly, we have come to believe that these peculiarities are due to the introduction of the 2/5th AGP divider. According to VIA the only differences between the KT266A and KT333CE chipsets is the addition of an asyncronous memory controller which supports JEDEC DDR333 SDRAM, and the 1/5th PCI and 2/5th AGP dividers. With the Front Side Bus running at overclocked speeds of 166MHz, the KT266A chipset has the AGP working at 88MHz. Under the same conditions the KT333CE chipset clocks in at just 66MHz.

Article Link: http://www.pcstats.com/articleview.cfm?articleID=1103
Looking for some tech help late at night? The brand-spanking-new PCstats Forums are open 24/7 and everyone is welcome. Come check out the recent upgrade and let us know what you think.
PCstats Issue No.41
Colin's Weekly Tech Tips
---
By: Colin Sun

For Win9x/ME users, setting a dedicated physical swap file size can dramatically improve performance of your system. Right click on the "My Computer" icon and go to properties. From there go to "Advanced Tab". You should see a Virtual Memory button, click that and specify your own virtual memory settings. The general rule is twice your physical memory size so if you have 128MB RAM set the minimum to 256MB. After reboot the computer and defrag your HDD.

What this does is it forces your computer to have a dedicated swap file which improve system efficiency since Windows no longer has to worry about the size of the virtual memory (constant shrinking and enlarging of the swapfile can severely slow a computer down) and defragging the HDD moves the swapfile to the front of the drive for quick access.
---


For all the people who know how to tweak a computer inside and out, we have a contest running in the PCstats Forums that gives you a chance to win some 256MB DDR memory!