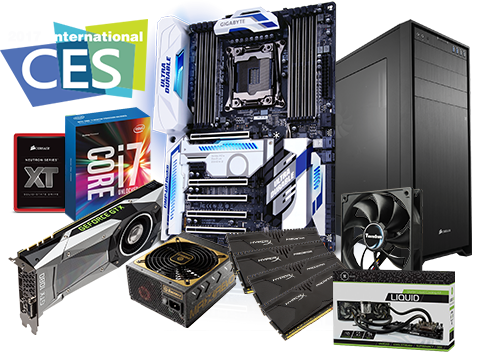 GIGABYTE TECHNOLOGY Co. Ltd, a leading manufacturer of motherboards and graphics cards, has extended its 30th Anniversary PC Mod Challenge to the end of the year for bigger and better rewards worth $10,000 and more in cash and prizes. In partnership with our sponsors from Intel, Nvidia, Kingston, Enermax, Corsair, EKWB, PCPartPicker, and Modders-Inc. GIGABYTE invites modders all across North America to enter and Mod2Win. Contest begins May 20th. To get more information or to participate, please visit: GIGABYTE 30th Anniversary Mod Challenge.
Bring your best ideas to reality by drafting a concept of your mod. Participants who submit their concepts ideas before June 27th are entered to win a build kit. Winners will be selected by our representative judges from each of our sponsors. Each concept kit winner will receive a package of hardware components to jump start their Mod Build for a final showdown in November. From our expert judges' panel, one Grand Prize winner will receive a free trip for two to CES 2017 along with their winning mod to be displayed at GIGABYTE's showcase.
For more details on the GIGABYTE 30th Anniversary Mod Challenge:
GIGABYTE 30th Anniversary Mod Challenge.
A quick patch update to Windows can extend the useful life of a PC. To take the fear out of Upgrading Windows 98 to Windows XP, rely on this guide. - PCSTATS Tips