The *military industrial complex* is taking an interest in the WanaCrypt0r ransomware... that in and of itself is almost MORE interesting than this detailed analysis by BAE Systems (nuclear submarine manufacturer) of the attack vector used by the ransomware.

"Since the release of the ETERNALBLUE exploit by 'The Shadow Brokers' last month security researchers have been watching for a mass attack on global networks. This came on Friday 12th May when it was bundled with ransomware called WanaCrypt0r and let loose. Initial reports of attacks were highlighted by Telefonica in Spain but the malware quickly spread to networks in the UK where the National Health Service (NHS) was impacted, followed by many other networks across the world.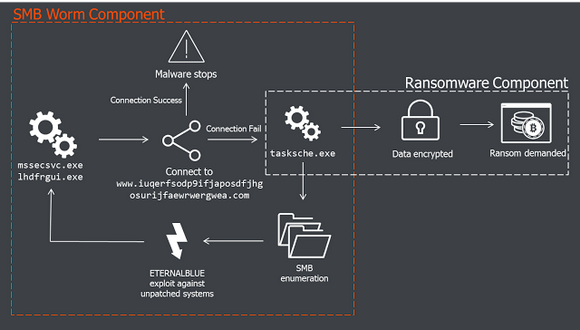 The infographic below illustrates the key components of the WanaCrypt0r ransomware. This is described in further detail in subsequent sections of this report along with initial clues on attribution.
The initial infection vector is still unknown. Reports by some of phishing emails have been dismissed by other researchers as relevant only to a different (unrelated) ransomware campaign, called Jaff.
There is also a working theory that initial compromise may have come from SMB shares exposed to the public internet. Results from Shodan show over 1.5 million devices with port 445 open – the attacker could have infected those shares directly."
Slow computer got you down? Maybe a hardware upgrade should be in your cards, if so this guide to the Fundamentals of Upgrading a PC is an invaluable read. PCSTATS Tips