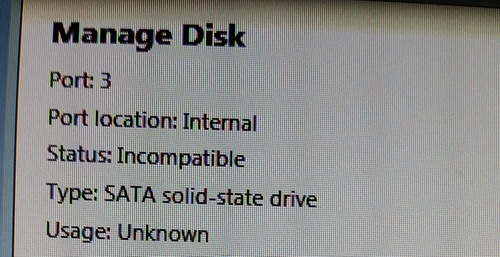 Just thought I'd share this TechTip with the PCSTATS readers and hopefully save someone else a little bit of time. While attempting to add a second SSD into a Dell Inspiron today (to act as a cache drive) Intel RST rejected the drive as "Incompatible" - the drive wouldn't even show up under Device Manager / Disk Management.... odd. I've never heard of a SATA SSD being incompatible, but Dell is nortoriously proprietary with devices. For example, I had to buy a special proprietary SATA power cable just to hook the drive up! Silly Dell.
Anyway tried the following steps unsuccessfully:
 - on another computer, deleted the partitions on the SSD and recreated one new partition in NTFS
 - on another computer, deleted the partition and left the drive unmounted.
 - in the Inspiron BIOS, changed it from Legacy Boot to UEFI... nope
 - in the Inspiron BIOS, attempted to change things from ACHI to RAID, but the Inspiron doesn't even support a RAID setting (this a common suggestion on Dell's user-driven support forums).
The SSD worked just fine in another computer, so this was all a bit perlexing.
It turns out the REAL problem was the format of the partition table: MBR vs. GPT! The SSD was previously set up as an MBR disk (Master Boot Record) and what Intel RST was complaining about when it said "Incompatible" was easily fixed by converting the SSD from MBR to GBT (GUID Partition Table) on another computer, using Disk Management.
After making the change to GPT, the SSD was installed into the Dell Inspiron, the drive was recognized, mounted and formatted for use. Problem solved!