History of the PCSTATS Newsletter

UPDATE - The Newsletter has been retired and no future editions will be sent out!

You can't stay on top the latest developments without a little help from the PCSTATS Newsletter.

Save time and stay one step ahead of everybody else when you go shopping for the latest computer gear. Packed with columns like "The Weekly Tech Tip," and "Industry Insights" we're sure you'll find the PCSTATS Newsletter worth the time it takes to read.

The PCSTATS Newsletter - it's free, it's informative and it arrives in your mailbox weekly.

NEW Addition!
Over four years and 200 issues of the Newsletter are now archived and available online.

In the PCSTATS Newsletter Each Week...
Is this your first newsletter?
If you've never signed up for a newsletter, the best way to experience the PCSTATS Newsletter is to sign and try it out first hand.
- Today's Contents gives you the quick low-down on what's in the newsletter so you can jump right in to the stories that interest you the most without missing a beat.
- Each and every newsletter is packed with a ton of useful information on reviews and articles PCSTATS has done. We give you a short excerpt from each article and review so that you have all the information you need in one place; easily accessible, and great for future reference.
- The number one question we hear from people reading reviews is "great, I've read the review but where can I get the gear?" To help you out as you research your shopping choices we've included some links to Dealtime for ease of price comparisons. Click a link and you can compare prices on computer parts from hundreds of online retailers in one go.
- The Weekly Tech Tips round out the foundation of every single newsletter to help you get the most out of your computer. Getting the right hardware is only one half the equation, getting software to work right with that hardware is often just as important. The TechTips are a great resource for beginner and expert alike.
- The Main Menu is a great quick-reference to the major sections on PCSTATS - like daily news, and over 1600+ detailed product reviews.
- A reader Asks... The guru of guides takes on one reader question each week, and dishes out the answers in plain english for the benefit of all.
- News is so important in the computer world where revolutionary changes happen overnight. Everyday PCSTATS has fresh news throughout the day for you to check out. Click over and see what's happening in the computer world right now!
Frequently Asked Questions
- To make sure you are in control of your own in box, our Newsletter Tools let you quickly and easily change your subscription status to the informative PCSTATS Newsletter.
We Hate Spam More Than You Do...
We know you want to ensure that your email mailbox is only going to receive quality information each week, and we work tirelessly to make sure that happens in each issue. But hey, don't take our word for it - read through a few of PCstats.com's recent newsletters and see for yourself first hand then sign up to get the latest edition.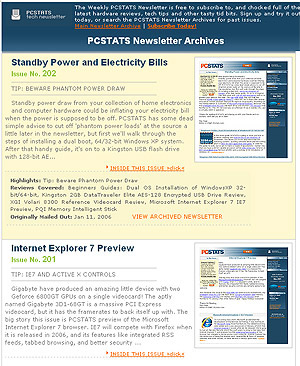 Past Issues of the Weekly PCSTATS Newsletters are now Archived and Online!
The archives go back over 4 years, so if there has ever been a Weekly TechTip you've wanted to double check, a Reader Q&A that was extra helpful, a special report, or maybe just that one article which we highlighted - the PCSTATS Newsletter Archives will have it.
There are over 200 issues archived right now, and more will be added shortly. Please take a moment to walk though the index of past PCSTATS Newsletters.
Of course, to get the latest PCSTATS Newsletter you will have to be a subscriber, it takes a few seconds to authorize us to send you the newsletter, so if you'd like to give it a try sign up right here.
If you don't like what you see, just unsubscribe. It's a simple as that, and unlike SPAM our unsubscribe link works instantly, and well... actually works.
The PCSTATS Newsletter - it's free, it's informative and it arrives in your mailbox weekly.