LIUtilities WinTasks 4 Professional Software
---
Upon opening up the WinTasks 4 Professional application I found that it looked a lot like the Task Manager found in Windows 2000/XP. WinTasks 4 allows a user to remove unnecessary processes, free up memory and CPU resources and even look for viruses and trojans!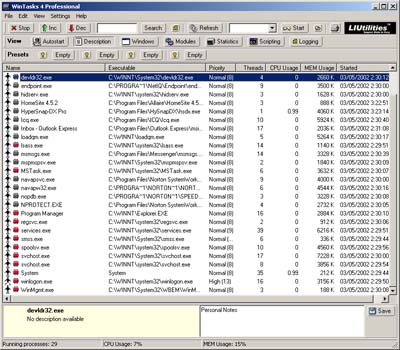 WinTasks 4 is fairly easy to use, at first when opening the program it can be a little overwhelming with the amount of information it supplies and with so many buttons it's easy to get lost. Because of this, it's recommended that users have prior knowledge of OS's.
Once you get used to it, it does seem quite easy. WinTasks 4 Professional seems to be a combination of various software but mainly MSConfig and Task Manager.
Here's a list of the Software Features:
Manage Computer Resources
Remove unnecessary processes instantaneously
Free up valuable memory and cpu resources
Create presets to optimize all common tasks
Use the built-in logs and statistics to eliminate resource leaks and other problems
Create custom scripts to automatically optimize the use of important resources
Improve System Security
Find and remove invisible background processes, trojans and other security threats
Use process logs to find out which processes have been executed
Create custom scripts to automatically terminate unwanted processes
Optimize and Debug Software
Optimize CPU usage and find memory leaks using real-time resource statistics and logs
Simplify debugging by inspecting DLLs, windows and other resources used by any process
The program is very detailed in the information it presents and while it's intimidating to use at first, it is actually quite easy. For example, you can disable processes, start new ones and even set the priority just like in task manager.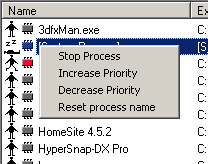 "Autostarted Programs" is basically MSCONFIG's startup tab (not found in Win2k). Here you can disable program from loading up at startup to save memory and system resources; this comes in very handy when you need to clean out the task bar and freeing up system resources!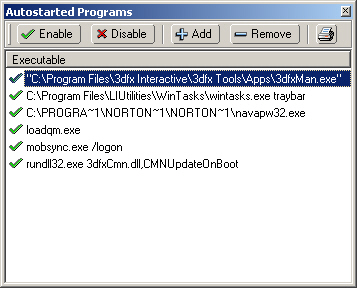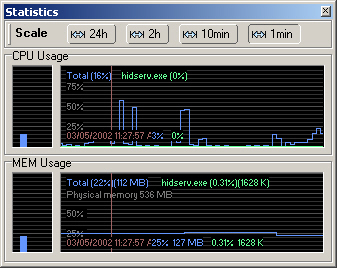 The statistics screen is very similar Windows2000/XP's Taskmanager performance section. Here you can monitor CPU usage and memory usage in time intervals of 1 min to 10 min to 2 hours and 24 hours. This is very handy especially if you have tasks in the task scheduler and want to monitor for problems.
Conclusion:
For the newbie/novice user, WinTasks 4 Professional allows you to monitor programs like never before. The program from LiUtilities ($37USD) allows you to remove any unnecessary programs from memory, configure your startup applications or watch for memory leaks. WinTasks 4 does this all with a nice interface that centrally locates many obscure programs common in Windows 2000.
The ability to log and have statistics on your memory/processor usage is extremely useful should you leave your computer on for long periods of time and attempt to make it perform at it's most efficient.
For the more advanced user WinTasks 4 doesn't offer anything new over what is standard in Windows 2000 or Windows XP. Everything done with WinTasks 4 can be achieved with various other software already loaded into the system, or by a little registry tweaking - WinTasks 4 just puts it all in one place.