New Crusoe Pictures
---
Wondering what the underside of the Crusoe die looks like? Take a peak at the underbelly of the TM5400, and TM3120 silicon dies shown below. These tiny little processors have a bright future ahead of them... if they can handle it.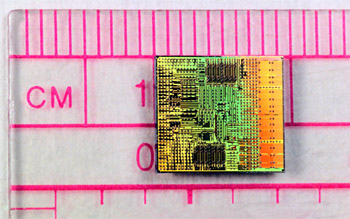 The TM5400 is shown here measuring ~9.4mm X 8.4mm. Slightly difficult to make out are the 474 balls (small black dots) which enable its connections.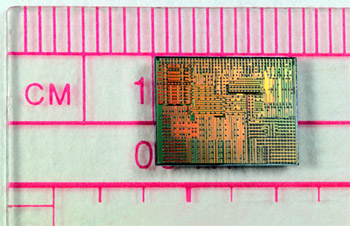 The TM3120 here, measures ~10.25mm X 8mm. Again the small black dots are the balls used to enable its connections.
Transmeta's Crusoe chips are packaged via Ball Grid Array (BGA) for size considerations. The flexibility this packaging method allows processors to be attached to the surface of the PCB with out soldering pins sticking out on the other side. Standard PC processors like PPGA-370, do not need to consider space limitations, whereas mobile processors must constrain to them. Portability and decreased size go hand in hand for mobile processors.
Compared to a regular BGA chipset the TM5400 is close in size. Note the four holes around the Crusoe processor (left).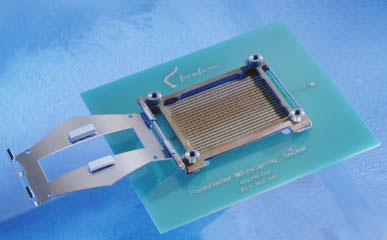 Many people have speculated that the four holes are for a heatsink attachment. With the Crusoe running at an average of 1 watt this seems an unlikely necessity, at first. It appears they are intended for the attachment of FormFactors' MicroSpring socket (and for a thermal management device as well). FormFactor has recently inked a deal to provide Transmeta with a socket for the Crusoe line of processors.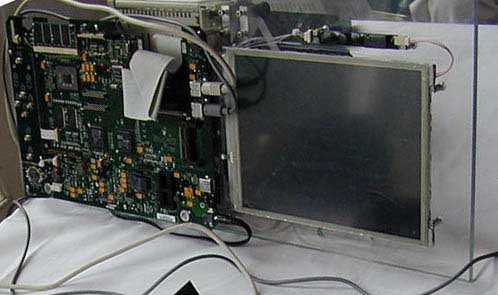 This rig was used during the Crusoe Launch to illustrate how the processor would be incorporated in final form, and what components would be included with it. Titled "Crusoe Reference Designs". Notice again, the Crusoe processor is about he same size as a standard BGA chipset.
---
In the final form, we can see two TM based laptops running typical windows 9X applications. Not sure which processor is running in each laptop, but by the laptop's size I would assume it is the TM5400.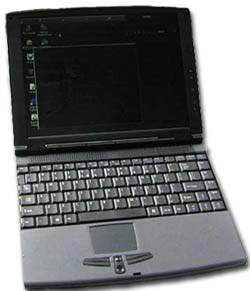 To  put the size of the die into a more understandable relationship, consider the potential computing power in the TM5400, with that of a push pin.
The TM3120, which is designed especially is to work on so-called Web Pads running mobile-linux is only slightly larger then its sister processor.