Handy Recovery 2.0 Undeletion and Data Recovery Software Review
---
As you might expect, data recovery and undeletion software is a very popular thing. Next to antivirus software, a firewall and proper backups, a decent file recovery program is the most essential thing you can have on your system. Hard drives die eventually, of course, and worse than that, people make mistakes. The kind of soul crushing brainlock moments that can leave you awake at night for months afterwards wondering why you though it would be a good idea to partition your C: drive...
In PCstats critically important guide to data recovery, we walked through several freeware applications that you can use to restore your data in case of disaster. All the applications we used, while effective, have some limitations. Either they do not support NTFS, or they are command line based with no GUI, or they are just plain hard to use.
Today we're going to take a quick walk through the features and tools of a commercial option for data and file recovery, SoftLogica's Handy Recovery 2.0. As you'd expect, this $30 data recovery program is free from many of the limitations that can make using freeware recovery software a trying experience. Handy Recovery supports the NTFS file system, has a full GUI and most importantly, is easy to use.
So is it any good?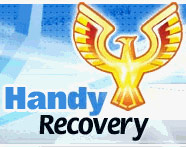 Handy Recovery 2.0 aims mostly for ease of use, so it's not packed with features. It does have a few nice extras added on to its basic file recovery functionality though. The software can discover and recover deleted partitions and quick formatted drives as well as undeleting files. It can also be used to make a drive image of a partition so that recovery can be attempted without further damaging a wonky hard disk.
Handy Recovery's interface could also be considered a feature, since it's extremely clean and quite easy to use. I wouldn't say it was totally idiot proof, but it does a good job of streamlining the recovery process down to the basics. There are virtually no configuration options, so there's nothing 'hidden' behind the main interface.
What you see is what you get.
Handy Recovery 2.0 In Use
We tested the Handy Recovery 2.0 software in a variety of different scenarios from simple to difficult and unpredictable. At the low end of the scale, we tried some simple delete-and-recover tests, then we started creating and deleting partitions, quick formatting drives, etc. Finally we tried out a full drive format recovery job. No data was harmed in the making of this article.
The basic procedure for using Handy Recovery is quite simple. From the main screen...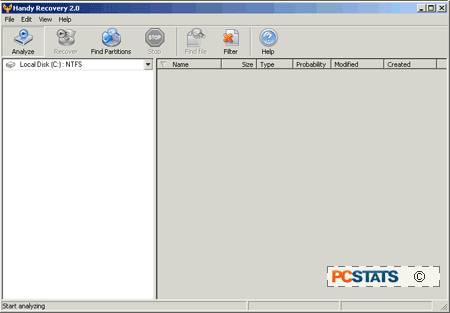 You pick the partition you wish to scan for deleted or lost files.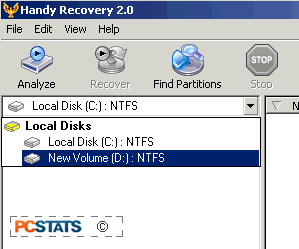 If your partition does not appear in the main window due to a damaged drive, deleted partition or some other reason, use the 'find partitions' button, then select which physical drive you wish to search.