Three things. First, Apple, who owns the patents for FireWire, killed its Golden Goose by demanding a license fee of several dollars for each PC, which Intel and most computer makers found to be economically untenable. This opened the door for USB. Intel gave the USB technology to their OEM partners royalty-free (as they do today), and IEEE 1394-FireWire-was quietly dropped from the PC 98 specification. Apple backed off their high-priced position, down to today's 25¢-per-PC license fee, but the damage was done.
Secondly, there were solid technical reasons why Intel passed on FireWire in favor of USB. The original IEEE 1394 100Mb/s-200Mb/s implementations were power-hungry chips that required 5V chips - okay for desktop PC's, but not for the newer 3.3V laptops.
Plans for using Firewire to replace the IDE subsystem in laptops fizzled. The goal of FireWire becoming the universal standard in desktop PCs soured for another reason: Intel found that the 5V requirement would cause FireWire chips to be actually more expensive to produce as chip die sizes got smaller. The future higher-speed FireWire standard (800Mb/s to 1600Mb/s peer-to-peer, computer-independent connections) will be a lower-power, lower-voltage implementation - but again, the damage was done.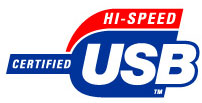 The situation could have been reversed, but the first FireWire chips produced by Adaptec and Texas Instruments were erratic performers. In contrast, USB 1.1 seemed to suffer none of these ills. Its only grievous sin was lack of speed.
USB 2.0 changes this dramatically, with a performance boost seemingly designed to match and slightly edge-out FireWire: 1.5-12-480Mb/s throughput, with up to 127 devices supported at once with cable lengths up to 5 meters, supplying power to all devices up to 500 mA/5V, with full backwards compatibility with all USB 1.1 devices.