Even though the Crucial Radeon 9700 Pro is an extremely powerful videocard in its stock configuration, we at PCstats.com are obviously interested on how much higher we can push this little red videocard. We like speed, and the more we can get, the better!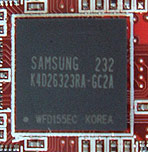 I first tried overclocking the core, moving up a few MHz at a time; 350 MHz, then 360 MHz and no problems at all. At 376 MHz the artifact tester started to register artifacts, so I lowered the core speed down a little. Even though the artifact tester registered artifacts, they weren't visible to the naked eye until about 383 MHz core speed.
In the end I settled for a 375 MHz core speed which was a bit more useable.
As we mentioned earlier, the Crucial Radeon 9700 Pro uses 2.8ns Samsung BGA DRAM, so I was expecting at least 714 MHz out of it (1000 MHz / 2.8ns x 2 = 714 MHz). For a more detailed explanation on how this formula works please read this article here.
I upped the memory slowly from 620 MHz to 650 MHz, then up some more to 675 MHz and still no problems, but we hit the wall at 684 MHz. Like with the core, anything higher and the artifact tester would register artifacts. This was a little disappointing considering 2.8ns memory should do 714 MHz. Perhaps the memory is being held back by lower voltages rather then bad memory, after all it's well known that Radeon 8500LE cores and memory get less voltage then their non-LE counterparts.
PCStats Test System Specs:

Computer Hardware:

Processor:
AMD AthonXP 2000+
Clock Speed:

12.5x133 MHz = 1.66 GHz

Motherboards:

Epox 8K5A2

Chipset:

VIA KT333CE

Videocard:

MSI G4Ti4600-TD Champ Ed (300/660)
ATi Radeon 9700 Pro (325/620)
Crucial Radeon 9700 Pro (325/620)

Crucial Radeon 9700 Pro (375/684)

Memory:

256MB Corsair XMS3200 CAS2

Hard Drive:
40GB 7200RPM Samsung SP4004H
CDROM:
NEC 52x CD-ROM
Floppy:

Panasonic 1.44MB Floppy Drive

Heatsink:
Thermalright SK-6 w/60mm 40 CFM YS Tech
PowerSupply:
Antec 400W PSU
Software Setup:

WindowsXP
VIA 4in1 4.43V
DetonatorXP 30.82
Detonator 40.41*

Radeon Catalyst 2.3

Benchmarks:

3DMark2001SE
AquaMark
CodeCreatures
Commanche 4
Quake III Arena Ver 1.17
UT2003

AA Test, AF and AA+AF Test
3DMark2001SE
Quake III Arena
* - We will be benchmarking with two sets of Detonator drivers because the new Detonator 40's bring a big performance boost to DirectX 8 benchmarks. Please remember though the Detonator 40's are beta!
3DMark2001SE is the latest installment in the 3DMark series by MadOnion. By combining DirectX8 support with completely new graphics, it continues to provide good overall system benchmarks. 3DMark2001SE has been created in cooperation with the major 3D accelerator and processor manufacturers to provide a reliable set of diagnostic tools. The suite demonstrates 3D gaming performance by using real-world gaming technology to test a system's true performance abilities. Tests include: DirectX8 Vertex Shaders, Pixel Shaders and Point Sprites, DOT3 and Environment Mapped Bump Mapping, support for Full Scene Anti-aliasing and Texture Compression and two game tests using Ipion real-time physics.
Higher numbers denote better performance.
3DMark2001SE Benchmark Results
Video Card
3DMarks
Ranking
1.
MSI G4Ti4600-TD (DetXP 30.82)
11182
2.
MSI G4Ti4600-TD (Det 40.41)
11956
3.
Albatron GF4 Ti4200P Turbo (DetXP 30.82)
10405
4.
ECS AG400
7052
5.
ATi Radeon 8500 64MB
9224
6.

Crucial Radeon 9700 Pro (325/620)

13011
7.

Crucial Radeon 9700 Pro (375/684)

13115
It was well known that the GeForce4 Ti4600 was CPU limited at 1024x768, with the Radeon 9700 Pro, this is even more apparent!