Heatsink Clearances and Overclocking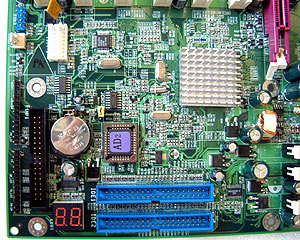 Almost every Epox boards that we have tested in the last year and a half has come with a Port 80 diagnostics card built into the PCB of the motherboard. This is an extremely useful tool for any "computer techy" or overclocker for that matter. If get ahead of yourself and crash the system simply take a look at the Port 80 and it will tell you if your problems are hardware related.

My only real complaint with the motherboard is the way Epox chooses to cool the nForce2-IGP Northbridge. They chose to use a passive heatsink which is better for convection cooling and if you're an overclocker you're certainly want to use something with a little more kick!
PCStats Heatsink Clearance Measurements
Top Clearance:
16 mm
Bottom (cam) Clearance:
12 mm
Left Side (arm) Clearance:
30 mm
Right Side Clearance
15 mm
Socket Mounting Holes:
4mm Ødia
Max. Heatsink Base Dimensions:
~90x85 mm

Note: Approx. measurements are made from the edge of the socket (not the clips) to the closest obstacle taller than the ZIF socket itself.
The socket is 51mm across, and 62mm from top to bottom.
Unfortunately the holes are a bit wider then most third party chipset coolers so a bit of modding will have to be done if you want to attach something to the Northbridge.
Most motherboards in the 8RGA+'s class have either Serial ATA, IDE RAID or sometimes both - but these things don't seem to be on any nForce2 boards we've tested. But then again, with six PCI's you could just buy the standalone PCI cards.
Since AMD doesn't currently use any standardized heatsink retention mechanism there is a lot more freedom in terms of the overall size an AthlonXP heatsink can take. Throw in the mixed layouts of many different mainboards and you have a problem on your hand. Not all AMD heatsinks will fit cleanly on all AMD motherboards, especially if the heatsink is large, or requires the use of now obsolete mounting holes.
Since the 8RGA+ uses the same layout of the 8RDA+ our comments for that board applies here too.
Epox has done a superb job clearing the CPU socket area. This is probably the most spacious motherboard we have ever used and even has four heatsink mounting holes! You definitely will not have problems installing larger heatsinks like the Alpha PAL8045 or Thermalright SLK-800.
Because the Power Fan Header and CPU Fan header are side by side, you must make sure you plug the HSF into the right header! If you plug the CPU fan into the wrong header, there's a possibility you could fry your processor when the board goes into hibernation (sleep mode). There are three fan headers in total on the board.
Epox/Overclocking, Overclocking/Epox...
Epox has a pretty good reputation in the enthusiast community for producing some of the more overclocker friendly boards out there and we had some luck with the 8RGA+, well kinda. With the board and its stock cooling we hit a maximum 200 MHz FSB. At that speed we noticed the Northbridge was extremely hot though.
Guessing that the Northbridge heat was holding me back, Max dug up an AVC Tundra Copper heatsink and modified it to fit on the Northbridge with the standard retention holes. Hoping to be able to squeeze a bit more out of the motherboard with this new modification I started the system back up and using one stick of Corsair XMS3500 CAS2 with 2.5-3-3-7 timings, maintained 100% stability.
Running in DC DDR mode we maxed out at 223 MHz while maintaining the most aggressive memory timings.
For benchmarking purposes though, we only ran tests at 200 MHz FSB because that was the top speed we were able to run 100% stabile with stock cooling.
Hopefully this has opened a few eyes in the nForce2 community... if your system does not overclock as well as you had hoped, perhaps your Northbridge is holding you back!
SEARCH PCSTATS

---

Use the power of Google to search all of PCSTATS and the PCSTATS Forums. Tell us what you think of this new feature - FEEDBACK?