Abit did a fairly good job at clearing out the socket area of obstructions. Larger bolt-on heatsinks like the Alpha PAL 8045 should fit just fine but wider heatsinks like the Thermalright SLK-800 may have to nudge a few capacitors to fit properly.
PCStats Heatsink Clearance Measurements
Top Clearance:
8 mm
Bottom (cam) Clearance:
15 mm
Left Side (arm) Clearance:
32 mm
Right Side Clearance
18 mm
Socket Mounting Holes:
3mm Ødia
Max. Heatsink Base Dimensions:
~101x76 mm

Note: Approx. measurements are made from the edge of the socket (not the clips) to the closest obstacle taller than the ZIF socket itself.

The socket is 51mm across, and 62mm from top to bottom.
Overclocking tests:
Abit has been a pioneer in the "overclocking arts" since the early days and we always have high expectations when it comes to overclocking an Abit motherboard. With the board completely stock we started to raise the FSB but unfortunately we hit our maximum speed at just 200 MHz FSB with the AthlonXP 3000+ we use for testing.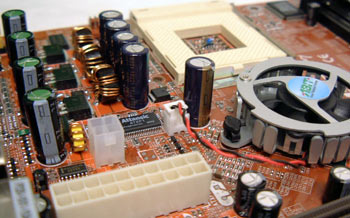 No matter what we did we just could not get the motherboard to run stable at a speed higher than that. I have a suspicion that if the NF7-M had better Northbridge cooling it may go higher since the Northbridge HSF was extremely hot when running overclocked - perhaps the little active heatsink really isn't up to the job when it comes to overclocking...