Abstract: The GNB Max is a good board by its own right, but if your computing situation demands more of a heavy-hitter then todays review of the MSI E7205 Master-L could be just what the doctor ordered.
82% Rating:
Home > Reviews > Motherboards > MSI E7205 Master-L
What is MiniPCI?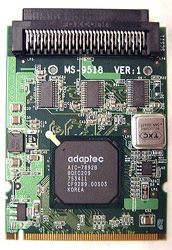 The MS9518 MiniPCI expansion card measures 80x60mm and is equipped with a SCSI LVD/SE socket and Adaptec AIC-7892B SCSI controller. The 32-bit card supports 160M SCSI drives.

Mini PCI (Peripheral Connect Interface) is an alternate implementation of the standard 32-bit PCI expansion slots we find on common everyday desktop mainboards. The Mini PCI slot is essentially a shrunken down version of the standard 32-bit PCI slot, though there are some differences on the technical level which are beyond the scale of this review.

At the moment, MiniPCI cards are capped off at 32-bit, 33MHz interfaces, so while there are full-fledged PCI slots that work with 64-bit PCI expansion cards, that isn't te case with MiniPCI just yet.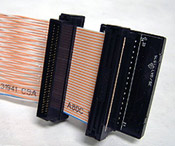 The MiniPCI SCSI 160M card ships with LVD/SE cable and terminator.
If you own a notebook and have ever taken off the back cover to install more memory you've probably noticed an adjacent slot which looks strikingly familiar to the one here. The slots are in fact identical, and allow notebooks computers a means to expand with devices like internal 802.11b wireless, or fax/modems based on the MiniPCI standard.
Because of their small size, MiniPCI cards are the ideal solution for space limited environments, and on the MSI E7205 Master-L the expansion slot is located adjacent to the PCI slots where anything larger simply wouldn't fit.
MSI have indicated on their website that there are currently three possible expansion cards designed specifically for this board. Those include an ATi RageXL PCI videocard with 8MB on board frame buffer, IEEE1394 and Adaptec Ultra160 SCSI.
There are many other types of MiniPCI devices ranging from wireless network cards to even soundcards, but because they are not 'common' PC hardware, expect to do a little searching if you want to populate this socket with something other than the options MSI provide.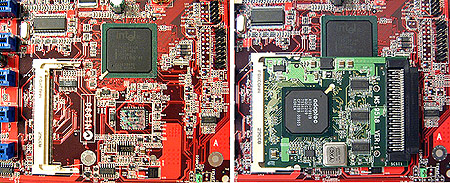 The benefit of using the SCSI MiniPCI card is that while the MSI E7205 is a workstation board, there are only two ultra ATA 100 IDE headers. At two IDE devices per channel that means you are limited to just four IDE devices (hard drives, CD-ROMs, ZIP drives, etc.).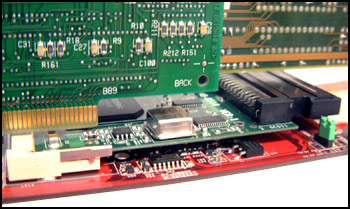 As workstation typically get put through the ringer, SCSI drives have oft been preferred. With the setup here, we have the option of quickly adding connecting five 160M SCSI hard drives.
The Intel RC8254OEM (82544) Gigabit LAN Controller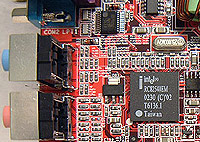 "The Intel 82544EI and 82544GC Gigabit Ethernet Controllers are integrated, third-generation, Ethernet-LAN components, capable of supporting 1000 Mb/s, 100 Mb/s, and 10 Mb/s data rates. These single-chip devices manage both the MAC and PHY layer functions, and are optimized for LAN on Motherboard (LOM) designs, enterprise networking, and Internet appliances that use the Peripheral Component Interconnect (PCI) or PCI-X bus. The controllers provide a direct 32/64 bit, 33/66 MHz interface to the PCI bus that supports the PCI Local Bus Specification , as well as the emerging PCI-X extension to the PCI Local Bus at clock rates up to 133 MHz. The Intel 82544EI and 82544GC Gigabit Ethernet Controllers provide an interface to the host processors by using on-chip command and status registers and a shared host-memory area. The controller's descriptor ring management architecture is optimized to deliver both high performance and PCI/PCI-X bus efficiency. Using hardware acceleration, the controllers can offload various tasks from the host processor, such as TCP/UDP/ IP checksum calculations and TCP segmentation. The Intel 82544EI and 82544GC Gigabit Ethernet Controllers cache up to 64 packet descriptors in a single burst for efficient PCI-bandwidth usage while the large 64KB on-chip packet buffer maintains superior performance as available PCI bandwidth descriptors change. Fully integrated physical-layer circuitry provides a standard IEEE 802.3 Ethernet interface for 1000Base-T, 100Base-TX, and 10Base-T applications. And, with the addition of an appropriate serializer/deserializer (SERDES), the Intel 82544EI and 82544GC Gigabit Ethernet Controllers alternatively provide an Ethernet interface for 1000Base-SX or LX applications (802.3z)."
SEARCH PCSTATS

---

Use the power of Google to search all of PCSTATS and the PCSTATS Forums. Tell us what you think of this new feature - FEEDBACK?