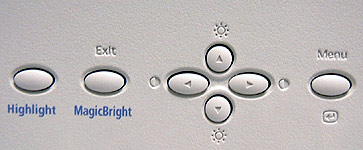 Samsung have always excelled with their industrial design - and the control panel of a monitor is the best example. The control panel on the front of the Syncmaster 957MB consists of seven buttons which are arranged in an easy to understand fashion. The contrast and brightness keys are grouped together, and the less important keys spaced farther apart.
The functions are pressed into the plastic where they should be easy to read in well lit rooms. However, because there is no contrast between the white plastic bezel and inset descriptions they are somewhat difficult to read when there is no contrast (as in this photo). The positive side to this is that the buttons are not distracting when you are actually using the monitor.
Following in the footsteps of dozens of Samsung monitors before it, the Syncmaster 957MB has a very simple and clean appearance to it. The front bezel is flat and a little over an inch wide (good enough for post-it notes). The monitor rests on a swivel stand that moves easily with just one hand so adjusting the monitor is a quick task.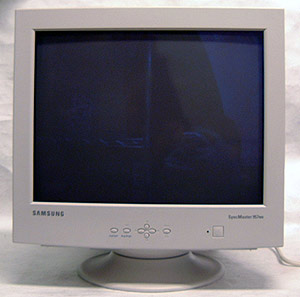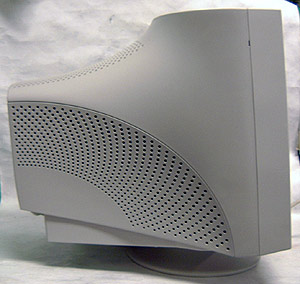 The stand offers up left and right swiveling, as well as a modest degree of forward and backward tilting. The monitor arrives with the stand unattached, and getting the stand into place was a breeze. The 957MB draws a reported 100W of power which is pretty consistent with CRT's of this size, but substantially more wattage than an equivalent LCD monitor.
The rear of the Syncmaster 957MB is populated with just one power plug socket and non-removeable VGA cord. If the VGA cable ever gets damaged the entire monitor will have to be sent of for repair instead of simply replacing the cable itself.