The K8T Neo-FIS2R supports the Socket 754-class of Athlon64 processor, which at this time is limited to the Athlon64 3000+ or Athlon64 3200+ processors. The Athlon64 FX51-class processors are not compatible whatsoever, and if you don't already know, require a socket 940 Athlon64 motherboard.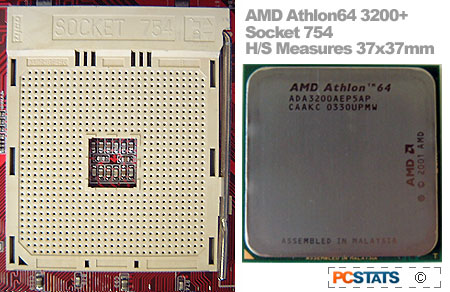 The three DDR DIMM slots can handle up to 2GB of up to PC3200 DDR RAM. In terms of goodies, the board has native Serial ATA support, an additional Serial ATA RAID controller, a third Ultra/133 IDE channel, IEEE 1394 and a Realtek Gigabit LAN controller.
Up close and personal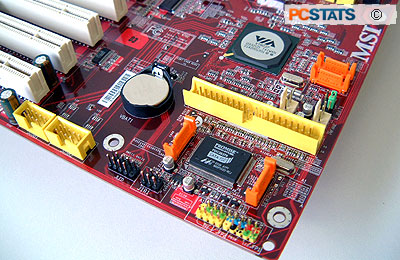 In typical MSI fashion the motherboard is red in colour. The layout of the board is nice, with the main IDE/floppy and ATX power connectors in their ideal location to the right of the DIMM slots. You won't have to remove the videocard to get to the system memory.
MSI place all the headers (USB, front panel I/O, Serial ATA) at the bottom edge of the motherboard, this way it keeps the cables out of the way of the other system devices.
MSI was the first manufacturer to place heatsinks on the MOSFETs and they seem to work quite well as they did get warm during testing. The board is full ATX in size, so it is best installed in a mid-to-full tower chassis.