If I'd have to guess at the weight of the Scorpio case, I would say it weighs about 3-4 pounds. This is obviously a benefit to working with a case that is built entirely of 0.7mm thin sheet-aluminum, but also I think the thin metal is thick enough to handle most bumps and scrapes without a problem.
Given the popularity of LAN gaming, an aluminum case can easily knock off a few pounds from the total weight of a computer system, and that makes lugging a PC out to the gaming arena all the more easier.
The one qualm I have about the material is that the aluminum hasn't been anodized to protect it from oxidation over time. Pure aluminum also makes dropping in and removing the HDD racks a tricky process; being that the aluminum can get "sticky" with just a few surface scratches.

Before we get too far ahead of ourselves, the specs for the Raidmax Scorpio case are as follows; the enclosure measures roughly 12" x 8" x 19" and comes with (4) 5.25" bays, (2) 3.5" floppy bays and (4) 3.5" HDD bays. As we mentioned earlier, three case ventilation fans are included, and one of those is equipped with multi-coloured LEDs.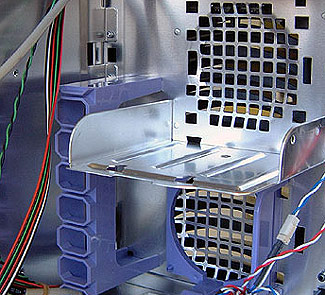 There is actually room for a total of five 80mm fans within the chassis; two fan spots are located just behind the processor at the rear, one on the clear side panel, and two up front by the HDD caddy.
In cases of this design we have tested before a washable filter of open celled foam was sandwiched between the front bezel and the metal frame to help control dust, but this little extra is missing from the Scorpio.
The motherboard tray in the Scorpio is not removable (as it is with all other cases of this design) so motherboard installation involves placing the board in the case and fiddling around with the whole assembly.
With the 3.5" drive bay caddies pulled out, this installation goes a lot smoother, and the case is the right size for standard-sized ATX compatible motherboards (12" x 10.5").