When the AMD Athlon64 was released, the best chipset for the job was VIA's original K8T800; it was faster and more feature rich than the competition from ALI or nVidia. This time around, VIA still holds the edge over nVIDIA, but just by a hair.
The VIA K8T800 Pro in its desktop form is compatible with both Socket 939 Athlon64 and Athlon64 FX processors, and thanks to the dual channel memory controller, has 6.4GB of bandwidth between the system memory and CPU.
With HyperTransport now moving at 1 GHz up and down stream, the CPU has a 8GB/s bandwidth connection with the other system devices. This means the I/O bottleneck is almost non-existant! Between the K8T800 Pro Northbridge and VT8237 Southbridge, VIA has doubled the V-Link bandwidth (from 533MB/s for the K8T800) to a full 1GB.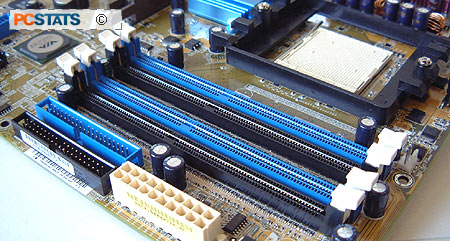 For those of you who transfer a lot of data through your network, you'll be happy to hear that the onboard Gigabit NIC runs through its own high speed connection to the VT8237 Southbridge. Taking into consideration HyperTransport, this ensures the Gigabit NIC can't take up all the available bandwidth.
In order to cater towards the enthusiast market, VIA has implemented AGP/PCI locking within the K8T800 Pro chipset as well. This is probably the one feature most enthusiasts complained about not having for the original K8T800.
Overclocking the Asus A8V:
With the AMD Athlon64 3800+ having been built on the same 0.13 micron manufacturing process as earlier Athlon64 processors, our estimates for how high we could overclock were pretty conservative this time around.
As we began overclocking, we lowered the multiplier to 8x, and starting at 200 MHz, we raised the clock speed of the motherboard slowly upwards. The motherboard overclocked very nicely all the way up to 220 MHz, but anything higher and it would start to shoot out BIOS errors. I tried raising the voltages to no avail, so I have a suspicion that the AGP/PCI locks might not be working properly... to know for sure we'll have to wait until the next VIA K8T800 Pro based motherboard comes into the PCstats labs. Next, a look at the Asus A8V BIOS, and then it is time for the benchmarks!