One of the aspects of a motherboard PCstats always pays close attention to is the layout of components, headers and items of this nature on the PCB.If installing a certain cable or card is made difficult by the location of the slot or connector, this is never a good thing for the consumer.
To our surprise, while setting up the Epox 5EGA+ for benchmarking, we came across a rather big instance of poor component positioning. Basically, the the four purple HERMEI 6.3v 3300 microfarad capacitors located by the socket 775 prevented us from installing the Gigabyte 3DCooler Ultra heatsink!
So, before we could even turn the Epox 5EGA+ on, we had to source another socket 775 heatsink that was more in line with the stock Intel thermal solution. Believe it or not, Socket 775 heatsinks are still really hard to find here in Canada!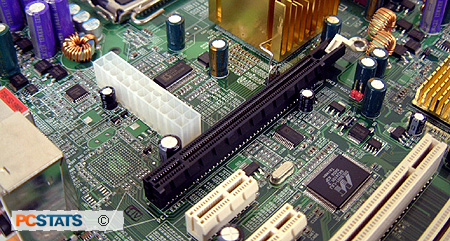 The next complaint about the Epox 5EGA+ has to do with the PCI Express x16 videocard lock. I'm glad the slot has one, and I know it important to keep the videocard seated properly to prevent accidental electrical shorts, but there are two TEAPO 6.3v 1000 microfarad capacitors right in front of the lock! They make it almost impossible to reach the clip when a videocard is in the slot...
Which brings us to the next note, don't count on being able to use just any type of after market videocard cooler with this board. The main 24-pin ATX power connector and Northbridge heatsink are right up against the back of the PCI Express slot x16 slot, with a little more than 5mm and 10mm to spare respectively. For some third-party videocard coolers this won't pose any problems, but many more solutions are definitely going to have problems with the lack of breathing room.
Of course, there is plenty to like about the Epox 5EGA+ motherboard, and some of that comes down to the nice little tool kit and tweakers supplies the board ships with.
For starters, the 5EGA+ comes with a much appreciated extra IDE/RAID controller! The four Serial ATA ports which are standard equipment on the ICH6R effectively double up the number of hard drives you can install, and then there is the little 'Power Pack' of goodies!
In this bag comes a handy little Flat Head/Phillips screwdriver, a package of little blue MOSFET (or BGA DDR RAM) heatsinks, and EPox's "Thermo Stick."
The Thermostick is basically a flexible thermistor that users can place anywhere in their system for accurate temperature readings of a certain component. Use it on the back of the videocard, the northbridge, a hard drive, memory, or wherever.