The Megaview 561 makes a great first impression. It's sleek and uncluttered on the front, with only a couple of buttons and a joystick to the right of the nicely framed 3 1/2 inch LCD screen. The unit manages to look sophisticated without being overly complicated, slippery or fragile, which we can appreciate. Looks like MSI has some good Industrial Designers on its team.
The Megaview 561 weighs 240g and measures about 120 x 75mm across, and 24mm thick. It's about the size of your average Pocket PC or Palm Pilot, and build quality is generally quite good.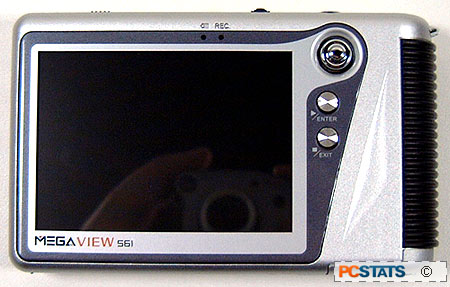 The front face of the unit features the aforementioned 3.5 inch LCD as well as Enter/Play and Exit/Stop buttons. The slightly recessed chrome joystick has a nice positive clicking action, though it doesn't repeat, meaning every time you want to scroll down through a menu for example, you need to press it down since holding it down will not work.
Low battery and recording alert lights are built into the top front of the unit just above the LCD.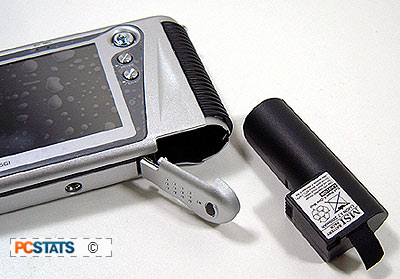 The right side of the unit is molded into a black plastic hand grip that conceals the battery pack and gives the user something to hold on to. We found the Megaview 561 easy to hold and operate with one hand, as the joystick and buttons can be operated with the thumb of the right hand. (Oooops, looks like we left the protective plastic film on the screen!)

The top of the Megaview 561 holds the recessed power button (which conveniently requires a second or so to activate), a control lock, the microphone pickup for voice recording, the volume jog dial, and record button.

The left side of the Megaview 561 holds all of the I/O interfaces, including the AV in and AV out jacks, headphone jack, USB connection and power plug.

The bottom of the unit contains the IR port for the remote (which we thought was a fairly odd place to put it), and the screw connector for the included tripod stand. The plastic battery compartment door is also on the underside of the Megaview, secured by a button catch.... push down the black button and the cover then slides open.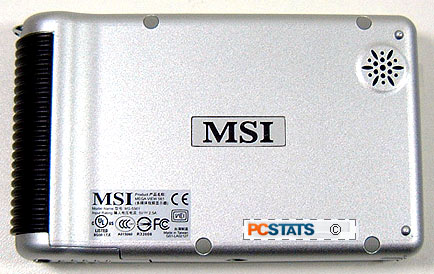 The rear of the device contains only the single speaker and the serial number.