The Intel 915PL chipset does not natively support nVidia's Scalable Link Interface (SLI) in any form whatsoever. What Albatron has done with the PX915SLI is incorporate SLI onto a PCI Express supporting Intel chipset by mucking around with stock nVidia drivers and doing a bit of creative engineering.
Within the Albatron PX915SLI, SLI runs a bit differently than with officially supported chipsets. The first physical PCI Express x16 slot has access to 16 PCI Express lanes while the second physical PCI Express x16 slot has access to four lanes. On paper this looks like a severe handicap - 16 PCI Express lanes for the first videocard, just 4 lanes for the second - however as you will see, in real world testing the end result is better than we might first anticipate.
There is one little hitch however. To run SLI, users must use the Albatron-provided set of modified Forceware drivers. Unmodified drivers will not allow users to run SLI, even though compatible videocards are installed. That means the videocard drivers have to come from Albatron, so users may need to be a bit patient if they're looking to run anything faster than a set of Geforce 6600GT's.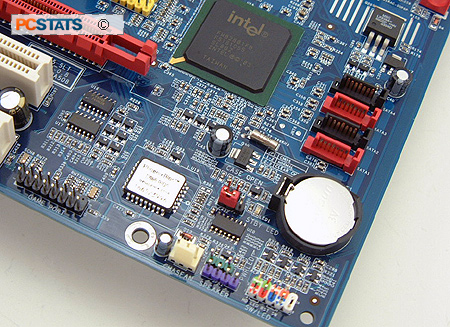 With the current modified drivers supplied by Albatron for use on the PX915SLI, support for SLI 7800GTX's is not there (a single 7800GTX works fine however). In speaking with a company representative, PCSTATS was informed that future drivers would be released at soon.
Overclocking the PX915SLI motherboard

Overclocking Results:

Albatron and overclocking go together pretty well, but before I started to push the motherboard I first lowered the memory frequency to run at 133 MHz mode. In this way the memory will not hold the motherboard back.

Starting at 200 MHz I increased the bus speed in 5 MHz intervals and things seemed to go quite smoothly at first. In fact we hit 230 MHz before there was any signs of instability with the system.

After that point, the system would randomly BSOD while loading Windows or crash while running PCMark benchmarks. Increasing the Northbridge voltage by 0.1V solved that issue, and I was able to continue overclocking the motherboard further.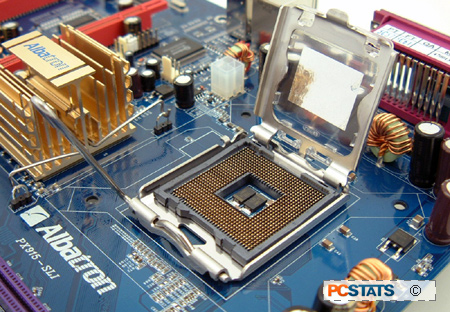 At 240 MHz FSB it seemed like the processor was starting to give us trouble, and increasing its voltage up by 0.05V was necessary to stabilize things. In the end, the system topped out at 255 MHz; anything higher and benchmarks would start crashing. I believe it was the processor that is holding the system back, at 255 MHz the Pentium 4 540 is running at 4.08 GHz with just a standard heatsink! Next up, a couple rounds of benchmarks!