The ASRock 939Dual-SATA2's PCB is quite well labeled and novice users shouldn't have difficulties setting up the basics. Should users have questions the user's manual is unfortunately not very detailed, so it would be handy to have a more experienced friend around in case of trouble. Otherwise things are layed out well, though the position of the floppy drive connector at the bottom of the board is not ideal.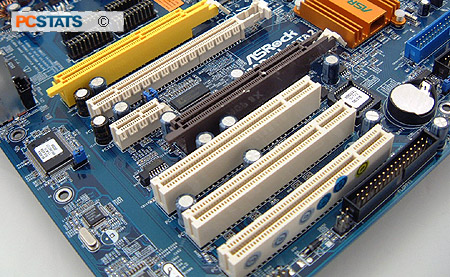 As we touched upon, the 939Dual-SATA2 has both a PCI Express x16 and an AGP 4X/8X slot on the PCB and both can be used simultaneously. In fact for those who really need a lot of screen real estate, one could potentially run PCI Express, AGP and PCI videocard all at the same time! Users who need to keep multiple windows open will definitely like the sound of this as it opens up the possibility of spanning the desktop over multiple monitors.
ASRock was able to include the 4x/8x AGP graphics support by running this adaptor through the ULi M1567 Southbridge. Unlike many AGP-via-PCI Express implementations, the ASRock 939Dual-SATA2 and its ULI M1567 Southbridge supports full 8x AGP so there won't be any sub par performance to fret about.
There is no bandwidth bottleneck since the ULi M1695 and M1567 chipset are connected by a HyperTransport connection that runs at 1 GHz that is 16 bits wide up and down stream. The same connection connects the processor and ULI M1695 Northbridge chipset as well.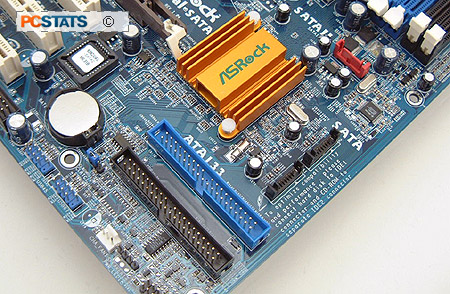 Natively the ULI M1567 Southbridge supports two IDE channels for four devices, and two Serial ATA 150 hard drives (not capable of Hot Swapping). The ULI M1567's Serial ATA channels also support RAID modes 0 and 1 should you want to run that. ASRock equip the board with a single JMicron JMB360 Serial ATA II channel (not capable of hot swapping either). The device runs through a dedicated PCI Express x1 connection.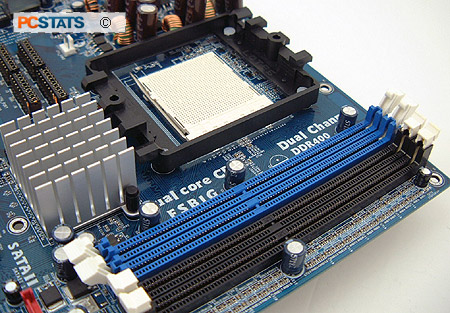 Modern chipsets produce quite a bit of heat and because of this we have seen a surge in extravagant cooling solutions of late. The ULi chipsets run cooler than chipsets by the likes of nVidia, and can get by with nice (quiet) passive heatsinks.