The Epox EP-MF570 SLI will automatically split the PCI Express x16 bus equally between the two physical PCI Express x16 slots if both are populated, so in effect each card get 8 PCI Express lanes in SLI. When just one videocard is used (in the orange slot), it receives the full 16 PCI Express lanes. The nForce 570 SLI chipset generates a moderate amount of heat and is cooled with a small heatsink fan combo. It's replaceable however the default connector is two pin type.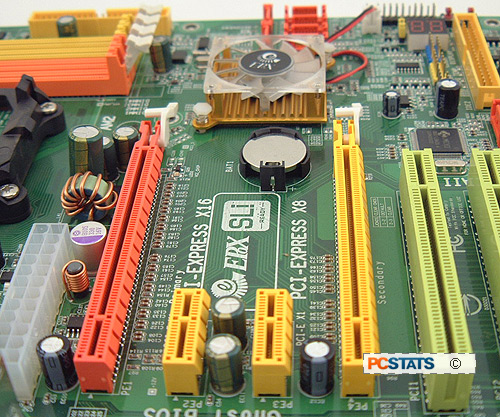 One thing I'm happy to see all motherboard manufacturers implement is switchless SLI. Early Socket 939 nForce 4 SLI based motherboards required jumpers or a selector switch card to be moved, but all socket AM2 nForce 570/590 SLI motherboards automatically sense when a second videocard is inserted meaning this step is no longer necessary for the user.
nForce 570 SLI Chipset Information
nVidia's AMD socket AM2 supporting chipsets include the nForce 590 SLI for enthusiast class users, the nForce 570 SLI for high end gamers, nForce 570 Ultra for mainstream gamers and the nForce 550 for the rest of the mainstream market. The nForce 570 SLI offers the best of both worlds, and coincidentally it's the chipset the Epox EP-570 SLI motherboard is built with.
nVidia nForce 570 SLI Chipset
nVidia nForce 570 SLI
CPU
940-pin Socket AM2
nVida SLI Support
Yes (1 x16, 2 x8)
nVidia LinkBoost
-
nVidia FirstPacket
Yes
nVidia DualNet
Yes
Native Gigabit Ethernet
2
Teaming
Yes
TCP/IP Acceleration
Yes
nVidia MediaShield Storage
Yes
SATA/IDE HDD
6/2
SATA Speed
3Gb/s
RAID
0, 1, 0+1, 5
nVidia nTune Utility
Yes
PCI Express Lanes
28 lanes
USB Ports
10
PCI Slots
5
Audio
High Definition Audio (Azalia)
Each offering in the nForce 500-series adds many completely new features into the mix. Take a quick look at the chart at left to see what the nForce 570 SLI brings to the table. In brief, the nVidia nForce 570 SLI and 570 Ultra socket AM2 chipsets share a similar feature set to the nForce 550 MCP, all of which are more mainstream solutions with good cost to value ratio's.
Both are single chip solutions with a total of 16 PCI Express lanes devoted to the videocard sub system, however the nForce 570 Ultra only supports one videocard while the nForce 570 SLI naturally supports two. The PCI Express x16 bus is split in half when SLI is configured on the Epox EP-MF570 SLI, so each videocard receives eight PCI Express lanes.
There are an additional four PCI Express x1 slots and five PCI slots for expansion purposes.
Both 570-class chipsets have dual Gigabit Ethernet which includes nVidia's DualNet technology as well as its FirstPacket which permits packet prioritizing. There is one IDE channel, six SATAII connections (RAID modes 0, 1, 0+1 and 5 inclusive), and 10 USB 2.0 devices along with Intel's 7.1 channel Azalia high definition audio option.
Now that we've had a chance to touch upon some of the features of the Epox EP-MF570 SLI let's walk through the photo gallery of this board before jumping into the overclocking, the BIOS, and PCSTATS set of office oriented and gaming benchmarks.