Abstract: Darth Vader would be rolling over in his space grave if he knew his glossy black trademark look had been appropriated by Samsung for a recent line LCD monitors... not to mention countless cellphones. What have the Imperial Forces come to?!
80% Rating:
Home > Reviews > Monitors > Samsung Syncmaster 971P
Highlights of the Syncmaster 971P
Let's take a closer look at the stylish 19" Samsung Syncmaster 971P before we proceed with the display tests.
Style is the key word here, Samsung have gone to great lengths to pump the esthetics up. The Syncmaster 971P display oozes sleekness, and its glossy black lines melt into the background seemlessly. The bezel around the 19" LCD screen is 3/4" wide, made of clear plastic laminated over black in a way reminiscent of the iPod. The LCD screen is about 1" thick.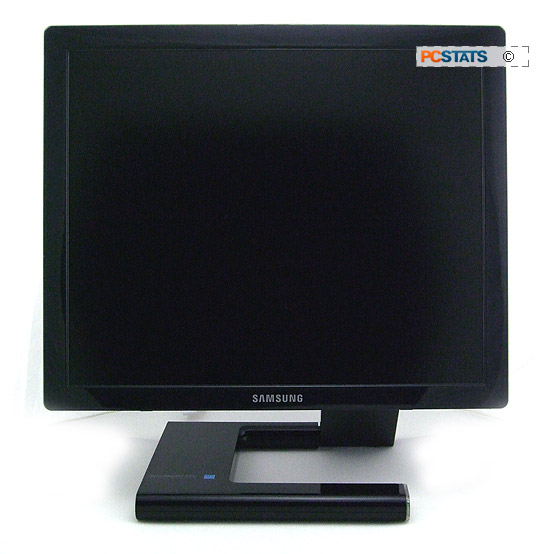 The Samsung logo is the only marking around the screen itself, and its dark grey lettering is not distracting. The two-port USB hub is located on the left hand side of the base, at the back in a convenient location that won't get in the way. There are no manual OSD controls. With DVI, most monitor controls are unnecessary, but I kind of miss having physical brightness and contrast controls.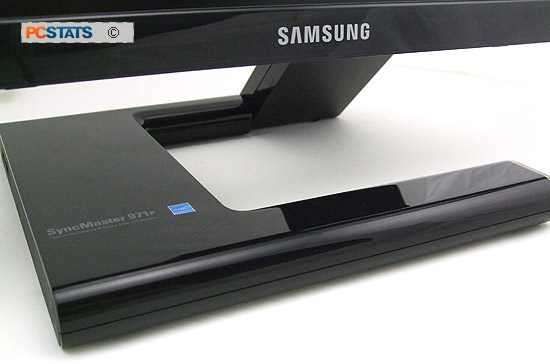 The rear of the Samsung Syncmaster 971P has only the Kensington lock. The smooth appearance of this display would make it a great candidate for a reception or sales desk, or for presentations.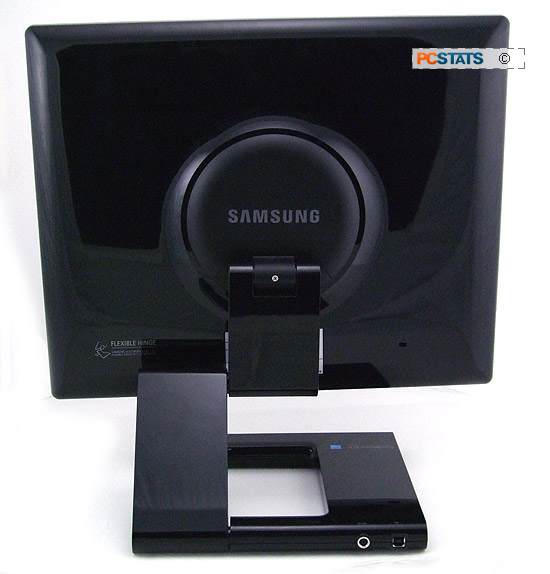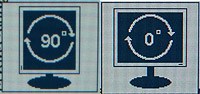 The screen of the Syncmaster 971P rotates to the right 90 degrees, transforming the viewed image from 1280x1024 landscape to 1024x1280 portrait. Some Samsung literature we've read seems to indicate that the picture will automatically rotate with the orientation change, but PCSTATS could not confirm this.
A small icon does pop up on the screen indicating 0 or 90 degrees, but we had to manually rotate the desktop in the nVidia display options menu. Tilt the screen back a bit before you rotated it into portrait mode, this will stop the bottom of the screen from scratching the base.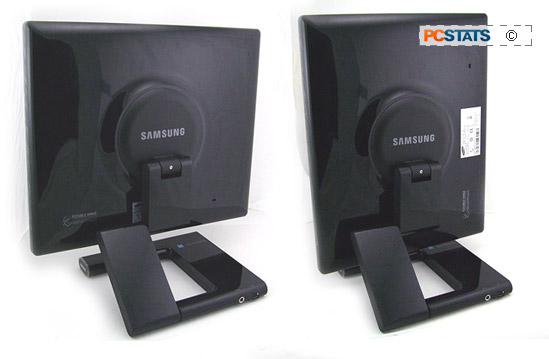 Oddly, the MagicRotate software did not appear to function properly with the Geforce 8600GT and Windows Vista configuration used for testing. We experienced a lot of software compatibility issues with the MagicTune/Rotate software, so I'd recommend sticking with the default nVidia/Intel/AMD display options. The portrait screen orientation is great for reading full webpages or editing pages of text without constantly having to scroll up and down, so don't let the above discourage you from using it.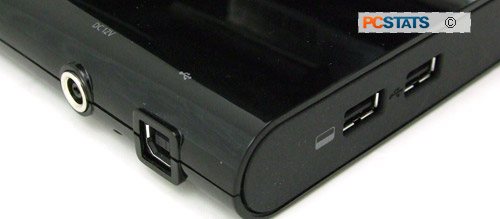 The monitor base has hook-ups for the 12V DC from the remote power brick, the USB input jack, and a two-port USB hub. The DVI video connector is not visible, instead it slips into a recess in the base of the Syncmaster's non-detachable base.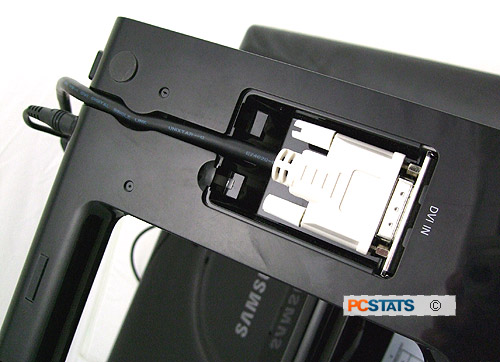 The cable runs out along a small channel, so just be sure to connect the end of the DVI cable without the little ferrite RFI choke immediately at the end or it won't fit. While the base of the 971P isn't removable, it's adjustable every direction that matters. That's up next.
SEARCH PCSTATS

---

Use the power of Google to search all of PCSTATS and the PCSTATS Forums. Tell us what you think of this new feature - FEEDBACK?