With a brand new Yepp in my hot little hands, the wrapping was quickly gone, and a nice shinny Yepp lay before me, ready and waiting for MP3's. But before I could listen to some music, the files had to get onto the little guy. To accomplish that, the Yepp Explore software needed to be installed on a computer. Preferably the same computer which has the MP3's on it.
| | |
| --- | --- |
| | A small cable plugs into the side of the Yepp, the other end into a parallel port to enable file transfers. |
Unfortunately this was not as easy as I hoped. One simple reason; Win2000. The Yepp Exploer software does not work on Windows 2000 (and I tried over and over again). So rather then doing adual boot system, just so I could get MP3's, I ended up having to install the sofware on another computer which had Windows 98 SE installed.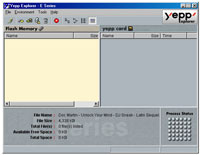 The installation is simple and fast. Once the program had installed itself, I simply ran the software and fumbled around with the buttons for a few minutes. I have never been a fan of reading instructions first for this reason; if it isn't intuitive, it isn't designed well. I also enjoy the trial and error method, its seems to make remembering all the different features 10 times easier. Anyhow it took me about 5 mintes to figure out what I had to do to get some music onto the Yepp.
64MB = How much music?
The most important aspect of any portable mp3 player is how much music it holds. Okay shiny looks are nice, but size does matter. The Yepp holds about 64MB of mp3's or roughly 13 songs (roughly 4.9 MB a song). What does that translate into in terms of minutes of music? Sadly not even a full CD's worth. Unless of course it's and eepee. 64MB roughly translates into about 60 minutes of mp3 recorded music. Although MP3's are incredibly compressed over that of standard .wav files, they still take up a eafty chunk of memory. So in the end you loose about 10 minutes worth of music going with a 64 MB MP3 player over that of a portable CD player.
Sound Quality
This is something that I was not really worried about when selecting an MP3 player. That's not to say I don't care about sound quality, I do. However, having listened to MP3's for over a year now, and I know how they sound, and thus I know what to expect. Songs are almost always near CD-quality. I loaded up an assortment of songs with an eye towards putting the Yepp through a general sound quality test. Not so much of the actual MP3 files, but more so of the BASS, and general sound quality of the units' electronics, and headphones.
The sound was great! The earphones that come with the Yepp are the bud type, and put-out really good sound. Plus their small size makes them extremely portable. 'Buds' are the best type of earphones for portable music devices. When you put the player away, they easily wrap around a few times and the whole thing hides in a shirt pocket easily.
MP3 payers don't skip. You could jump off a building and have pure digital sound right up to the end :-) The beauty of portable MP3 players comes from the fact that they use solid state storage mediums (or in other words RAM). Such mediums are inherently shock-induced skip proof. The lack of moving parts can typically mean they will also last longer then portable CD-players for expample. Even a Discman with anit-skip capabilities will still skip no matter how much music it buffers into memory. Trying to cause a skip in the Yepp would be about as futile as it could get.