Abstract: The Penryn1600SLI X3-WiF motherboard is built on nVidia's nForce 680i SLI chipset, and as you may have guessed this platform supports Intel 'penryn' quad core, 45nm 'yorkfield' and dual core 'wolfdale' processors.
75% Rating:
Home > Reviews > Motherboards > ASrock Penryn 1600SLI X3-WiFi
The Good / The Bad?
Asrock have thoughtfully provided an HDMI SP/DIF audio header and jumper cable so users with HDMI enabled nVidia videocards can bring sound into the fold. The use of all solid state capacitors is a good sign for long term reliability, the electrolytic variety have a penchant for bursting and leaking electrolyte all over the place. The first sign is usually random crashing (this guide will help incidently). I know...Windows XP and random crashing. Not very specific a symptom is it?!
The only real quirk with the Penryn1600 SLIX3-WiFi is a hot-running chipset heatsink. nVidia's nForce 680i chipset pumps out heat, and the heatsink Asrock selected burns up after a good benchmarking session. We have to wonder if it's undersized for the thermal loads involved, so just air a fan its way.
The included 802.11g wireless LAN adaptor is a great bonus feature, and particularly helpful if you're building a PC for school where it just isn't possible to run cable all through the dorm. We'll touch on the Wifi in moment, first the question of gaming. How would you like the option to run three-way SLI for an extra-extra gaming boost? Asrock have made triple videocards a cornerstone of this motherboard, and there's no denying it's remarkable for a budget-class motherboard to have the capability of running a three-way between GeForce graphics cards.
The two white PCI Express x16 slots support x16 mode, the yellow PCI Express x16 slot supports x8 mode. The board ships with two way SLI and three-way SLI bridge connectors.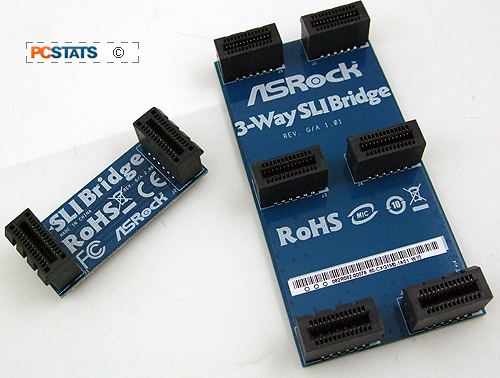 If you decide to run 3-way SLI, the power supply will need to be rated high enough to support all three videocards (here's a good one ). The videocard models and GPU's must be identical, and the power supply should have a 6-pin SLI power connector to each of the three videocards. The gaming benefit isn't necessarily worth three times the cost of a single VGA, to be frank, but that's a debate for another time.
802.11G Wireless
For most users, the integrated 802.11b wireless is sufficient for surfing the internet. If you stream movies or play fast-paced games 11Mbps isn't going to cut it. The old 802.11b standard is too old, wireless LAN connections of 802.11g or 802.11n are what you need nowadays.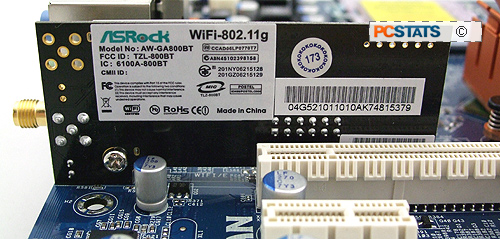 The 802.11G/B wireless adaptor.
This Asrock motherboard treats us to 802.11g Wifi that's great for connecting to the Internet. It's also worthwhile as an access point for a notebook to share an internet connection. This PCSTATS Guide explains how to do that, if you're curious.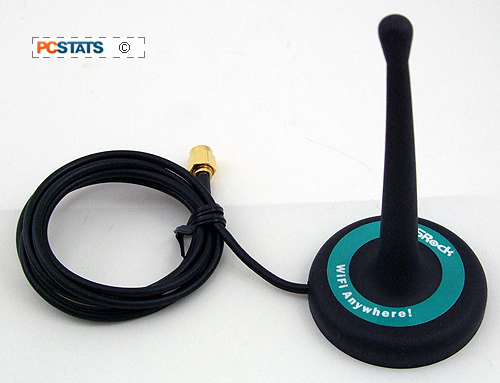 The Asrock Penryn1600 SLIX3-Wifi motherboard comes with an external 802.11G/B wireless omnidirectional antenna that connects to WLAN adapter at the back of the motherboard. The adaptor supports 54 Mbps data speeds, with a wireless range of 80 feet indoors. The cable is about a meter long, allowing the antenna to be positioned on a desk, or nearby teletubby.
Already own a wireless router? Super. 802.11g is about as fast as CAT5 cable, operating at 54Mbps. When configured as an Access Point the computer must remain on for connectivity. On a related note, this Gigabyte gadget from a while back is pretty neat.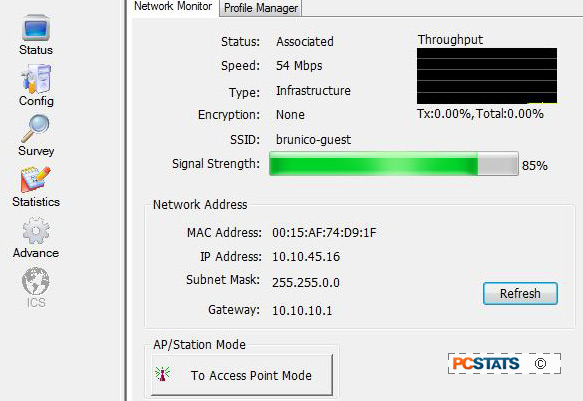 The Wireless networking software has a good set of controls for managing security and connections.
PCSTATS goes in for a closer look at the Asrock Penryn1600 SLIX3-Wifi motherboard motherboard layout and features next, then it's onto overclocking, benchmarks, and a special treat!
SEARCH PCSTATS

---

Use the power of Google to search all of PCSTATS and the PCSTATS Forums. Tell us what you think of this new feature - FEEDBACK?