Why do they leave those drive bay knockouts in the case? What purpose do they serve? NONE! You have an average of 5 in a case, and depending on how thick the metal is, they can weigh in at a several ounces altogether. Cases get brought over to North America from low cost manufacturing centers. They aren't brought over by FedEX, but by the container, which can contain anywhere from 500-1000+ cases. Putting aside the obvious costs associated with shipping a load of useless weight, there is an issue of wasted materials. If every case comes with just 4 ounces of extra knockout metal, which of course gets knocked out and thrown away; and something like a few million cases are made each year that ends up being a considerable amount of wasted materials.
[UPDATE: Thanks to everyone who has filled me in on the wonderful knuckle slicing world of drive bay EMI shielding. According to the many emails I've gotten about this, the knock-outs have to be left in the case to conform to FCC regulations when the case is imported. Those little bits of metal (everyone agrees they are a PITA) stop unwanted noise from leaking out of the case and messing with your TV signal for instance.]
At least the knockouts in the fatty case come out very easily, with just one full turn by hand. On the other extreme, AOpen knockouts almost require a hacksaw to remove them...
| | |
| --- | --- |
| | The front bezel of the Fatty Case pulls off easily to reveal a decent sized fan intake cover. Of course, for those looking to improve the intake capabilities of this small 80mm 12V fan, it can't hurt to remove the grilling as well. Sadly there isn't much in the way of venting on the actual bezel itself. |
Installing the goods.
With the motherboard tray removed it is a simple affair to install the motherboard and many of the cards without reaching down into the recesses of a dark case - wherein those tiny screws always seem to disappear. Once the tray is back in (a bit of a tricky maneuver) the hard drive and floppy easily slide in to their respective locations in the drive bays.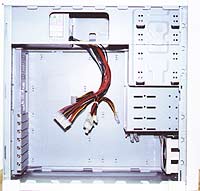 I don't know about you, but 230 Watt's is a bit underpowered for us, so while the case is good, the PSU it comes with leaves a lot to be desired. We replaced the stock PSU with a 300 Watt version.