The ML-4600 is a very simple printer both to use, and to operate. The printer itself has two paper trays, the primary one capable of holding around 150 standard pages. The second tray is for hand inserts and odd shaped things like envelops, labels, or thicker stock paper.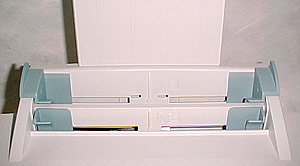 Any weights of paper from 16-24lb can be used in the automatic tray (the main one), with the manual tray able to accept paper from 16-34lbs. It's always a good idea to remember that with laser printers the paper reaches very high temperatures during the fusing process, and any paper you put into it must be able to handle these temperatures without melting, or giving off toxic fumes. With a fusing temp of 400F (205C) for 0.1 second, any paper that doesn't meet that criteria could potential damage this printer.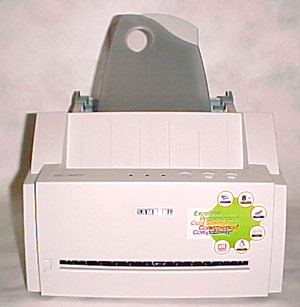 Paper comes out of the ML-4600 in two possible locations. A small slit on the front of the computer can be opened to allow thicker pieces of paper to exit with the least amount of bending, or it can be shut so paper is directed upwards the output tray. All of the paper trays are located on the top of the printer which gives this laser printer a rather small footprint of about the size of a fax machine (13"x13.9"x9"). Oddly, while the automatic paper tray can hold around 150 sheets, the output tray is only listed as holding 100!