Abstract: The release of the Intel Celeron, and subsequently the great overclocking potential of that processor, was followed by the release of a lot of coolers catering to the needs of the overclockers.

Home > Reviews > Cooling / Heatsinks > Vantec P3D-5030
Performance
Performance

I measured this cooler's performance by installing it on a ABIT BE6 motherboard coupled with an Intel Pentium III 450 Mhz CPU. I used the thermal cable provided with the BE6, and I made every effort in sticking the cable in the exact same spot for every single heatsink. Did you think I was just going to measure the P3D-5030's performance? No way! True, it would had made my job a lot easier, but just looking at some numbers without having anything to compare it with, would had been pointless. So, I stacked the P3D-5030 against three other Pentium III coolers. Two of them were Vantec's "lower" models, and the third one was a KWI dual fan unit. I measured each cooler's temperature under idle and heavy utilization conditions. In order to subject the processor under heavy stress I used the Winbench 99 processor benchmark for at least one hour of continuous loop. The room temperature was controlled to a comfortable 69 degrees Fahrenheit. Here are the results under different processor speeds. Remember, lower IS better.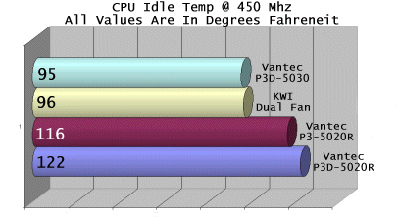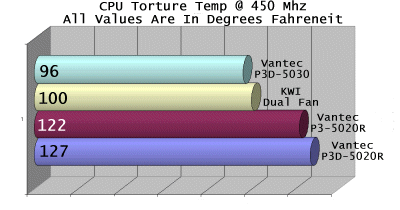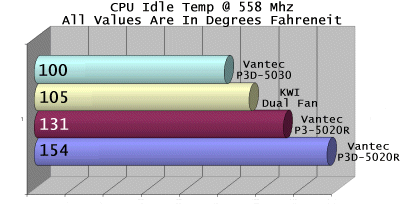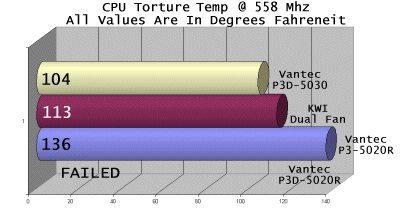 Conclusion

There is not much explaining needed here. From the results above it's pretty clear to see which cooler is the overall winner. Even Vantec's other models couldn't even come close to the performance of the P3D-5030. Vantec's P3D-5030 is an exceptional cooler, in both under normal and overclocked conditions. Lower CPU temperature results in longer CPU life. The Vantec P3D-5030 is definitely a cooler that should be in every Pentium III owner's shopping list.

Syndicated from http://www.deeztech.com
SEARCH PCSTATS

---

Use the power of Google to search all of PCSTATS and the PCSTATS Forums. Tell us what you think of this new feature - FEEDBACK?