Test System Specs:
Test System:
AMD Athlon (Tbird) 700Mhz @ 878Mhz (7.5 x 117)
MSI K7T-Turbo
256MB Apacer ram
MSI Starforce 817 Geforce2 MX
SB Live! Value
Generic full tower case w. lotsa fans, hard drives, burner, etc.
Cooling:
Arctic silver II thermal paste
Test procedure
I decided to test the orange orb against the older blue orb as well as the passive cooling that came stock on my MSI Geforce 2 MX card. To test the cooling abilities of the heatsinks, I ran each setup through 2 tests twice. Once at standard (175/166) core and memory settings, and again at the highest stable clock settings I had been able to achieve with the passive cooling setup, 215(core)/194(mem).
To test the average 'idle' temperature of the card, I left my system sitting at desktop with explorer open for 1 hour (monitor shutdown and screen saver disabled). To test the temperature of the card during actual gaming, I ran 3dmark 2001 through 10 loops of the first three game tests, approximately 30 minutes long, and recorded the highest temperature reached. All temperatures were recorded with a thermistor taped to the back of the card over the core.
| | | | | |
| --- | --- | --- | --- | --- |
| Heatsink | Idle(175/166) | Load (175/166) | Idle (215/194) | Load (215/194) |
| Passive Heatsink | 42 C | 46 C | 45 C | 49 C |
| Orange Orb | 40 C | 43 C | 42 C | 45 C |
| Blue Orb | 40 C | 44 C | 43 C | 46 C |
Hmm... I guess I was hoping for a little bit more of a temperature differential between the various setups. Then again, the two orbs certainly make a noticeable difference over the passive sink. If this was my CPU cooling setup, I'd be pretty pleased with a 4C drop...
The Orange orb is the overall winner, pulling ahead of the Blue orb by a degree in 3 of the four tests. It was also (unsurprisingly) able to reach the highest stable core clock I have managed to get out of this card, 228Mhz. The Blue orb fell off after 224, and the stock heatsink could only do 215 stable as I had mentioned. For this review, I am defining 'stable' as finishing the load benchmark (10 loops of each of the first 6 tests) successfully with no visible artifacts. My 3dmark scores I am not going to publicize, to avoid being mocked by Colin, but if you are curious, let me know. :)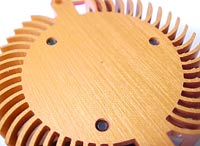 I was a little surprised with the results from the Blue orb, I was honestly expecting it to be a more efficient heatsink than the Orange Orb, but I guess that the full contact base and one piece design are more important than sheer surface area and fan speed... I even cleaned off the thermal paste and re-applied just in case I'd put too much on when I attached the Blorb, but same results. I'd like to do this again with an Asus card with built in temperature measurement sometime soon.
Overall, I can recommend the Orange orb to anyone who is currently using a passive heatsink on their video card (provided you make sure the clips stay clear of the fan). For replacing stock active heatsinks on newer cards like the Geforce3, I have my doubts that it is going to make much of a difference. I will test this as soon as I get the chance, but please let me know if you have already tried it. If you already have a Blue orb and you really want to use your first PCI slot, consider this BGA heatsink a must buy.