Abstract: dditionally, the ML-1250 supports PCL6 emulation and it has also been developed to be more energy efficient than its' counterpart the ML1210.
73% Rating:
Home > Reviews > Printers > Samsung ML-1250
Print Quality and More
Printers generally have a hard time coming in on their specs, but the ML-1250 proved itself to be a 12 page per minute printer. Full pages of graphics, text and PDF files could not sway the ML-1250 from this mark.
Printer Test Patterns
The next set of tests revolve around the ZDnet printer test patterns. Since we are looking at a mono Laser printer we will only be using two of the three tests. Those of you who would like to test out your current printer can go here for the files. Ideally the .AI patterns should be used, but if you don't have the software the .pdf files offer a good alternative. The test patterns are grouped into two sets, the first measuring gradients and resolution, and the second letter quality at different font sizes.
The ML-1250 passed all of the test patterns. In some cases where extremely fine text was output (on the level of 4pt), there was some line loss. At such a small point size this is not uncommon. Gradient patterns, and Bezier curves were reproduced excellently for its price range.
Conclusions:
Printers are one of the few computer peripherals which carry a continued cost of ownership. Unlike scanners and speaker systems, printers require cartridges to regularly be replaced. The cost of toner divided by the number of pages (at 5% coverage) printable per cartridge is call cost per page. Depending on the duty level of the laser printer, the toner cartridge can be extremely expensive, or quite inexpensive. In almost all cases, mono laser printers are less expensive to use than black and white ink jet printers. They offer better resolution and non-water soluble printer ink.
With a modest speed of 12ppm this printer, the ML-1250 is more than capable for home use where printer requirements are typically sporadic. With the option of expandable memory, the ML-1250 can take on even more than its lower end compatriot, the ML-1210. The support for either parallel or USB connections enables the ML-1250 a wider range of versatility which is important for legacy computers these days.
Add to that the 1200DPI class resolution and low cost of ownership and this printer offers great versatility and value. All in all, the ML-1250 is a very good quality value printer, providing excellent print quality for the price.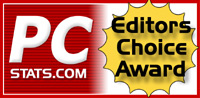 Printer Specs
Engine
Technology
Speed
Resolution
FPOT
Noise (Print)
Size (WxDxH)
Weight
Power
Energy Star
Duty Cycle
User Interface
Electrophotography
12 ppm
1200 x 600 dpi
Under 13 seconds
47dB
13" x 13.9" x 9"
13.7 lbs
180W
Yes (Under 10W)
12,000 Pages per Month
3 KEYs, 3 LEDs
Controller
Processor
Memory
Emulation
Fonts
OS Support
Functions
Interface
150 Sheets Multi-purpose Tray
1 Sheet Manual Slot
100 Sheets Face-down
A4, Letter, Legal, Executive, B5, A5, Folio,
7 3/4 (Monarch) #10, DL, C5, C6
Paper
Input

Output
Media Type
150 Sheet Tray
100 Sheet Face-Down
A4/Ltr/Leg./Exc./Mona./B5/A6
Transparencies/Evelopes, Card Stock
Toner
Type
Capacity


Life
Single Cartridge
2,500 Sheets (Normal Mode)
3,500 Sheets (Toner Save Mode)
5% Coverage
50,000 Sheets (5 Years)
SEARCH PCSTATS

---

Use the power of Google to search all of PCSTATS and the PCSTATS Forums. Tell us what you think of this new feature - FEEDBACK?